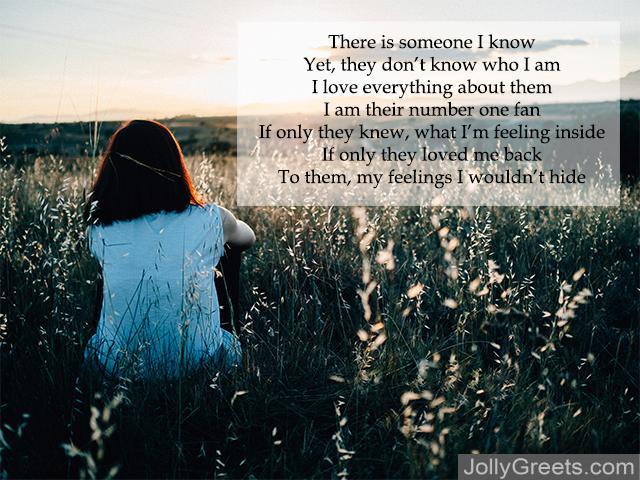 Sometimes you are so in love with someone, that you need to express your feelings for them out loud. You are at a point where you can't hold back your passion and feelings of love for this person any longer. It may be time to verbalize your unrequited love with a sweet poem that captures all of your feelings for this person. If you are too full of passion and have a foggy miind when it comes to even thinking of what to say to them, take a look at what is offered here. These endearing poems may be exaclty what you are looking for! They can help you clear up the confusion that may be taking place in your love struck mind. If these poems don't quite sound like something you would say, take the main message away from them and make them your own. Start by making a list of things you love about them and this could help to clear up any of the confusing thoughts that are coming in. Maybe even have someone else read over the poem before you finally give it away and reveal the everlasting love that is present in your heart.
How to Create the Perfect Card - Examples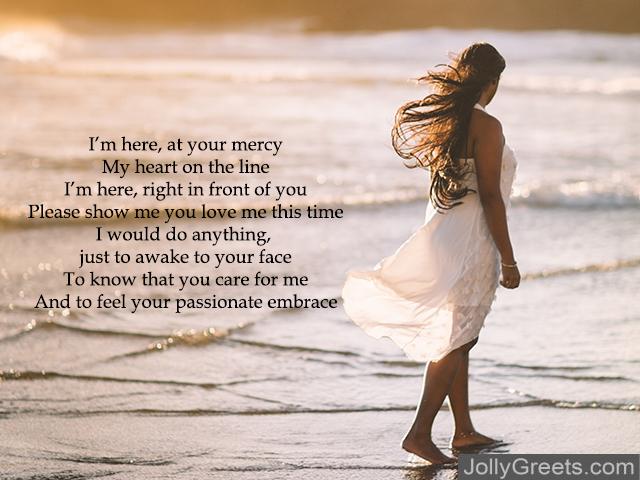 1
There is someone I know
Yet, they don't know who I am
I love everything about them
I am their number one fan
If only they knew, what I'm feeling inside
If only they loved me back
To them, my feelings I wouldn't hide

2
I'm here, at your mercy
My heart on the line
I'm here, right in front of you
Please show me you love me this time
I would do anything, just to awake to your face
To know that you care for me
And to feel your passionate embrace

3
If I cut my hair, would you notice me then?
Would you turn to look my way?
If I got too fat or too thin
What would it take, for you to be mine?
What will it take, for your love towards me, not to be blind?

4
The pain that comes with the truth,
As the reality of rejection settles in,
I never knew that being in love could feel so lonely
To want someone that does not want you,
To think about someone that never thinks of you,
To miss someone who will never miss you back,
These are the burdens of unrequited love.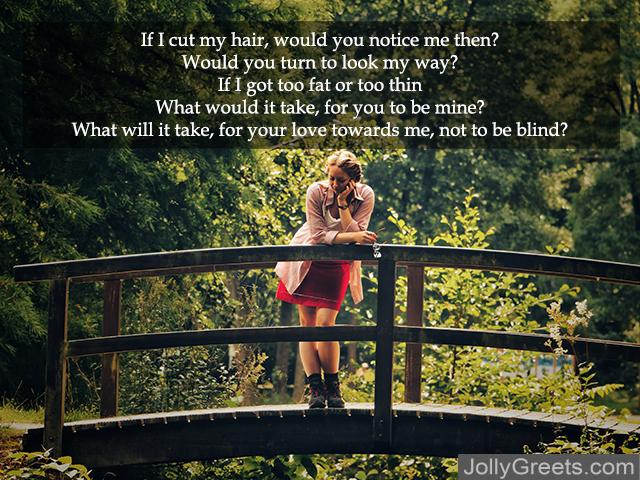 5
Heartache and sorrow,
When you realize that you are not good enough
Not good enough to be loved by the one that you love
All the Sleepless nights you spent thinking,
Thinking about them and wishing they were with you
But they will never feel like that about you,
They will never miss you like you miss them
That is the agony of being in love alone
The tragedy of unrequited love.

6
It wasn't supposed to feel like this,
We were supposed to be together,
You and I against the world
That's how I imagined it in my head
But you said that you didn't feel the same way,
You said you only loved me like a friend
And that your heart belonged to someone else
Now I have to find a way,
A way to live the rest of my life without you.

7
A love so strong
An invisible thread
An empty space in my head
Unanswered letters
Brimming tears
A broken heart
Throughout the years
A love so lonely
It never began
I'll never forget you
You were the one

8
Dreaming of a brighter day
Knowing that there is no way
Unfettered heart runs away
Loneliness is here to stay
Broken in a million shards
Loves last hope in disregard
Life without you is so hard

9
Love is waking up with you
Not waking up and feeling blue
Love is reaching out for me
Not passing by me in the street
Love is caring every day
Not making reasons to get away
Love is making me feel loved
Not leaving me crying in the mud

10
I came everyday waiting to tell the one I love
But each time I try to say the words
I get cold feet.
Someone I knew last month
How is it that I'm head over heels with the person,
I remember crying myself to sleep the days I was stood up
I have tortured myself long enough to hold back the truth
What is the truth? the truth is I love different.
11
Never give all the heart, for love
Will hardly seem worth thinking of
To passionate women if it seem
Certain, and they never dream
That it fades out from kiss to kiss
For everything that is lovely is
But a brief, dreamy, kind delight.
O never give the heart outright,
For they, for all smooth lips can say
Have given their hearts up to the play.
And who could play it well enough
If deaf and dumb and blind with love?
He that made this knows all the cost,
For he gave all his heart and lost.

12
Nights spent under the moonlight
International dates we had
Or was I asking for too much?
You always said you liked what we had
And I'd sheepishly smile and say "me too"
But was it all in my head
Cos I read different meaning to it
How does it feel?
The one you love does not love you back.

13
Every morning you greet me with a cute, sleepy smile,
You don't have to say a word,
I make your coffee just right and wish you a good day,
Your brown eyes light up with the first sip,
I have no idea what your name is,
I imagen it to be Claire,
I wonder if you ever think of me,
Or if you even really care?

14
We say I love you,
We say we're best friends,
I wonder if you could ever really love me as more,
More than just the girl next door,
We already fit together so perfectly,
I never want to pull away from our bear hugs,
But your eyes, they never sparkle for me,
Like they do when you see her.

15
I keep my true feelings hidden inside,
I fear that they will ruin what we've got,
You tell me your deepest secrets,
But I can't tell you mine,
You don't like change or surprises,
So I burry my love inside.

16
Though you gaze towards another,
I hope it turns on me.
My love for you burns in my chest,
As though to cast me ablaze.
You see them and feel what I wish you felt for me.
This unrequited love creates a fire in my heart,
But I will hold it a while longer,
In case I catch your eye.
17
I see you as pure beauty,
Taking my breath away.
But I know your heart goes to another,
And I will not force that apart.
I will suffer this pain alone,
Deep in my heart.
I will take your kind smiles with me,
As I try to move on.
I hope you will be happy,
Without me at your side.
18
Oh how beautiful love is today and tomorrow and forever!
19
To confess my ongoing love to you
Is what I intend to do.
I think about you daily
I am crazy about you
You take up my time
And that is only for the reason
That I allow your image to stay within my brain
During each of life's season.
20
My love for you can be expressed
By the showing of my words.
Thoughts of you do not escape me
I hold memories of us close to my heart.
I never had any doubt,
I knew I loved you from the start.
21
Sometimes I cannot get you
Outside of my small brain.
I love you entirely,
And I know you feel the same.
You are a wonderful being
You have a lot to give.
You make it worth it to fully live.
22
This love one-sided, a dice only I can roll.
It lands upon the same side no matter how I play.
You never notice what I do in honor of your beauty.
But then you pass and I forget you are beyond my reach.
23
My love for you a secret I must keep deep within my soul.
The burden of this knowledge weighs heavy as a stone.
Simply telling you how I feel makes my tongue tie knots.
Knowing I will never let these thoughts pass my lips.
24

Watching by the window as you causally stroll by.
I wish I had the courage to look you in the eye.
If only courage would hold I could tell you how I feel.
Instead you only walk away into another day.
25
I look upon you from afar; And imagine you're with me; When I wish upon a star; It's you I hope to see; I have loved you all my life; You're always in my heart; I yearn for us to be husband and wife; And pray we would never part
26
You may see me as just a friend; A loyal confidante; But my love for you will never end; It is your heart I want; I wish I could tell you just how I feel; But I'm afraid you would spite me; I wish I could praise your sex appeal; But I'm afraid that you would smite me; Maybe it was never meant to be; For us to be together; But I hope that one day you will see; We're two birds of a feather.
27
It pains me to see you with other suitors, walking hand in hand; I yearn to profess my love for you, but I'm afraid you won't understand; We've been friends so long, that I truly feel; That our love is a tightly-shut door; But if you can hear out my honest appeal; Perhaps we can be something more.
28
I wish you could see yourself
The way that I see you
While I wish I could be the one for you
All I wish for you is happiness
You deserve to be with someone you love
I just hope that they see you in the same shining light
That I see you

29
I knew you were special
The first day that we met
I took our long talks to heart
I fell for you and all you have to offer
I wish you felt the same
But I cannot control your heart
I hope you find your true love
Because you deserve nothing but true happiness

30
When you told me that you didn't feel the same
My heart broke but I felt hopeful
Because loving you gave me strength
I thank you for our time together
Your friendship has meant so much to me
Thank you for showing me that I have the ability to love greatly

31
i loved you
for years
you never noticed me
no matter what i did
you never saw me
i was always a friend
i loved you for so long
and i hid it all along
32
i told you i love you
you just stared at me
i confessed everything
i had within me
you wouldn't hear
or even stay
you said you didn't see me
that way
i never thought the
day would come
when i love you
went so wrong
33
the moment came
as quick as it left
i still remember
those words you said
i never meant to hurt you
i know you meant
what you said
i'm sorry i really am
but i just don't
feel that way
my friend
34
I truly don't have the foggiest idea what he find in me.
When he grins at me it's really certified.
Why.
I just…
I don't get it.
How might I make certain his goals are unadulterated?
I truly need them to be.
He could be unique in relation to the rest.
What's more, trust me the rest, were horrendous.
He could really like me for me.
That would be another one.
So,good karma.
You're going to require it

35
What if when you aren't here I can't rest?
What's more, consider the possibility that I cry.
Imagine a scenario where I revealed to you that you are my grin.
Furthermore, I trust you never lie.
Imagine a scenario in which you realized that I consider the end continually.
Also, if Ill lose my closest companion ?
Imagine a scenario in which I revealed to you how upbeat you make me.
What might you do then ?
What if we last forever ?
Then again…
What if you leave with my heart in your hand?
36
Alot has happend in my bed…
A couple of firsts,
Like the first occasion when I laid down with somebody, and the first occasion when I told somebody I adored them.
Two diverse young men on the off chance that you can belive.
It's the place I Collapse in the wake of being endlessly.
It's the home of my youth teddy.
Where my bad dreams take shelter.
Where I take feline naps…With my feline.
I've lay conscious wailing at dismal films, half in light of the motion picture.
I've dozed alone, in somebody's arms and not in the least.
What's more, remained wakeful making up a million distinctive scenarios.And thinking about the universe
To a pariah it's only a bed.
To me it's a real existence time of recollections."