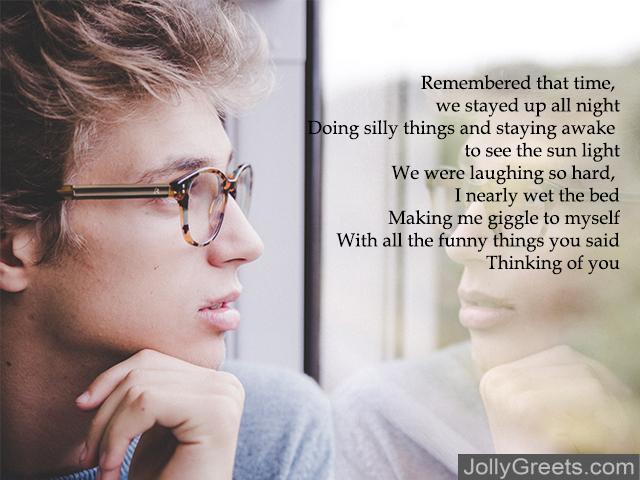 Let someone close to you know that you are thinking of them. Don't hang onto those thoughts, supposing that they were just random thoughts and assuming that they will know what you are thinking. They are on your mind for a reason. Don't let it slip from your to do list to tell those people in your life how you truly feel. Not only is there not any shame in telling someone that you are thinking of them, but most people will take extreme joy in the fact that they were thought of. But they won't know that you are thinking of them unless you take the chance to vocalize it to them. Putting actions to our thoughts can change someone's entire day! Even if you didn't come to this site with a specific person in mind, take a moment to think about who has made an impact in your life. It could be someone who has changed the course of your whole life, or it could be someone who has made a difference throughout just one of your days. Either way, let that person know that you are thinking of them through one of these thoughtful messages.
How to Create the Perfect Card - Examples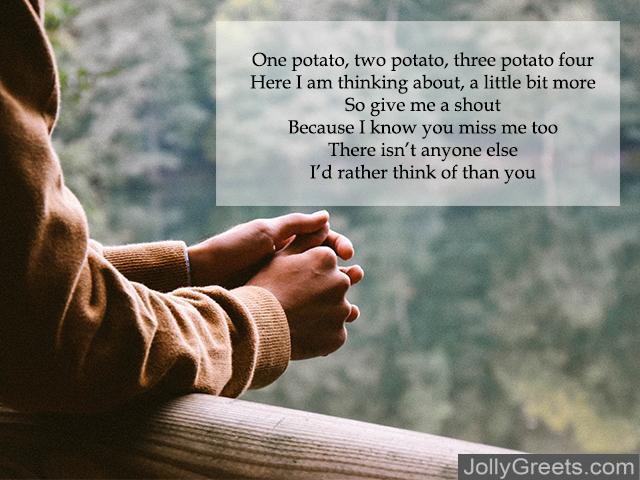 1
Remembered that time, we stayed up all night
Doing silly things and staying awake to see the sun light
We were laughing so hard, I nearly wet the bed
Making me giggle to myself
With all the funny things you said
Thinking of you

2
One potato, two potato, three potato four
Here I am thinking about, a little bit more
So give me a shout
Because I know you miss me too
There isn't anyone else
I'd rather think of than you

3
Times are hard, I'm sorry for your loss
Wish things could be different
And paths were not crossed
Just know that I am here for you
If you ever need a hand
Here to say I am thinking of you
My dear, dear friend

4
You have taken over my thoughts and I can't stop thinking of you,
I keep thinking about your smile, how beautiful it was,
I keep imagining how soft your hands felt when I held them,
And I can't stop thinking about your warm embrace when we hugged
Or how we used to walk along the beach in the evening,
Sometimes I wonder if you're thinking about me too.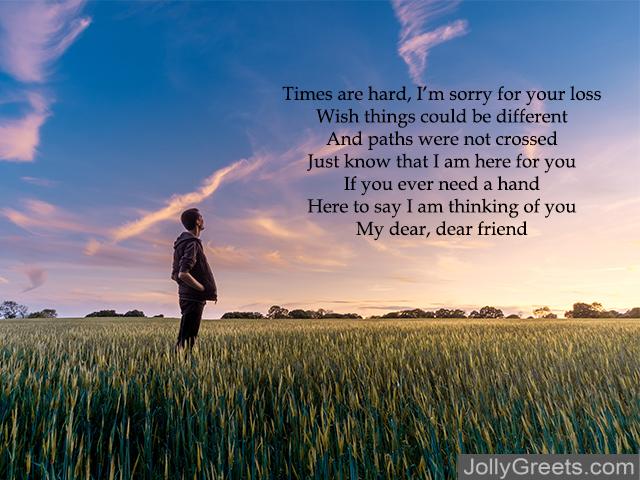 5
My mind is an endless stream of thoughts
And they are all thoughts of you,
I remember the first time we said hello,
And how you seemed so shy.
I keep thinking of all the times that you kept me awake with your funny stories,
And how you loved to play the guitar with me.
I am thinking of you as I write this down
And it makes me smile.

6
I lay awake in my bed thinking of you my dear,
Everything seems like a distant memory as I go down the memory lane
I remember how you used to laugh so loudly at my silly jokes
And how you would stay up late just to play video games on the TV
I think about how you loved to sing in the shower,
As I shut my eyes to sleep, you are the last thought to cross my mind.

7
I'm thinking of you all day and all night
I can see you clearly when you are nowhere in sight
I'm feeling your pain, I'm hearing your name
I dream that I'll feel your heartbeat again

8
Thinking of you day and night
Lack of focus; don't feel right
Need to hold you in my arms
Work on me your magic charms
My quiet heart beating slow
Hard to function, feeling low
Need you here with me always
Loving me for the rest of my days

9
Of all the things I miss the most
It's the little things that get me
How you like your morning toast
Please don't ever forget me
How you smell the sound of your laughter
Your tiny toes and your cooking disasters
But what I miss the most about you
Is how much you love me deep and true

10
I think about you every morning when I open my eyes,
I think about you every evening when I turn out the light,
I think about you every moment, every day of my life,
You are on my mind all the time
11
Last summer we met, we started as friends,
I can't tell you how it all happened.
Then autumn it came, we were never the same,
those nights, everything felt like magic.
And I wonder if you miss me too,
If you don't there is one thing I wish you knew,
I think about you all the time.
12
When you are in love,
every touch, thought, breath, is about your better half.
It doesn't matter when or where,
my heart swells up because you are dear,
as thought of you cross my mind how lucky I am that you are mine.
All I do is think of you,
Day and night that's all I do,
I can't get you off my mind,
I think about you all the time.
13
I just wanted to say,
I thought about you the other day,
It was sudden and random,
Like a microburst hitting the town that's still not recovered fully,
I hope you are doing well,
I really do,
Please tell your mother hi.

14
It's been awhile since I've been back,
You've been gone a long time too,
But every time I drive by your house,
I think of all the good times we've had,
Sleepovers with your sisters,
Long runs around the neighborhood,
Staying up late talking about life on the phone,
I don't know what's going on in your life anymore,
I don't know who you're dating,
But our memories I will forever cherish.

15
I know times are rough,
Harder than you could have ever imagined,
And I know I'm not there to help take away the pain,
I wish I could just jump on a train,
All I want to do is hear your voice,
Babe, I'm counting down the days till I do,
I know this isn't much,
But I'm always thinking of you.

16
In the still of the night when
All you hear are the songs
Of the crickets and the frog's
Croak.
As the wind whispers by and
Stars really start to shine
Just before the things go bump
And the house starts to settle.
As the cows bay for their young because of a fox's call,
Just as my eyes fall heavy
And my feet fall still.
In that small moment I remember you the most of all. Raven hair and coffee eyes,
Soft grins and rough hands.
Kind heart and loving soul,
Giant dreams and small worries. All that in a flash and then you're gone once more.
To your face I always wish to wake, so I sleep now in hopes of you.
17
I wait all day,
Hoping to get your call.
I know it is faulty,
To think it will be so.
So here I sit in contemplation,
Keeping you in my mind.
I think on all we shared,
All the good times we have had.
I think of you this day,
Hoping you are well.
I know you are better off and happy,
But I wish you were here with me.
18
Thinking of you is beutiful. But being with you is better!
19
Hey there, I just wanted
To let you know
That you were on my mind
I hope this made you smile!
Instead of keeping my thoughts
Within my head,
I decided to let you know.
20
I just thought I would say
That you have been on my mind.
You are sweet and thoughtful
And you are surely kind.
I am glad to have you around
You give me peace of mind,
As well as keep me sound.
21
A thought entered my mind
To see if you're okay
Just wanted to let you know
That I am thinking of you today.
I hope you are doing well
And that everything is good.
Call me if you need, I'll be in the hood.
22
Dancing a pirouette
you tiptoe silently across my soul.
At times unwarranted- making dinner, walking home, watching my favorite show.
Will this ache for you always linger?
Love, I am not sure how I will make it here without you.
23
The bed is so empty without you by my side.
An ocean I must cross alone.
That you could be my oarsman and row me to the shore.
On these nights I think of you and the time we
danced so softly under an orange moon.
24
Each day's page leaves me thinking of your hands.
How they fit so perfectly together.
We could weather any storm pulling hope from the waves.
Will you ever return to me?
I tack into the wind sails billow in the wind.
So you may return to a harbor safe.

25
You're off somewhere far from me; And I know that you are fine; But I still miss your company; And I hope that you miss mine; I'm sure you're succeeding at what you do; That's just the person you are; But know that I'll always be thinking of you; Whether you're near or far!
26
I was chatting with a friend, about the lovely weather; And suddenly I thought of you, and the time we've spent together; We've often walked on days like this, In summer or in spring; We've often talked on days like this; About most everything; So as I while away the hours on this quiet afternoon; You're the one who's on my mind, and I hope to see you soon.
27
The family is gathered here; For another celebration; I wish that you were also near; To join in the elation; Music drifts upon the air; There's laughter and there are tears; Special memories laid bare; From all our many years; In my heart, I really wish; This journey you could make; But I'll set aside an ice cream dish; And a slice of cake.
28
When I woke today
I found myself thinking of you
And all the wonderful memories we have shared
It always makes me smile to remember our time together
I just wanted to let you know that you are always on my mind

29
I find myself looking at my phone
Wishing that you would call me
I find myself thinking of you
When I should be working
You are my favorite distraction
When I finally get to see you
It feels like my daydreams have come true

30
Going through our old pictures
They are all still saved on my phone
Counting the days till you come home
Even though you left for better things
And I am so very proud
The emptiness in my heart
Still beats so very loud
Even though I will see you soon
When I think of all the days I've spent without you
I can't help but feel a sense of doom
Although I know you had to go
I can't help that my tears begin to flow
Everyday since you left has been grey
I just hope that next time I see you
You will be able to to stay
Forever with me
The way that it was meant to be

31
i lay down my head
ready to sleep
when thoughts of you
cloud my head
i wonder where you are
if you miss me to
i think of you
and every dream
i think of you
and hope to see
a day with you
here with me
32
thinking of you
is natural for me
i wonder how your
day has been
thinking of you
isn't a dream
it's a memory
of you and me
thinking of you
is something i do
thinking of you
is natural to me
it's like counting to three
thinking of you is
easy to do
33
days go by
night time comes
dreams become reality
a night like this
a day like that
makes me think of you
because your the best
without a doubt
without a sound
thinking of you
is so right it's wrong
34
You are my musings
What does this mean
It implies you are
the focal point of my reality
It implies I'm most joyful
When you are at the forefront of my thoughts
It implies I'm fortunate
To have somebody like you
It implies you are critical
in my life
Above all else it implies
Having you fill my fantasies
isn't sufficient
Since my world
is truly spectacular

35
I'm thinking how
great we are as one
And keeping in mind that I can't be with you
At the present time
I trust you consider us, as well
What we have gets me through
The unpleasant hard days
While making the great days
Much more splendid
While we may not be impeccable
We are impeccable together
What's more, it's great considerations like this
That can't be rejected
Since what you are and
what we have is extraordinary
So whenever you wonder
what I am considering
Presently you know

36
I was simply considering
Do you realize what today is?
It's one more day my heart
beats fiercely for you
It's one more day
I can sit and recall
I can consider
how great I have it with you
I get the opportunity to dream, about
What's to come
What's coming up
With a future with you
My heart is dashing
My brain is pacing
Loaded up with upbeat considerations
What's more, great occasions
Indeed, I was simply considering
What's more, I know how great
I have it with you