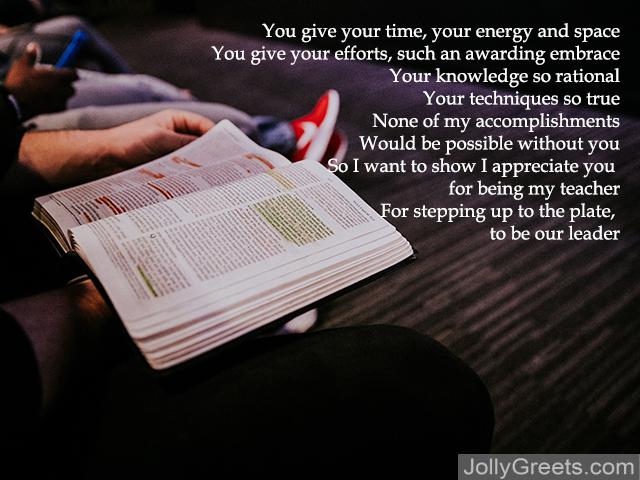 Teachers play such an integral part of our lives. It can be easy to pick out something that we don't appreciate about their teaching style or personality but it is far more important to try to strive to pick out the qualities that we do appreciate about them. Whether you are trying to find a sweet saying for teacher appreciation day, or you are simply telling the teachers in your life "thank you," they will certaintly appreciate the time that you took to think of them. They tend to work hours that they don't have to in oder to ensure that those they teach will be able to learn at their full capacity. They often buy materials to make sure that no child will have to go without. Most of all, they give out of their entire hearts to show their students that they are willing to do what it takes to make sure that they are successful. The actions that teachers take don't often stay inside the classroom. Instead, they follow of throughout our lives and have an everlasting impact on the way that we view our world. Take a moment to show a teacher that you appreciate them!
How to Create the Perfect Card - Examples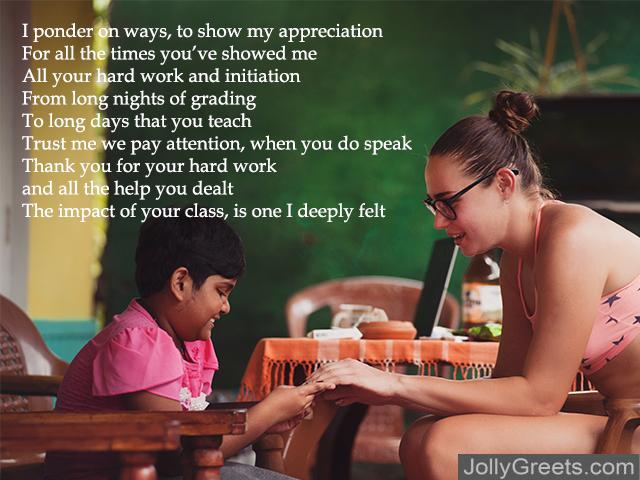 1
You give your time, your energy and space
You give your efforts, such an awarding embrace
Your knowledge so rational
Your techniques so true
None of my accomplishments
Would be possible without you
So I want to show I appreciate you for being my teacher
For stepping up to the plate, to be our leader

2
I ponder on ways, to show my appreciation
For all the times you've showed me
All your hard work and initiation
From long nights of grading
To long days that you teach
Trust me we pay attention, when you do speak
Thank you for your hard work and all the help you dealt
The impact of your class, is one I deeply felt

3
From reading and writing, to math and words
To letters and numbers, with shapes and fun
None of this would be possible, if it wasn't for a certain one
They give their time, so selfless and free
Thank you for all you've done
And for sharing your knowledge and time with me

4
You taught me how to read
You taught me how to write
You taught wrong from right
You taught me how to add and how to subtract
I wouldn't be here without your guidance
I am forever grateful for your teachings
Thank you teacher.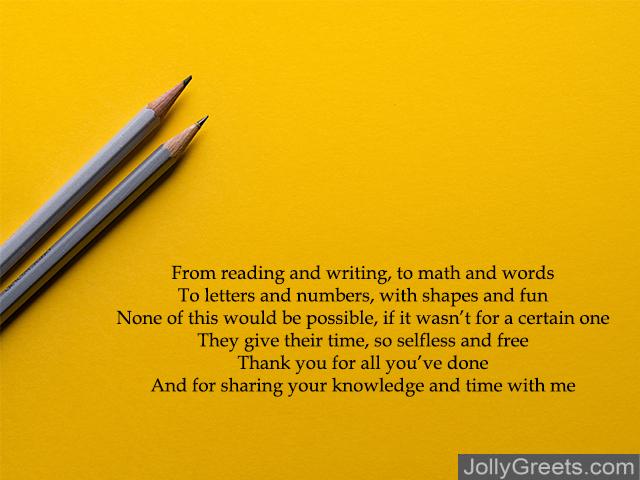 5
Let's take a moment to appreciate our teachers
They take their time to teach us the facts of life
They are our parents when we are in school
They are the police that govern us in school
We are lost without them
They help us shape our future
And mould us into world beaters

6
Out teachers are crucial in our lives
They introduce us to a different path in life
They encourage our creativity and nurture our talents
They are our guiding light in the world
And we will forever be in their debts

7
Now who would have ever thought
That I would love what you have taught
Or that I would ever find
Wisdom, knowledge and peace of mind
Lessons that you gave to me
Will guide me through my life I see
Thank you for the all the inspiration
You truly have my appreciation

8
Thank you for the amount of knowledge
For helping me get in to college
For all the extra time you gave me
Knowing that I was often lazy
For giving me some discipline
And helping me take it on the chin

9
You gave me so many things in school
You were fair and just with your rule
You taught me how to win at life
To not give up without a fight
And now I'm ready to face society
Strong and bold without anxiety

10
My teacher is so trustworthy
I thank him for the love
He saved me from the older kids when I was bullied
How I wish I knew where he lived
I would have visited him
I am grateful for what he did
I went ahead searching for him
When I finally found him
I thanked him for the love and protection.
11
My teacher is God sent
He helped me when my colleagues laughs at me because of my sickness
He helped me study when everything seems hard
When I grow to my adult life
I'd like to be a teacher.
12
You're one of the special people
Who always gives,
Impacts your knowledge on everybody,
You care for others,
You do the best you can,
You never ask for anything
Or want something in return.
I can't thank you enough,
There's no sufficient words to say,
To someone who always gives.
13
You're my favorite teacher,
But not because you think,
You helped me through such an emotional time,
I know you'll always be there for me with a wink,
You care about your students,
But more than them just getting good grades,
You want to see them succeed in life,
And not just take government aids.

14
On the first day of school,
You took the time to ask us what we wanted to be called,
Caring and shaping us as individuals,
Figuring out our specific needs,
What interests do we have?
Tailoring projects to make us engrossed in our work.
This made an impact on me,
It changed my whole perspective of college,
Now because of you, I've changed my major.

15
Think outside the box,
Every child matters,
Always make things fun,
Challenge them to try new things,
Help however you can,
Education is more than what is in the books,
Respond with love and kindness,
Show them who adults should be.

16
Thanks for putting up with all the bad students.
Thanks for helping me with my lessons.
Thanks for punishing the school bullies.
Teachers can be such great influences in their students' lives.
Teachers should be thanked more often,
especially when they have a positive impact.
17
Thank you for your patience,
And thank you for your time.
Teachers are gifts to children,
Opening up their minds.
You spend lots of time and money,
Helping us to learn.
It's thanks to you, dear teachers,
For doing what you do.
We are oh so grateful,
For everything you do.
18
Teachers have such patience,
Helping us to understand.
They spend their time planning,
And grading papers too.
They give and give and give,
With not much in return.
Teachers are a blessing,
For helping us to learn.
With open minds they guide us,
And help us when we are in need.
Teachers do more than just teach us,
They are there to help us succeed.
19
Hey teach, you are wonderful
You do more than you know
You teach my child well
And that they reap what they sow
I have seen your impact upon my child
It is truly a beautiful thing to behold
Thank you for all that you do.
20
Thank you for teaching my child
And taking such great care.
She would not be where she is today
Had it not been for your persistance.
My gratefulness towards you stretches wide.
21
Teachers can often teach
What many others can't.
They teach manners
As well as math.
They teach morals as well.
It seems as though they do it all,
Thank you teachers everywhere!
22
Our child has never learned more then they have with you.
Creativity sparked from your hands like magic,
encouraging learning like never before.
May your lessons continue to inspire generations
of students.
We are lucky to have had you as our teacher this year.
23
I am sorry I didn't listen more,
or turn my homework in on time. I always
borrowed pencils and left them on the floor.
Some days I couldn't wait to run out the door.
I admit now your classes were never a bore.
24
Teacher,
There is so much that you do
Your teachings have stuck with me tightly as glue.
and have always shown me something new.
Today and every day I want to say thank you.
I very much appreciate you.
25
Because of you, my teachers, I know my ABCs, Because of you, my teachers, I know my 123s; I know who discovered America, and why most plants are green; Why birds are covered with feathers, and who invented the washing machine; From teachers I have learned more than I would in any book; Three cheers for educators, they are worth a second look!
26
My parents taught me etiquette; But a teacher taught me the clarinet; My parents helped me take a bath; But a teacher taught me science and math; I cannot have one without the other; A teacher at school but not a mother; You taught me more than you can ever know; Teacher, you have watched me grow!
27
At school I often moaned whenever I had to take a test; But now that I am grown, teacher, I must say you're the best; Because of you I know my fractions, How to add and multiply; Proper nouns, verbs, and contractions; The Catcher in the Rye; Science and history were a cinch; Since you were there to teach; Now when I find myself in a pinch; I know nothing's out of reach!
28
Long hours, prepping lessons
Listening intently in all of your sessions
The way you teach
Really shows that you care
A kind and patient leader like you
Is so very rare
Even when the days are tough
I want you to know that you are enough
Thank you for being a wonderful teacher

29
For my teacher
Thank you for all of your extra assistance
It is no secret that you are gifted
The way you patiently teach
Inspires me to create new goals to reach
Always pushing me to do my best
Your leadership stands out from the rest
Even when the lessons are hard
You cheer me up with a card
No other teacher has cared for me
In quite this special way
Wishing you a wonderful day!
Thank you for being such a great teacher

30
Learning in school has always been hard
You taught me how to study
Using flash cards
Learning from you has helped me so much
My grades have gotten better
Never giving up
I know that in order to succeed
I have to do work by myself
But I will always be so grateful
For your extra help
Thank you

31
you work hard
to teach little minds
your patient and kind
you deal with so much
in an hours day
you grade papers
and check them twice
you take names
and break up fights
no words can compare
but we appreciate you still
32
your day starts early
your shift never ends
your lesson plans
all wrote and kept
you count the kids
you dismiss
no one knows all
the work
you do
no one says thank you
to you
33
a teacher like you
is hard to find
a teacher like you
is one of a kind
teaching kids
numbers and shapes
science , math english to
a teacher like you
deserve thank yous
a teacher like you makes my
son smile
34
An teacher is dependably there
An teacher is dependably there in need
An teacher is dependably there to hear you out
An assistance that gives you a chance to see through
In my life you have assumed that job in an ideal manner
So I simply need to state
That you are and will remain the best
Helping me in life's each test
A cute teacher like you
Whose so adoring as well
Happy birthday and have a pleasant day

35
When you shock me through
When you shock me through with test
I get somewhat agitated
When you take that check sudden
I get frightened excessively, you know
When you are severe with me on life
My face dependably appears
Be that as it may, I realize that you do that so I start things out
In each race of life I know
You care such a great amount for me and don't appear
So salute to an extraordinary instructor like you
Coz individuals like you are so few!

36
I am extremely appreciative to you
I am extremely appreciative to you dear instructor
You showed me so much life
I am grateful to you dear instructor
You showed me things I was denied
From giving me inspiration to accomplish
To motivation to pursue my fantasies
From being there when in an uncertainty
For making me feel you are not yet out
You ensured I put forth a strong effort
With the goal that I accomplish a great deal than the rest
A cherishing thank you from my end
You were dependably there..To get it