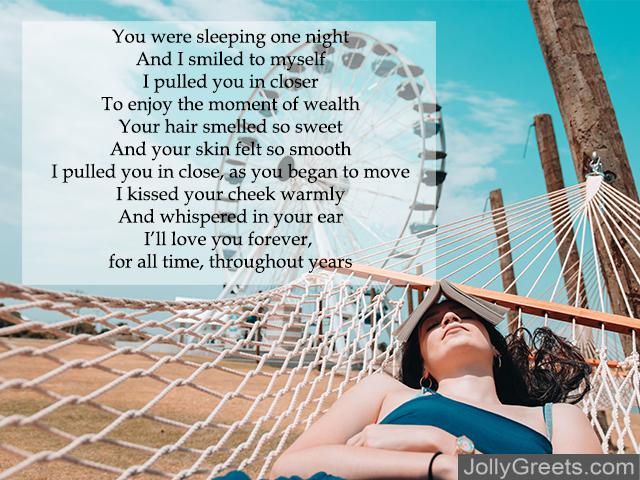 Are you looking for simply sweet poems that will let her know how you feel about her? This post will help you to do just that. It doesn't take much to simply let the Miss in your life know that you are thinking about her. A sweet little poem for her won't be taken lightly, so let her in on your kind thoughts toward her. She will be overjoyed that someone thought to mention their sweet thoughts that they had towards her. As you give away the words that you discover on this page, you may find yourself being encouraged as well. It always feels good to give away words that you wish were spoken to you. Think about one special characteristic about her that makes her sweet and write about that. You can also think about the many different aspects that make her a sweet person and create a list that will leave her feeling loved. You may also find yourself recieving back motivating words as well.
How to Create the Perfect Card - Examples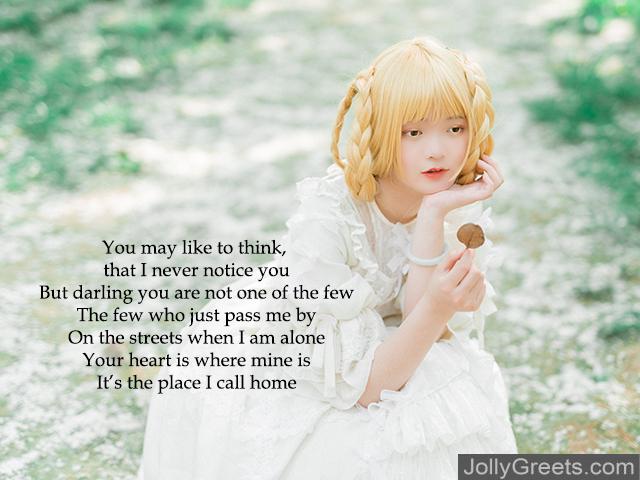 1
You were sleeping one night
And I smiled to myself
I pulled you in closer
To enjoy the moment of wealth
Your hair smelled so sweet
And your skin felt so smooth
I pulled you in close, as you began to move
I kissed your cheek warmly
And whispered in your ear
I'll love you forever, for all time, throughout years

2
You may like to think, that I never notice you
But darling you are not one of the few
The few who just pass me by
On the streets when I am alone
Your heart is where mine is
It's the place I call home

3
Brush her hair softly, kiss her neck just right
Tell her you love her, never put up a fight
Embrace her warmth and show her yours too
Hold her hand strongly, assure her, she will never lose you
Brush her hair softly, place your hand on her hips
Kiss her gently as you admire her lips

4
My Sweetheart is peach sweet. God's natural treat.
Refreshing taste with a lovely face.
Sun-kissed skin with an hourglass shape.
Love the way she moves and her eyes leave me in a daze
Her beauty is timeless and her soul is free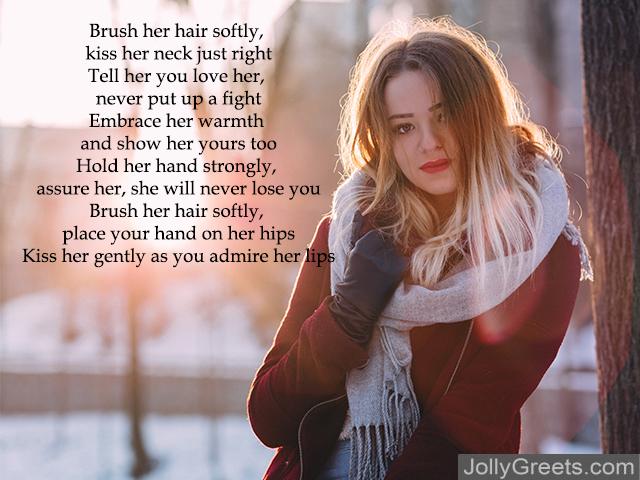 5
I bathe in your love.
I delight in your kiss.
I glide in your heart.
I swim in your soul.
I am fortunate beyond compare. Knowing that for me you will always care.
You are my sunrise in the morning and my stars in the night.
My pretty sweet thing.

6
She was his special someone.
She was his pears and plums.
She was his bright sunshine from the morning sun.
She was his cool breeze when the evening comes.
She was the soft feel of the summer rain.
She was the love that kept him sane.

7
Your eyes, your smile, your hands, your hair
The look you give that shows you care
Your laugh, your light, your heart, your love
You I know come from above
The way you move, sing and dance
You have me lost in a trance
Your voice, your scent, your mind, your touch
I love you so, so very much!

8
Sweet as sugar, cool as ice
You are the best thing in my life
Honey I adore your smile
You make everything worthwhile
You are my life, my love, my heart
Loving you is like an art
You give me everything I ever need
You I worship on my knees

9
Candy cane sugar pie
Love you right up to the sky
Love you more than all the atoms
In the universe
I want to love you all the way
To the moon and back
I'll give you everything in life
There's nothing you will lack

10
There's this one girl I care about,
This girl I love,
That has the smile I always yearn for,
The face I hope to dream about.
But I need not forget,
I competed with the sons of men.
Though I always lost then because I was trying to hard,
Lanky me! But who's got you now
My only sweet one.

11
New thoughts, new memories, new feelings.
Feelings that go far beyond expressions.
I can't stop myself from holding back the tears.
Tears of happiness, of a love so strong.
It surges through my heart like a storm.
Each tear falls warm upon my face,
And I smile,
Such a perfect love we have for each other.
You fill my life with joy and laughter,
With dreams and with the promise
Of a new tomorrow.
I will forever be indebted to you.
You have changed my life.
You have captured my heart.
You now hold the key.
Your love I will live and die for.
I will treasure each and every moment
I spend with you,
And I promise to love you for the rest of my life.
Because my eternal love…you complete me.
12
Thinking of you fills me with a wonderful feeling.
Your tender love, your warm embrace,
Your sweet kisses,
I love your touch,
Your gentle nature and loving heart.
I love the way you smile
And the way your eyes sparkle
When you laugh.
I adore the sound of your voice,
Strong and enduring.
The sweetest sound is your name,
As I say it over and over again.
You have allowed me to open up my heart.
You taught me how to love,
trust, live, and to smile again.
You have brought so much into my life.
I never thought I could feel this way again.
Now I see a perfect life ahead.
New places for my heart to explore.

13
Sweetheart don't cry,
Over a guy,
Who doesn't even say goodbye.
You can do some much better.
You have the world at your fingertips,
So put on some lipstick,
And let's get off this ship,
It's time to start a new.

14

You are your mother's daughter,
Always staying active,
Throwing parties,
Cooking new foods,
Dreaming of travel,
But I also see me,
The quiet listener,
The fixer,
Slowly taking form,
Oh what a joy it is to watch you grow, sweetie.

15
Sweet friend,
Your soul is the kindest I've ever known,
I see Him filled up inside of you,
Spilling out, spreading His love,
Making His name known.
Precious child,
He's so happy with you,
You please Him no matter what.

16
You are the sun to my flowers,
The moon to my earth.
Always here beside me,
We are a perfect match.
You are the honey to my bee,
And the sky to my sea.
Every day I spend with you,
Is better than the last.
17
You smile like the sun,
And you cry like rain.
You are beautiful no matter what,
Even on a bad day.
You are a brightness to this world,
And I am glad you are mine.
I am thankful for you with me,
Because you're my little sunshine.
18
God gave the world flowers,
To spark you with joy.
God gave the earth animals,
For you to always enjoy.
God gave me you,
To see each moment through.
God gave me to you,
Because He know I love you.
19
I think about you daily
On my way to work
While I am in the car
And on my way home again
I cannot wait to see you
You are my precious gem
I think about you daily.
20
You are incredibly sweet,
Just like cake and candy
Your fragrance overwhelms
Those within your midst
And compels those within the distance
To think twice about how they
Carry themselves when around you.
21
My lovely, the depth of your soul
Amazes me to no end.
The rest of our lives together,
I cannot wait to spend.
You are a gracious person
You live with open arms
And so I aim to protect you
From any potential harm.
22
Years pass and you only grow more beautiful.
A flower whose sent lingers lightly, lover.
Lying next to you as the morning opens I fill with wonder.
The first sight when I awake amazing as
each new dawning day.
23
The first time we met
I knew there was something special which set you apart.
Maybe it was your smile, our conversation, the way your body moved with its own
inner disco.
Decades pass and your beat still keeps me moving.
24
That you will forever have this hold upon me.
Every time I look into your eyes I fall.
Your arms a net to break my fall.
Sweeping me unexpectedly off my feet.
I fly now whenever I am with you.
25
Your smile can brighten up a room; Your laugh can clear away the gloom; Your confidence and style impress; In business suit or evening dress; You captivate with just a glance; You mesmerize each time you dance; A woman who brings endless joy; To VIPs and hoi polloi.
26
I love to watch you read, curled up with a book; I love to watch you eat, in our breakfast nook; Watering the plants, or playing with the cat; Wherever you are, that is where I'm at; As long as we both live, I hope we never part; Lady, you're a bandit, and you've gone and stole my heart.
27
The smell of coffee stirs your senses, when you first awake; Your taste buds water for the muffins that you love to bake; Your eyes devour the pages of the books you read at night; Your fingers sometimes cramp from all the sentences you write; Because of your hard work and all the precious things you do; You're the most amazing woman, and I must say I love you!
28
The color of your hair is as sweet as honey
When you tell a joke, it's always funny
Your smile is sweet and pure
When I'm sad, you are always my cure
Just one look at you
And my heart feels anew
Everything feels better
When I can be with you

29
Angelic features
A gentle face
You always speak
With such grace
I love the way
You crack a smile
Our long hugs
Always last awhile
We take pictures
To capture our moments
Of falling in love
Or just eating donuts
When we are together
We have a great time
Wow, I am so lucky
That you are actually mine

30
There is no one else that I would choose
There is just something special about you
Your natural beauty is precious are rare
When I met you I couldn't help but stare
I had never met a woman so pretty
Who is also very smart and witty
Everything about you makes you sets you apart
A truly unique soul
I have loved you from the start

31
nothing is as sweet
as you
not honey or sugar
or even candy
nothing is as sweet as you
not ice cream or fruit
or even gummy bears
nothing is as sweet as you
not cookies or juice
nothing is sweet compared
to you
32
someone as sweet as you
deserves roses
and daisies to
you deserve a day
at a spa
someone as sweet as you
deserves diamond rings
and many delights
you my sweet girl
deserve a world so divine
33
your beautiful
and true
you make all the boys
want you
you smell like roses
my love for you
is amazing and new
your sweet and great
a happy ending to
my day
34
You came into my life like a star And filled my heart with happiness You accepting my torment as though it was yours And gave me cherish that nobody could. You gave me a comfort in times of dire need You were my column when I was falling You were my quality when I felt low With your grin, you made my living on earth beneficial.
35
I adore your eyes when the Lovelight lies Lit with an energetic flame. I adore your arms when the warm white tissue Touches mine in an affectionate grasp; I cherish your hair when the strands trap Your kisses on my face
36
you offered light to my spirit You helped me to be entire I have felt love for you previously And it will be to an ever increasing extent, You are mine, my dear You are the holy messenger from above Who showed me how to adore. It would be ideal if you always keep me close