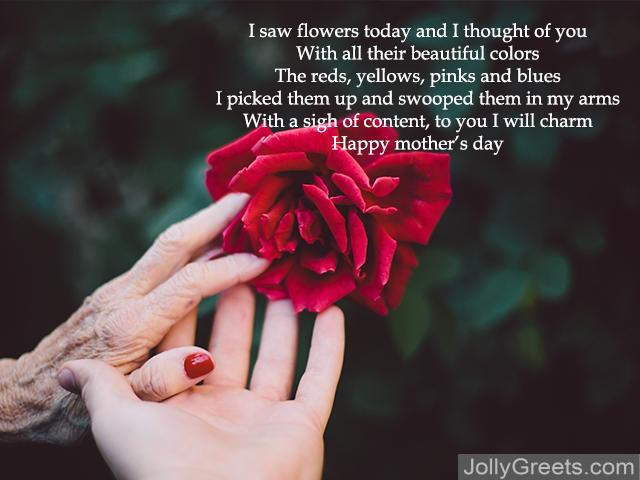 Are you looking for a last minute Mother's Day poem to give to the special lady in your life that raised you? Start with thinking about a few special moments that you've had with your mom. Begin to write about those events and see where that takes you. You may be able to find that your short poem will grow quickly, or you may keep it short, concise, and to the point. If you are having trouble generating meaningful words, take a look at these short Mother's Day poems listed on this post. Your Mom will surely be happy to recieve anything that you have in store for her on Mother's Day, but why not make it a little bit more meaningful with a poem that tells her just how much you love and appreciate her? Just because you keep the poem short, doesn't mean that it won't be fully packed with meaning. Let your Mom know what you think of her by selectly stringing together words that will make her feel loved and let her know that she is highly appreciated.
How to Create the Perfect Card - Examples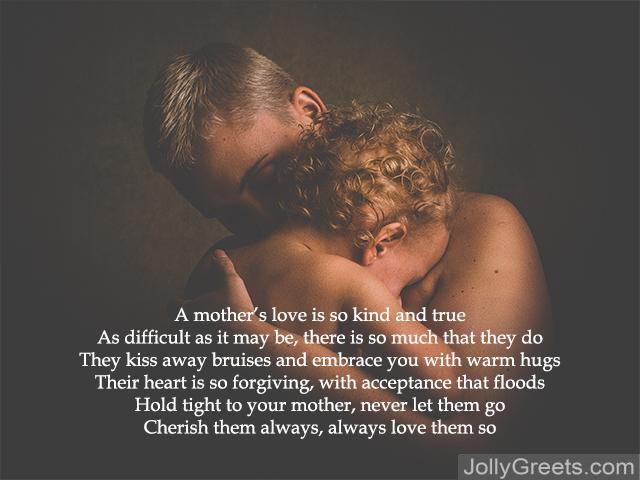 1
I saw flowers today and I thought of you
With all their beautiful colors
The reds, yellows, pinks and blues
I picked them up and swooped them in my arms
With a sigh of content, to you I will charm
Happy mother's day

2
A mother's love is so kind and true
As difficult as it may be, there is so much that they do
They kiss away bruises and embrace you with warm hugs
Their heart is so forgiving, with acceptance that floods
Hold tight to your mother, never let them go
Cherish them always, always love them so

3
Holding her belly, she smiles as she looks down
Caressing her own body, with her belly so round
Yes, her back aches, and certain foods are hard to resist
But all those feelings, are ones she will soon miss
Nine months will go fast, to this she knows is true
Soon to be a mother, a beautiful mother to you

4
My very first love,
The one person who has always been there for me through every step,
My number one fan,
My guardian angel,
My flesh and blood,
On this special day we celebrate mothers all over the world,
I am lucky to have the world's greatest mom.
Happy mother's day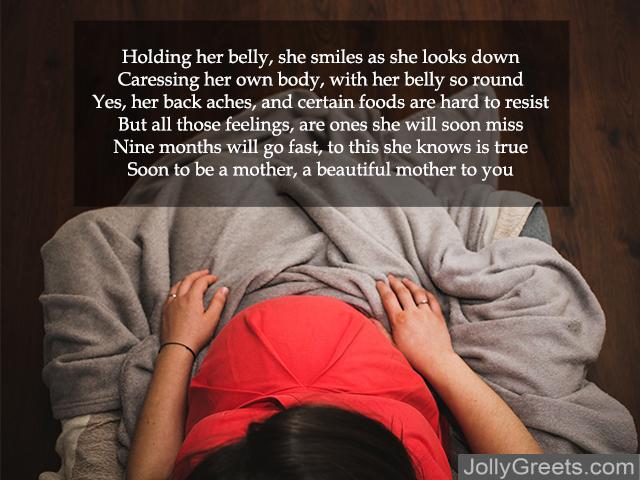 5
A friend so dear to my heart
All my life you have always been there
An everlasting source of joy
You have been the guiding light in my world
Always taught me to be kind
And to never give up
You filled my life with so much love
And to the woman I have grown to love
I just want to say
Happy mother's day

6
Roses are red
Violets are blue
Honey is sweet
And so is a mother's love
Her beautiful smile will brighten your days
Her love will guide your way
And on this very special day
Join me in wishing moms all over the world
A happy mother's day

7
Happy mother's day mum
You are my world
I will always be
Your little girl

8
Mum you are always right
Especially today
I take back everything I said
Happy mother's day

9
Happy Mother's day to you
You've earned a good old rest
Put your feet up and relax
And let me do what's best

10
My mother, my friend so dear,
Thanks for birthing me into this world
Of all the special blessings in life,
There's no blessing that supersedes you in my life
You're my mother,
A wish for you .
Just one little wish for you, Mom
I wish you good success and a properous one everyday of your life.
11
What way is there to thank you for your heart, your sweat, your tears,
for ten thousand things you've done for oh so many years.
For changing with me as I changed, accepting all my flaws,
not loving 'cause you had to, but loving just because.
For never giving up on me when your wits had reached its end,
for always being proud of me, for being my best friend.
Do you see yourself in me, the job that you have done?
All your hopes and all your dreams, the strength that no one sees,
a transfer over many years, your best was to pass me.
Thank you for the gifts you give, for everything you do,
but thank you, Mommy, most of all for making dreams come true.

12
Sometimes I know the words to say to give thanks for all you've done,
but then they fly up and away as quickly as they come.
How could I possibly thank you enough, the one who makes me whole,
the one to whom I owe my life, the forming of my soul.
The one who tucked me in at night, the one who stopped my crying,
the one who was the expert at picking up when I was lying.
The one who saw me off to school and spent sad days alone,
yet magically produced a smile as soon as I came home.
You are the best, Mom
Happy Mother's day.

13
I know we aren't the best of friends,
I know we've had our fights,
But I'm a grown up now and think,
Let's put it all behind us.
You are my mom,
You gave me life,
And for this I am so thankful,
Let's try again and see if we can make this right.

14
Distance cannot separate the bond we have,
It just means that we get to explore more places together!
Miles apart doesn't not make you less of my mom,
It just means that we have more to talk about than the weather!
Lengths of time will come and go where we don't get to chat,
But none of this negates that fact that I'll love you forever!

15
Look at you,
Two holidays to honor and celebrate you!
Everyday should be a day when we praise you mom!
You're constantly setting the bar higher for yourself-
Someone should name a day after you!
Oh wait, you already have one!

16
Mothers are so amazing,
And they are so bright.
They constantly surprise me,
And love with all their might.
These woman are so brave,
They are also wise.
I am so happy to have my mother,
Here by my side.
17
You care for me so greatly,
And give me so much love.
You are quite amazing,
My mother I love so well.
I thank you for everything,
You are a jem above the rest.
You are a guardian angel,
And I think you are the best
18
Mother's day is here at last,
A day to appreciate you, and you alone.
You get thanked for all you do for us,
Every single year.
But I think you deserve more for appreciation,
Than just a thank you this year.
19
Happy Mother's Day
To the greatest mom in the world
You love and cherish me
Like nobody else has
You believe in who I am
And so I wanted to take this moment
To tell you that I am grateful
That you are my mom and no one else's.
20
Happy Mother's Day to you,
You act as a mom for me
You were there when no one else was.
And for that, I cannot repay.
Instead, please receive my gratitude
And know that you are on my mind!
21
Mothers are a gift,
A good one is hard to find.
I am blown away
That one of them is mine.
Happy Mother's Day!
22
Mother,
Do you know how much you mean to us?
Wise words we wish we could repeat on this Mothers Day
As it is our wisdom comes from you.
You would tell us you were proud, always full of love.
Life is best following this advice.
23
To a marvelous mother
who always knows just what to say.
The day is better once our thoughtful conversation is through.
Your actions inspire love.
I hope you know I admire all that you do.
With all our love,
Happy Mothers Day.
24
What to get you on mothers day.
You do not want an Ipad, jewelry or new shoes.
In fact, it is quite simple to know what to get you.
The gift you always want the most is for family to be
25
On Mother's Day, we celebrate; The mother who made us kids so great; Who did the chores and paid the bills; Who dressed us, fed us, cured our ills; Who cheered us up when we felt blue; We wouldn't have made it without you!
26
Mother's Day is a time to reflect; On the woman who did her best to protect; Her children from all kinds of harm; Who kept us fed, and kept us warm; Who cheered us on in sports and school; Who punished us if we broke a rule; All you've done we appreciate; And now's the time to celebrate!
27
A mother's love is infinite; When times are rough, she'll never quit; She has the strength of fifty men; If she's knocked down, she'll get up again; She takes care of her husband and children, too; Cleans us and feeds us 'til we feel brand new; For all you do, we're here to say; We wish you a Happy Mother's Day!
28
Mom
On this special day
We celebrate you
And all of the things
Big and little
That you do
Always thinking of others
Never doing things for yourself
I want you to know I love you
I am always here to help
Happy Mothers Day

29
My sweet mother
You always seem to make me laugh
When we talk on the phone
You always make me gasp
With your funny stories
Little antidotes
I look forward to our long talks
They are something that I note
More than a mother
You are my best friend
Always cheering me up
Making me laugh
To no end
Thank you, mom

30
Mom
On this special day
I know one thing is true
My heart is full
Of appreciation for you
You helped me grow
Into the strong person that I am
Loving me deeply
Only the way
A mother can
Happy Mothers day

31
flowers, shoes
maybe a cake
a day at church
or your favorite
lunch date
friends and family
what a treat
a mother's day for you
and me
32
mom so great
mom so true
mom as amazing
as you
mom so wonderful
mom so awesome
mom as great
as you
33
mother's day here
a day to celebrate
mother's day food
cakes to bake
mother's day flowers
and coffee cups
mother's day hugs for you
34
A Mother Is A Gift
There can't be a superior blessing than a mother to a youngster,
Her heart is so spotless, lovely and solid, yet so exceptionally gentle.
The adoration that a mother has is so one of a kind thus exceptionally uncommon,
Regardless of how much time passes it will just never wear.

35
Ding Dong
Ding dong ding, dear Mommy's grinning.
What's more, when she does, she looks so lovely,
Prettier than even Hello Kitty.
Cheerful Mother's day.

36
Twinkle Twinkle Stars
Twinkle little stars,
Here they're correct sparkling in your eyes
You, my Mamma, are so lovely and dear
Cooler than winter and hotter than summer.
Cheerful Mother's day, dear Mamma