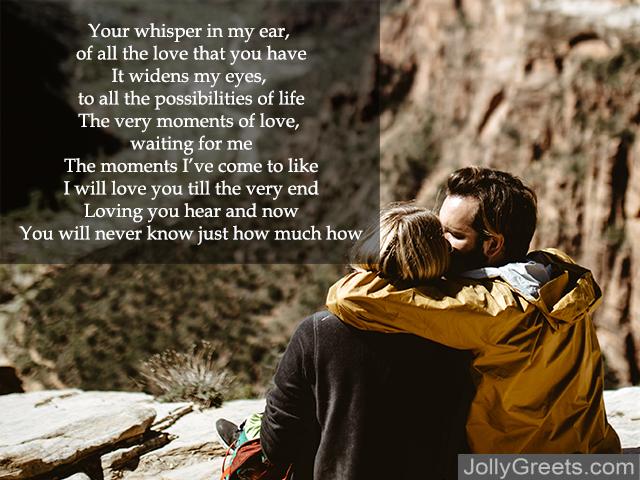 Do you have a man in your life that you passionatly love? Do you think about him often but sometimes fail to let him know that your romantic thoughts towards him are taking place? Woo him with one of these short love poems that were made to do just that. You are welcome to use what you find here to inspire a quick love note that you can send him before he goes to work. You can also use these messages, and still make them your own. Let him know that he is on your mind by giving him a few short notes that passionatly express your love towards him. You won't regret taking a few minutes out of your day to let him know that you care and that he is a priority in your thoughts. Not only will you be glad during the moment that you took the step to convey your love towards him, but your notes will also leave him beaming for the rest of his day. Such a simple act can strengthen the relationship between the two of you in a way that you didn't expect.
How to Create the Perfect Card - Examples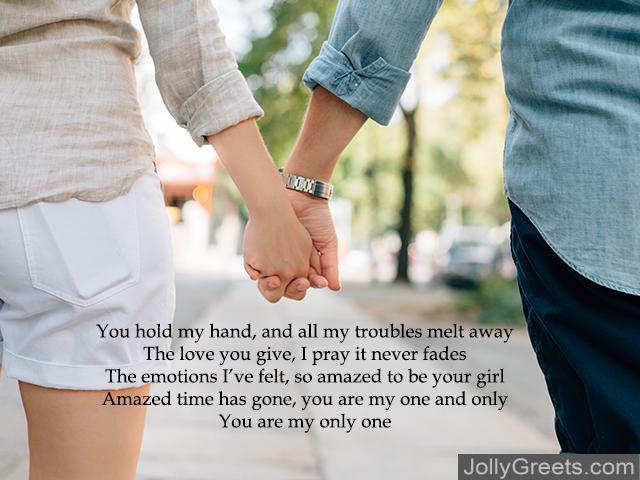 1
Your whisper in my ear, of all the love that you have
It widens my eyes, to all the possibilities of life
The very moments of love, waiting for me
The moments I've come to like
I will love you till the very end
Loving you hear and now
You will never know just how much how

2
You hold my hand, and all my troubles melt away
The love you give, I pray it never fades
The emotions I've felt, so amazed to be your girl
Amazed time has gone, you are my one and only
You are my only one

3
I look at you, and you look my way
I turn my head to the side, as I think of the words to say
It's so hard to do this, yet my feelings are very true
There is no easy way to say this, I think I'm madly in love with you

4
He was her knight in shining armor.
He was her special someone.
He was her sunshine in the rain.
Her guiding light when the darkness came.
He was the beating of her heart.
And she was in love with him.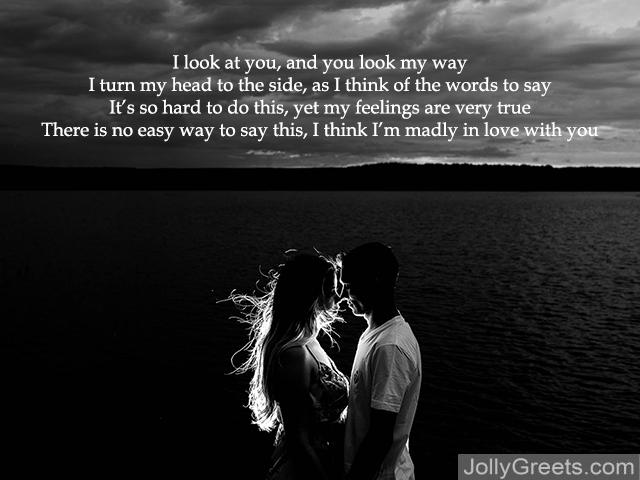 5
Every morning when I wake up and look at you
I thank God for the day that I ran into you.
Your love keeps me warm and safe
Every time I look into your eyes I know that it's true
For the love we share is something rare
I hope you know how much I care.

6
I know you're the one from the way you look at me,
I know this is right from the way you hold me
I love you and everything you do
Dear boy you have my head spinning like a roller-coaster
My heart skips a beat whenever you hold my hands
I know you feel it too coz that's what lovers do.

7
You're the man of my dreams
I can't live without you
I have loved you more
Every day since I met you

8
Steely gaze and stubbly chin
Loving heart glows from within
Manly arms to hold me tight
Keep me warm through the night

9
Masculine style makes me shiver
Sexy charm that makes me dither
I love your manly arms around me
Under your love spell forever I will be

10
I don't want to talk
I have no interest in running
And I wish not to fly
Each breath that I take slows with the boredom, the boredom of a life without a love to fall for, to die for.
What good are these eyes without a path to find to search and find the depths of your soul?
What good are these arms if I cannot fill them with the wonder of how I came to wrap the whole world within them?
What is the use of a precious soul without the one I would trade it all for?
I don't want to walk
I have no interest in running
I wish not to fly
I simply want to fall, just to fall in love.
11
I knew exactly what love would look like
I'd always thought I hadn't met Love yet
But I knew if Love wandered in my room
I would recognise him at first glance
Love would wear a crucifix necklace
Love would play acoustic guitar.
You are what love looks like.

12
"Us in the world",
a market place
Let's run our love
In our own pace.
"Us in our home"
a classroom
Let's learn from each others mistakes
Our world transparent like a glass house
It's our hope they don't throw stones
Our home having a clean board
We pray their markers ain't coal.
Let's live us and neglect the world
Let's be us and forget their thoughts
Its just you I'll need for a trade
If you teach me well enough, I won't fail.
13
I think about you all the time,
Can't get you off my mind,
You're the only one I can see,
It's like I've gone blind,
You consume my every thoughts,
You must've put me under a spell,
Because I've never acted this way before,
Never, until I fell.

14
You're so sexy when you're studying,
Your eyebrow all in a scruff,
I can see the mind thinking behind your blue eyes,
I know you have a plan,
You want everything to be perfect,
But baby, we're perfect as is.

15
You're my rock,
Strong and sturdy,
Always there, no matter what,
Understanding and thoughtful,
Always giving an objective perspective,
Helping me to be a better person.
Pushing me to be kinder, wiser, the bigger person,
Loving me no matter what.

16
I love the way you look at me,
I love the way you hold me tight.
Everything about you is magical,
When you look me in the eyes.
Your whisper, so sweet,
As you kiss me goodnight.
I love you, my dear one,
The one who holds my heart.
17
Thinking of you,
At this moment of time.
Thinking of your beautiful mind,
How funny you can be.
Thinking of your arms around me,
And how warm it makes me feel.
I think of you often,
Even with you right next to me.
18
Your gaze lingers softly,
While you watch your favorite show.
You reach out subconciously,
To play with my hair.
You rest your head softly,
Into my lap.
You smile brightly,
And give a soft chuckle.
My love for you makes shows greatly,
Especially when you don't know.
19
To my husband, I see your fire.
It is all too apparent
You have much in life that you desire.
I am proud of your being,
That you use your gift
And that you avoid the dirt,
By allowing it to sift.
20
I love the way you make me feel
You are wonderful to me
You are kind and smart,
And everything great.
I am blessed to call you mine.
21
My love for you swims deep
Like the fish within the ocean.
I expect it to grow
Like the plants that reach the sun.
I am excited to see where this will go.
22
Husband,
In every way you have made my life better.
Like butter you melted my heart.
Every word to be savored like the finest wine.
Each embrace brings joy to my face.
You place with me a gift I treasure.
23
To the man who makes me complete.
Every day you sweep me off my feet.
Such sweet words greet me at the end of every day.
Grey skies are clear when you are near.
My heart beats true for you.
24
You are the man who makes my dreams come true.
Strong of character, champion of all I do.
What would me life be like without you?
I can count on you to always be there.
It shows you care.
25
You're a man who knows his worth; And it's not just in your limbs' wide girth; Your cheeky smile displays your charm; Your tight embrace protects from harm; You're honest, confident, and funny; That's why I'm proud to call you "honey"!
26
I do not need a handsome knave; I need a man who's strong and brave; I do not need a wealthy braggart; I need a man who's kind and smart; I do not need a cocky liar; I need a man who lights my fire!
27
A man is more than just the sum; Of all of his good looks; It doesn't mean a man is dumb; If he doesn't read big books; I need a man who's wordly wise; And always knows the score; Who loves to spring a nice surprise; And holds open the door.
28
You're the man that I will always choose
Your love is something I never want to lose
Even when we have a fight
Talking, kissing and making up
Gives me delight
Because even when you make me mad
I know your love is the best I've ever had
I love you

29
I am grateful for you everyday
And everything that you do
Working hard at your job
I know that this is true
Even helping at home
You are the greatest man
That I've ever known
You are always so genuine and kind
I am so very proud that you are mine
I love you

30
Your eyes sparkle when you smile at me
It reminds me of how sweet you can be
Even when you are tired from work
You finds ways to remind me of my worth
Just a simple tender kiss on my forehead
Is so special to me
Something I will never forget

31
i love you
from here to
the sky above
i love you more with
every hug
32
your handsome and
amazing
your my heart
my number one fan
you make me smile
everyday
i love you so much
it's true
33
no one compares to you
no one holds a candle to you
a thousand hugs
ten thousand more
could never prove
how much i love you
you work really hard
and defeat your goals
your amazing and
i admire you
34
Sitting on my patio, gazing toward the sky,
I look at the stars sparkling brilliant like your eyes.
How I wish you were close and by me here,
You'd fold your arms over me and force me so close.
I would feel your heart thumping profound into my chest,
What's more, soaking in your arms, my spirit could at long last have a rest

35
You gaze at me like I'm the main young lady on Earth,
You make me feel critical and demonstrate to me my actual worth.
You're generally there for me, you never disappointed me,
You make me feel like a princess wearing a brilliant crown.
You've told me the best way to live, how to grin, how to play,
Also, perpetually I will love you, every single day

36
When I close my eyes, everything I can see is you dear,
Lying on my bed, your face turns out to be so exceptionally clear.
I hold my pad tight longing that it's you,
I envision we're as one, just us two.
I'm pausing and aching just to be with your better half,
What's more, I will love you perpetually, in light of the fact that you are my life