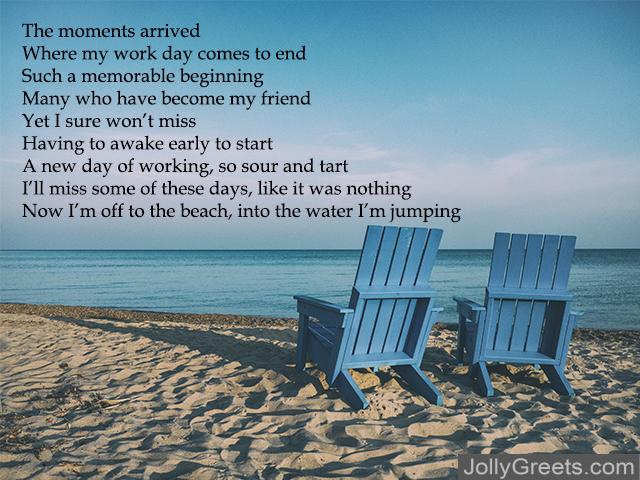 Hurray! You or someone you know has made it to the stage of life called retirement. This is quite the accomplishment, esspecially during this generation. Take the time to recognize and appreciate the hard work and determination that went into making this happen. Go out and celebrate with those that you love and take one of these poems with you while you are at it. Even though this is a phase of life that many people look forward to, it can often cause some confusion as well as excitement. Some people feel as though they are at a loss as far as what to do now that their working days are over. Send them a quick message, letting them know that you are there for them if they need you. They may just need to be reassured that they will still have people around them during this time. Also, giving them a short poem could give them the confidence that comes from knowing that others are in the same boat as they are. Sometimes all it takes is a short, sweet reminder that others are there.
How to Create the Perfect Card - Examples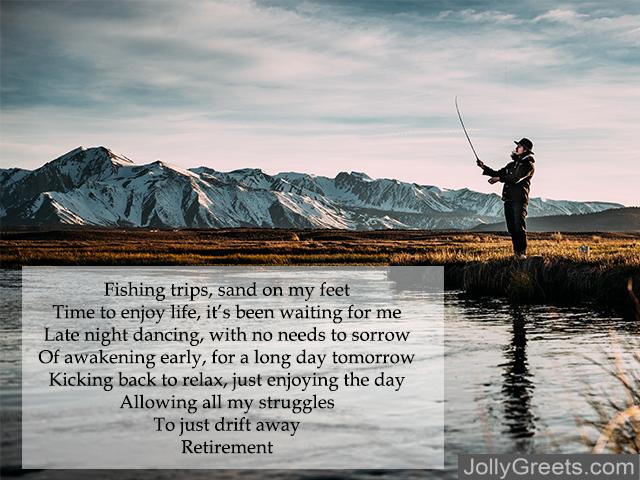 1
The moments arrived
Where my work day comes to end
Such a memorable beginning
Many who have become my friend
Yet I sure won't miss
Having to awake early to start
A new day of working, so sour and tart
I'll miss some of these days, like it was nothing
Now I'm off to the beach, into the water I'm jumping

2
Fishing trips, sand on my feet
Time to enjoy life, it's been waiting for me
Late night dancing, with no needs to sorrow
Of awakening early, for a long day tomorrow
Kicking back to relax, just enjoying the day
Allowing all my struggles
To just drift away
Retirement

3
Beep, goes my alarm
As I smack it with my hand
Time for another day
Time to work for the man
Beep, goes my alarm
I glare at it once
Time to get up
Time to report to the boss
Beep, goes my alarm
As I awake feeling so tired
Wait just a minute
That's right, I'm retired

4
After thirty years of hard work and service
It's time to call it quits,
End of an era
But don't look back in regret
For everything must come to an end
Be happy of your achievements
For your retirement awaits.

5
All those years you gave your sweat and blood
All those years you sacrificed your sleep
Dedication and commitment to the company
Now it's time to cash in your chips
Curtain call on your career,
It's time to go home and live your life.

6
I've made a lot of mistakes
But choosing to retire isn't one of them
The time is right,
I have given everything to this job
And now my age can't allow me to do anymore
I believe it's time to get out and never look back.

7
This is the time that you always knew
Would be the time set aside for you
To enjoy those things that you love
To fulfill those plans that you dreamed of
But if you expected peace and quiet
Retirement can and will be a riot

8
And now your life begins anew
Hardships past and struggles true
Relax out in your comfy chair
Take a walk breathe in the air
Time to travel read a book
Take up gambling try your luck
But whatever you decide to do
Be sure to take time just for you

9
The weekdays of your life are over
Sell the saloon and buy a Land Rover
Playing golf by the sea
Taking in a matinee
Enjoying holidays abroad
Lots to do won't get bored
Live your life to its fullest
Retirement is not the dullest

10
Congratulations on your retirement
You served the company for a long while
It is time to do you
It's time to bid adieu
Your life is now going to be aflush
It is time to bid farewell
To every subordinate
And say hi to your family
Because you will be heading
To a life much better
Happy Retirement
11
You are about to enter a world
Where you can sip on coffee
And strut around the house
In your jammies and a tee
This is when you will really enjoy
The beautiful evening sunsets
And sips hot tea at sunrise
It will be amazing, I bet.
Happy Retirement.
12
Retirement is a time
For feeling good to be alive,
A time when friendship blossom
And enthusiasms thrive.
A chance to do the special things
You always wished you could.
Retirement is a aspecial time
For knowing…life is good.
Congratulations on your retirement.
13
The day has come,
I'm finally done,
Not a day more can keep me here,
Not one, none.
I'm finally free,
To do as I please,
Free as a bird,
Flying in the breeze.
Maybe I'll buy a yacht,
Maybe I'll go to Japan,
Either way if good with me,
As long as I can work on my tan.

14
Looking back on my time in the working world,
I'm proud of what I've done,
From Assistant to President,
It's been a hell of a ride,
But the titles don't really matter,
It's the thank you from a client,
And the lives that I've changed,
That matter the most to me.
It's not about the money,
It's not about the fame,
It's about improving yourself and others.
Making a difference,
No matter how small,
That's what I'm proud of.

15
I can't imagen a day without you here,
You're my mentor, my boss, my friend,
You've radically changed this place,
From the atmosphere to the physical appeal,
You brought inspiration and purpose,
To each and every client,
Like a painter perfecting his master piece,
Ever so gently shaping and forming,
Paying attention to the fine lines,
You are irreplaceable,
One of a kind,
You made a lasting impression,
You will be missed.

16
You worked for many seasons,
And for many years.
You had lots of love for your labor,
And it made life good.
Your days of work are now over,
So you get time for fun.
Your retirement doesn't mean life is over,
It means life is left for fun.
Congratulations on your retirement,
Enjoy your life with love.
17
Your days of work are over,
Now you're free to have fun.
It's time for golf and shuffleboard,
For poker and laughs.
It's a time of freedom,
And for family fun.
Your pension covers everything,
So you get to relax.
18
Everyone said retirement is amazing,
That it's full of fun.
But I find it boring,
With not much to do.
I'm not good at golfing,
And I don't care for games.
There's nothing good on tv,
And it's always a pain.
I spend my time gardening,
Which is something I have always done.
But life is quite boring,
When there is nothing to be done.
19
Congrats, it's time to retire.
You have worked so hard to get here.
You have conquered easy things
As well as allowed yourself to be refined by fire.
Enjoy what is coming after
Remember to keep a sound mind
For when you do, peace is all
That you will surely find.
20
Your work is finally done
Or has it just begun
Just because you have retired
Does not mean you can't have fun.
Continue to work hard, doing what you love.
But don't forget to take a break,
And glance up above.
21
It's time to relax from work
Congrats on an early retirement.
I am sure your passion will fuel itself again
And you find yourself working, in time,
Only now, it won't be out of obligation,
But rather, out of pure joy.
22
It is time to hang up your work hat,
put on the Hawaiian shirt and say hello to
retirement.
Empowerment is encouraging when you get to choose how
to spend your golden years- you can't loose.
Loosen the neck tie, watch it fly
as you kiss work good-bye.
23
The office is sad to see you go,
though we know a world awaits.
Your retirement date is circled,
candles aglow on a cake.
Carry our well wishes with you
on your journey out the door…
and wherever your next adventure awaits.
24
The world is your oyster,
it is time to explore.
You overachiever, it is is time to retire.
May you aspire to new goals that
fill you up like a balloon.
Take a trip to Tahiti or visit
the moon.

25
When my age hits sixty-five; And working days are through; I can finally feel alive; And find fun things to do; Retirement is a time to relax; To spend with family and friends; A time when golf pants and board shorts replace slacks; I hope retirement never ends!
26
In small offices they toil; Typing on their keys; Or perhaps they dig the soil; Planting corn and peas; Eventually there comes a day; When work has tired them out; They can laugh, and run, and play; And jump, and sing, and shout; It's time to retire to a greener pasture; Where cows do chew their cud; I wish the seconds would tick by faster; So I can retire, bud!
27
When I finally can retire; When my work is done; Many helpers I can hire; So I can lay out in the sun; I'll spend my days on golf courses; Or fishing off the dock; Perhaps I'll learn to ride horses; When I don't have to watch the clock; My golden hours I will spend; with my friends and family; I hope it never ends; Retirement's the life for me!
28
Years of commitment and sacrifice to your career have finally paid off
Your dedication and strength all of these years is admirable
May you truly enjoy this next chapter of your life
May you find adventure, laughter and peace in your retirement
You truly deserve it

29
May all of your future days
Be filled with the freedom
To do things your way
For it is time to turn in
All of your hard work
For the ease of retirement
You deserve every perk!
No more worries or meeting to make
Now you can relax
And sleep in late!
Congratulations on your retirement

30
Working with you
Has been such a pleasure
You always smile
No matter the weather
I admire your work ethic
The daily tasks you do
When something needs to be done
You always pull through
You have more than earned
Blissful years of retirement
Thank you for teaching me
The rules of empowerment
Now it is time to go out and do
All your favorite things
After all you've been through!
Golfing, cooking, and gardening
Are some things you find fun
Oh what joy and freedom
Relax in the warm sun
Do whatever it is that you like
I will surely miss having you
In my work life
Happy Retirement

31
you spent all these years
working without
a single tear
now it's time
to take a break
we appreciate all the work
you did
but now it's time
to take a rest and
do nothing all
day thank you
thank you
happy retirement day
32
i watched her work
everyday
no job to big
no surface to small
i watched her take
it all in
all the years of sweat and
tears
now's the time to
leave without fear
sixty, seventy
no one knows
but long enough to be
considered old
your tired and worn
can't do it anymore
33
retirement can be scary
and new
but look at all the work
you do
it can be tough and sad
but look at all the friends
you had
no need to cry
or get upset
it's time we
try something new
just think of
all the yardwork to do
34
Work has been a long everyday practice,
Presently it's a great opportunity to change your scene.
The adventure kept going, such huge numbers of years,
Presently prepare, for certain cheers.
You have done, a first class work,
We will miss you, we may wail.
Opportunity will be, something new,
You'll appreciate the fresh out of the plastic new view.
We're glad for you, that you're finished,
Attempt new leisure activities, have some good times.
No more musings about – utilize,
Relax, and offer your euphoria.

35
When You Retire
When you resign, you get the chance to rest more,
Life is never again, a long monotonous task,
You may do, anything you desire,
Opportunity you get to, consistently display.
When you resign, you get the chance to rest more,
Your bones may be more seasoned, and somewhat sore.
Purchase a great car, and go for a ride,
No calendar to pursue, you're just not tied.
When you resign, you get the chance to rest more,
Throughout the evening, who cares on the off chance that you wheeze.
On the off chance that you have time, you may volunteer,
Whatever you do, there's nothing to fear.

36
Desire to Retire
We realize it's been your profound want,
To leave this spot, lastly resign.
Since you're free, you can at last concede,
Over and over, you needed to stop.
Beyond any doubt your activity came up short on any allure,
Rather it required, a lot of mallet.
Be that as it may, we without a doubt chuckled a considerable amount,
Our days were constantly loaded up with mind.
Delight, share with us how you feel,
This change is a huge arrangement.
For quite a while you've been wishing,
At the point when life will include a lot of angling.