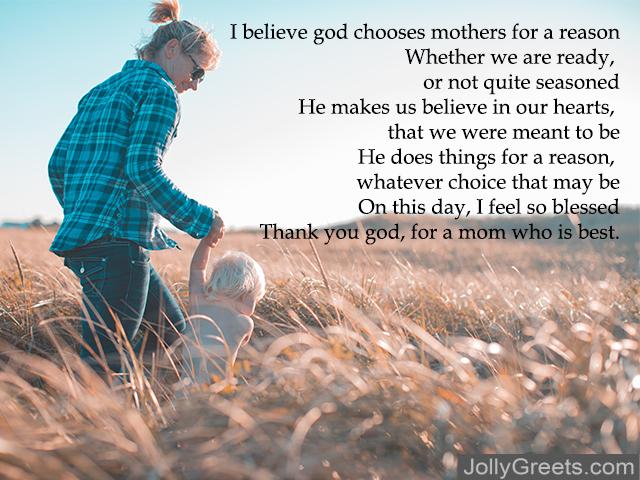 Sometimes mothers need to know that they are appreciated. One special day to do this is, Mother's Day, of course. Is your mom a church goer? Maybe she just enjoys the more heavenly message that is presented to mothers at church. Here you can find a message that suits her taste or you can find words that will inspire you to create your own poem for her. These poems can help her to feel loved on one of the best days of the year. Moms take on a lot of responsibility that most people don't recognize throughout the year. They take on heavy loads of work that they don't necessarily have to, but they want to. They do it all to make sure that their children are taken care of and shown the best in life. If you can't find exactly the right words to say to her on your own, take a look around at these poems, which offer love to moms with a tint of a religious message. She will be able to tell that you thought of a poem that specifically spoke to her heart and allowed her to hear what she needed to hear.
How to Create the Perfect Card - Examples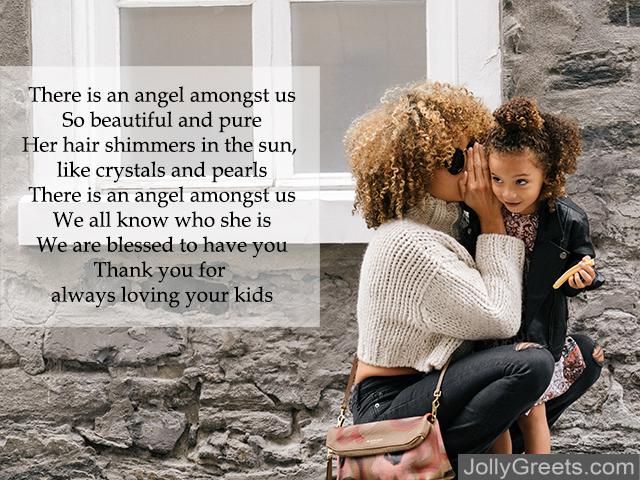 1
I believe god chooses mothers for a reason
Whether we are ready, or not quite seasoned
He makes us believe in our hearts, that we were meant to be
He does things for a reason, whatever choice that may be
On this day, I feel so blessed
Thank you god, for a mom who is best.

2
There is an angel amongst us
So beautiful and pure
Her hair shimmers in the sun, like crystals and pearls
There is an angel amongst us
We all know who she is
We are blessed to have you
Thank you for always loving your kids

3
I close my eyes tight, and pray up above
To our lord savior, I thank you for your love
Thank you for the memories, just like this
And the mother you chose for me, and the life
You and she both give
Happy mother's day mom

4
Every Sunday I go to church and pray
With so much in my heart to say
Giving thanks for this special day
Wishing you a happy mother's day
To the woman who is my hero
I love you and appreciate your efforts
May this day bring you joy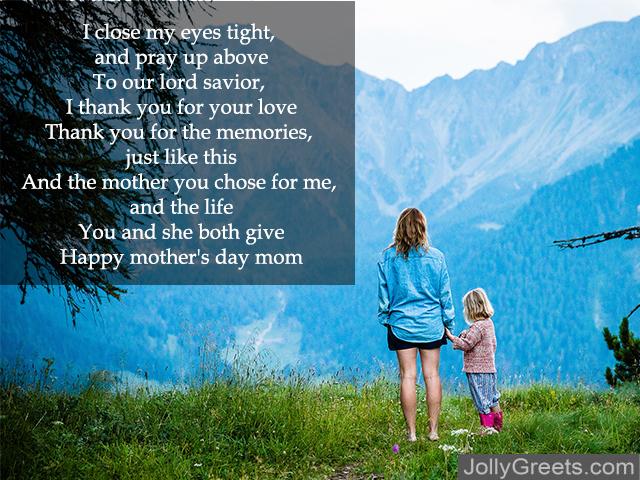 5
My mother taught me how to pray
She said that's how you start your day
My mother took me to my first Sunday school
Even though other kids didn't think it was cool
My mother taught me how to face the world
She said always do right by your word
Happy mother's day
To the woman who made me the man I am today

6
We thank you from the bottom of our hearts
For all the things you have done for us
And we thank the good Lord for gifting us
The best mother there could be
We have nothing much to say
But to wish you a happy mother's day

7
A mother is a sacred vessel
Born from purest light
Otherworldly essence
Merged with natal sight
Adore her she is holy
Her name is in your heart
Her children are all blessed
Her love will not depart

8
Today we honour our mothers
And every mother through time
We cherish the life they have given
And a love that money can't buy
We pray for the mothers who suffered
Who have given their life for ours
And for our holy mother Mary
As it was written in the stars

9
With gratitude in our hearts we celebrate this day
We love our mothers very much so kneel and let us pray
We thank you for the Holy Mother and her gift from God
We wouldn't be here to thank the Lord if it were not for Mom

10
I said a Mother's Day prayer for you
To thank The Lord above
For blessing me with a lifetime
Of your tenderhearted love.
I thanked God for the caring
You've shown me through the years,
For the closeness we've enjoyed
In time of laughter and of tears.
And so I thank you from the heart
For all you've done for me
And I bless The Lord for giving me
The best mother there could be!

11
She is clothed with strength and dignity;
she can laugh at the days to come.
She speaks with wisdom,
and faithful instruction is on her tongue.
She watches over the affairs of her household
and does not eat the bread of idleness.
Her children arise and call her blessed;
her husband also, and he praises her:

12
I pray every night to our Father above,
For that wonderful mother of mine.
I ask Him to keep her as long as He can
That wonderful mother of mine.
There are treasures on earth,
That made life seem worthwhile,
But there's none can compare
To my mother's smile.

13
As I see myself getting older,
I pray for you more.
Especially on Mother's Day.
I recognize we are only humans.
God's teaching me, just like He's teaching you,
And I'm finally starting to listen,
To you and Him, both.
I see you in myself, mom.
And I see God in you.

14
My faith in you is strong,
My faith in God is greater.
He gave me you as a mom,
He gave me a great educator.
I'm thankful for His guidance,
I'm thankful for your resilience,
I know he had a plan,
When he gave me your brilliance.

15
Thank you mom, for raising me to believe.
I know it wasn't easy, doing it on your own.
Showing up with me to church, no husband by your side.
I know people probably gave you dirty looks,
Judging you,
Not knowing you.
Or anything you stand for.
But now I stand proudly next to you.
Today of all days,
Mother's Day,
And all other days too,
Because of you, you raised me into a strong believer.

16
Are there any words to describe
What a mother can be?
They have love so great,
It's deeper than the sea.
God gave us these amazing women,
To give us love and care.
I'm glad you're my mother,
Happy mother's day.
17
May the light of the lord shine upon you,
May his grace abound on all you do.
May his love pour over you,
Let his spirit guide your path.
You are the gaurdian angel to your children,
And a light in their lives,
Just as Jesus Christ our Savior is a light in yours.
18
Mom, you are an angel from heaven,
Sent to us below.
You are the shepard of our flock,
The light to guide us home.
You have been given many blessings,
And blessed us with our own.
You have given us so many,
So here is one of your own.
19

Today I really am thankful
That God created you.
For had I another mother,
I do not know what I should do.
Our creator placed you in my life
This I know to be true.
Of all the people I could think of,
I am glad that He gave me you.
Happy Mother's Day!
20
God blessed the land
When He gave you as my mother.
He certainly knew what He was doing
When He created you.
You were fashioned in a way
That breathes life into others,
And that is exactly what you have done for me.
21
Mom, you are a beautiful creation
You were formed up above
God used His mighty hand and
In you, He instilled His love
Happy Mother's Day, Mom!
22
To the mom who knows best.
Roots deep in my soul with all you know.
Your wisdom spreads like the roots of an oak.
Mother, with you and Him as my teachers, I do not fear for anything.
Thank you for all you shared.
23
Your actions show to the world how wonderful you are.
I know you follow Him in all you do.
Shining I sing your praise to the heavens.
Your children how lucky they are to have you as
their mother with Him by your side
24
Mom,
I would not be the person I am today without your love and grace.
That you brought me to Him has been my strength.
For that gift there are not words enough to
show what that means to me.
25
The church bells toll this Mother's Day; We file into the pews to pray; The chapel walls resound with song; We know we're right where we belong; Our worship fills our heart with love; The Lord smiles from his home above!
26
We come to worship Virgin Mary; A woman who was quite contrary; She carried the Lord within her womb; Oblivious of impending doom; Though others may doubt, we believe; The non-believers, we do grieve; An example for the other mothers; To raise sons, daughters, sisters, brothers!
27
This Mother's Day, we're joined in prayer; To worship Virgin Mary fair; A woman with a furrowed brow; Who sent to God a solemn vow; To raise his Son as best she could; To treat him like a mother should; Though his body soon would perish; Both their souls we'll always cherish!
28
Mother
You have taught me so much
About love and faith
Your strength and beliefs
Showering in God's grace
Your lessons on love
And friendship and caring
Always giving and sharing
Your lessons and prayers
Have brought me closer to God
I wouldn't be the same without you
I just want to thank you
For all that you do
Happy Mothers Day

29
Every morning when I say my prayers
I thank God for giving me
A mother who is always there
Such a brave women
Giving me life and shelter
I truly don't know where I would be
If I was without her
She is a blessing from above
Always selflessly giving
All of her love
Happy Mothers Day

30
All year long
You do so much for others
Today I want to thank
My sweet mother
Always lending a helping hand
You rarely yell or reprimand
Always with God in your heart
You taught me your prayers
You told me that I'm smart
You listen and you care
You showed me that life is God's blessing
Your love for me in constant
Your heart is never resting
Always giving with pure love
On this Mothers day
I will shower you with hugs
Happy Mothers day

31
mother's day
we put on our
sunday best
time for church
a sermon or two
mother's day is today
we go to church for
an hour or two
mother's day is
a day for you
so let's occupy
a pew or two
32
church pews lined up
mother's day sermon
today
i put on my dress
mom puts on her shoes
it's mother's day at
church today
we walk inside
i see mother's for
miles and miles
decoration maybe
here and there
it's mother's day
at church today
33
here we are
we have arrived
pick a pew there's
quite a few
mom sit here
you deserve a seat
preacher says we're in
for a treat
i look to my left
then to my right
a mother here and one
over there
and here they come
the special gifts for mom
it's time to start
mom says shhh
here we go can't you
tell it's mother's day
at church
34
There are times when just a mother's affection
Can comprehend our tears,
Can relieve our baffles
Furthermore, quiet the majority of our feelings of dread.
There are times when just a mother's affection
Can share the delight we feel
When something we've envisioned about
Suddenly is genuine.
There are times when just a mother's confidence
Can help us on life's way
What's more, motivate in us the certainty
We need from everyday.
For a mother's heart and a mother's confidence
What's more, a mother's resolute love
Were molded by the holy messengers
Also, sent from God above.

35
There are times when just a Mother's adoration
Can comprehend our tears,
Can mitigate our baffles
Furthermore, quiet the majority of our feelings of dread.
There are times when just a Mother's adoration
Can share the delight we feel,
When something we've envisioned about
Suddenly is genuine.
There are times when just a Mother's confidence
Can help us on life's way,
What's more, motivate in us the certainty
We need from everyday.
For a Mother's heart and a Mother's confidence
What's more, a Mother's resolute love,
Were formed by the Angels
What's more, sent from God above.

36
Mother's affection resembles an island,
In life's sea immense and wide
A tranquil, calm sanctuary
From the breeze, the downpour, the tide.
'Tis bound on the north by Hope,
By Patience on the west,
By delicate Counsel on the south
What's more, on the east by Rest.
Above it like a reference point light
Sparkle Faith, and Truth, and Prayer;
What's more, thro' the changing scenes of life
I discover a shelter there.