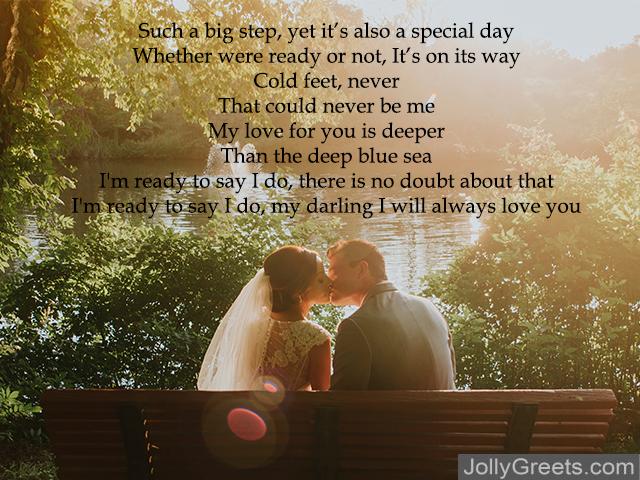 Do you have a beautiful wedding to attend? It seems as though weddings come and go just like the different seasons that present themselves throughout the year. You probably can't wait to share the joy that is already present between the bride and the groom. What better way to celebrate their special day than by sending them a unique message, wishing them well on all of their future endeavors. Think about how you first met them and how you saw their relationship forming together. This might create an air of nostalgia that will help you to create the perfect poem for them. You may find that one of the poems on this site can express your feelings towards them better than can yourself. Be sure to make the bride and groom aware of the love that you have for them and they will be happy that you put thought into the message. Allow yourself to take interest in their special moment and have fun with them during this new chapter of their lives.
How to Create the Perfect Card - Examples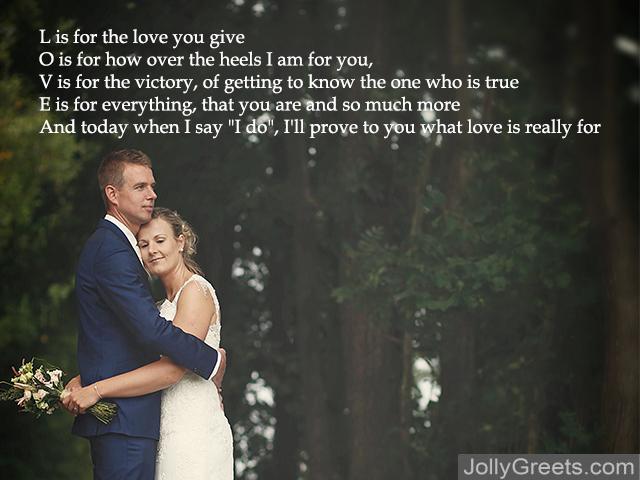 1
Such a big step, yet it's also a special day
Whether were ready or not, It's on its way
Cold feet, never
That could never be me
My love for you is deeper
Than the deep blue sea
I'm ready to say I do, there is no doubt about that
I'm ready to say I do, my darling I will always love you

2
L is for the love you give
O is for how over the heels I am for you,
V is for the victory, of getting to know the one who is true
E is for everything, that you are and so much more
And today when I say "I do", I'll prove to you what love is really for

3
Let us jump the broom, to all our new beginnings
To you and to me, for us two, we are winning,
You have my heart, you even have my soul
Our love will grow and shine, like a large amount of gold

4
The wedding bells ring
As the church choir sings
The groom is dressed in black
His best man is standing in the back
The bride is dressed in white
Everything feels alright
Let the merry making begin
As their new journey begin.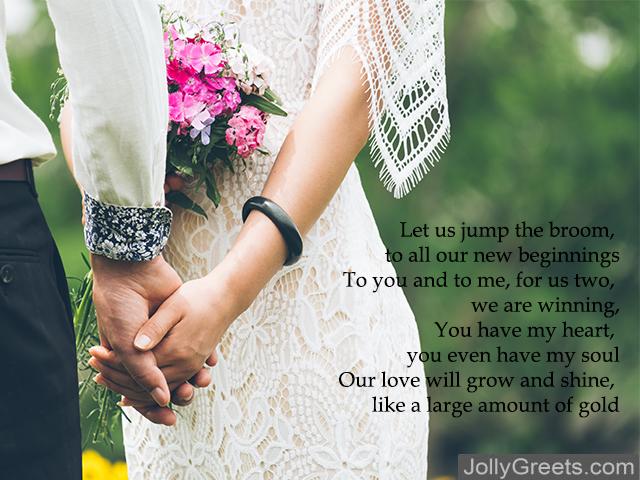 5
The church doors opened up wide
And what followed was a man and his bride
They stepped out hand in hand
They are now man and wife
A holy union sanctioned by God
And though the future remains untold
We know that this love will forever hold

6
Her wedding veil dances as the wind blows.
The chaplain stands tall as the couple exchange vows
Two souls united as one
With the promise of eternal love
The audience cheer as the wedding bell starts to ring
Holy matrimony is such a beautiful thing

7
You walk towards me all in white
Beauty framed in dappled light
Staring straight into my soul
I offer you a band of gold
A kiss and we are all but wed
Silken sheets adorn our bed
A lifetime stretches out before us
Filled with happiness and pure love

8
To wake up knowing that you will always be mine
To look forward to a future with you in mind
To give you every last part of me
To make it true that we were meant to be
To give you my ring to wear on your finger
To hear you say yes with no one to hinder
To take you upstairs when the day is but done
To celebrate with you alone, you're the one

9
A love so true is what we have
Our wedding will encompass that
We'll say our vows in honesty
Then celebrate with our family
And on this day I will promise you
That the love I have is all for you

10
Strewed in beads,
A maiden dressed in white,
Adorned in gold and silver,
A beauty, someone's bride,
Shoed in rich leather,
Her walk dances to love's beatVeiled by love's aura
She's braided with the prettiest weaves.
Step after step,
Heels over tiles
Love took our baby several miles
Pecks on cheeks
Kisses on lips
Love held in his arms
Wines and bottles
We are drunk on joy
Cups and tumblers
May we never have enough.
11
To the soil,, a seed
To the seed, a plant
To its base, a root
To its top, a shoot
To me, you are
From a stem stems the branches
In random patterns they come
Branches leave leaves behind
With colours that define a lawn
Some leaves become beautifu
On stalks they are borne
Food for the sight of many
In different colours they come
Sweet and lovely,
Bees testify
Nectar and proboscis
A union that never dies
Our union will never die.
12
I don't love you as if you were a rose of salt, topaz,
or arrow of carnations that propagate fire
I love you as one loves certain obscure things,
secretly, between the shadow and the soul.
I love you as the plant that doesn't bloom but carries
the light of those flowers, hidden, within itself,
and thanks to your love the tight aroma that arose
from the earth lives dimly in my body.
I love you without knowing how, or when, or from where,
I love you directly without problems or pride
I love you like this because I don't know any other way to love,
except in this form in which I am not nor are you,
so close that your hand upon my chest is mine,
so close that your eyes close with my dreams.
13
I stand before God,
Declaring to put Him first,
So that our marriage will honor Him,
And honor you,
My darling.
I stand before God,
Declaring my love for you.
You, my spouse,
My equal,
My lover.
I stand before God,
Declaring I will lead and protect you,
In all that we do,
My sweetie,
My wife.

14
Communication is the lifeline of marriage.
Don't go to bed angry.
Be united in every decision you make.
Don't be hasty.
Pay attention to body language.
Don't hold grudges.
Learn each other's love languages.
Don't be lazy.
Encourage each other to grow.
Don't hold them back.

15
The doors creak open,
Guests are arriving,
The church bells ring,
Bridesmaids scurry about,
The planner makes an announcement,
The groomsmen take their place,
The music begins,
The crowd rises,
The heels click down the aisle,
The bride walks in,
The sniffles start to play musical chairs,
The preacher begins.

16
The flowers on tables,
The aisle wide and long.
His tux is freshly pressed,
And her dress glitters like stars.
Everyone is standing,
Watching her progress.
The groom is crying softly,
The bride's smile so bright.
You can't help but notice,
All the love they share in kind.
17
They dance slowly,
To a song of their choice.
It's their first dance together,
As husband and wife.
The many years together,
That they have spent hand in hand,
Is now marked to forever,
I think you can understand.
The bride is singing softly,
So only he can hear.
It's their song they chose together,
That tells of their love.
It will mark the years coming,
And forever they shall be,
Wed in matrimony,
For all of us to see.
18
Her dress of white,
Flows soft like water.
His tuxedo of black,
Is crisply pressed like fall.
They shine so bright,
Standing by each other.
The love in their eyes,
Like a beacom calling each other home.
The moment is beautiful,
As they say their vows.
They light up each other,
And I know it will last.
19
Today is your special day
And so I'll say, "Hooray!"
You are getting married
A day that you will remember
And so I will celebrate alongside of you
Just like every other member.
Best of wishes to you two!
20
You two are in love
That much is easy to see.
You will do well,
Treat each other swell
And the rest is history.
21
You two are finally here,
You made it to the end
Or would it be the beginning?
Either way, you will do just fine
Your commitment is secure.
I am thankful to witness your faithfulness,
Of this, I am sure.
22
On our wedding day we get to begin a life of I love Yous.
Laughter and hope will fill the crevices of our soul sustaining us through the years.
You are the blessing to each prayer placed upon these lips
I anticipate to kiss.
23
Devotion dances in my body
to the partner you will become.
Baby that you said "yes" and get to wear a white dress.
With you my life will never be dull. You have made it so full.
Hearts pulled passionately together.
24
Joy like confetti thrown into the air as we declare
our commitment to each other.
Can you believe this day has finally come,
heart strings thrum.
Love will overcome all we have ahead of us.
A team we will become.
25
On the day when you first met; I knew you were a match; And I know you won't forget; To treasure such a catch; Your relationship will pass the test; Your bonds will never break; I'm glad that I'm your wedding guest; Now let's all eat some cake!
26
I knew you were the one for him; And he the one for you; This wasn't just a silly whim; This was love that's true; You crazy kids make me so proud; To be part of your life; Now's the time to shout real loud; I pronounce you man and wife!
27
You've finally found your soulmate; The one who's meant for you; Even on your first date; I knew your love was true; Your hearts are for each other; Your souls will find a way; I'll bet your father and your mother; Sure are proud today!
28
A glorious day
Made just for you two
To make this sacred promise
Proving your love is true
Friends and family gather
To hear you two exchange your "I do's"
As you begin your beautiful new life
As husband and wife
I just want you to know
Your love for each other
Will only continue to grow
Congratulations

29
A breathtaking bride
A very handsome groom
Walking down the aisle
With love in your eyes
We can't help but swoon
At all your sweet promises
As you say "I do"
I know your love is true
Nothing makes me happier
Than seeing you together
In holy matrimony
I know your love will last forever
Congratulations

30
Roses and daisies adorning the tables
Everything made beautiful
Reflecting all the little things you love
It is your special day
With blessings from above
Such a beautiful bride
You are going to be
I am so happy for
All the love you will receive
On your blessed wedding day

31
a little girl
could never imagine
a wedding as grand
as this
could never imagine
a love so wild
all the flowers
could never compare
to the beauty i see
standing here
tears of happiness
and smiles
complete this day
today
32
my hair done up
my dress of white
my veil and
flowers in my hair
i grab my bouquet
i rewrite my vows
in my head
i can't believe
were about to wed
the doors open
the music starts
as i began to walk
there you stand
at the end
here we go
about to wed
let our life began
33
our first date
was different
i knew that day
i'd marry you
now here we are
tasting cakes
picking colors
making name plates
the day is set
the dress is picked
my bridesmaids wear
the color i picked
the flowers are arranged
the chairs to
i smile at myself
i knew it was true
i knew i'd marry you
34
A Beautiful Stranger
Life was deficient thus dry,
Till a delightful outsider dropped by;
We met and met, till we fell profoundly enamored,
Together we got the flavor of heaven above.
So now we stroll, through the passageway of life,
No longer outsiders, presently we're man and spouse,
With all our adoration and trust in each other.
We guarantee to hold each other's hands for eternity.

35
A flawless day it is for you
An ideal beginning of the day
When you wear your best dress
Its the things to awe
Grinning and shying without end
To make a unique way
In the core of individual you cherish
Wedding is really unique
Lets start the good times
Well done to you on this day
Have a favored life ahead!

36
As you take the marital promise
Today as you take the marital promise,
That you will share all your distress and euphoria
With the individual you genuinely love
Its an opportunity to appreciate
What's more, make it extraordinary all around
Wedding time is the event that you will recollect
In your life and every day!
Well done such a great amount on your big day!
Stay favored both!