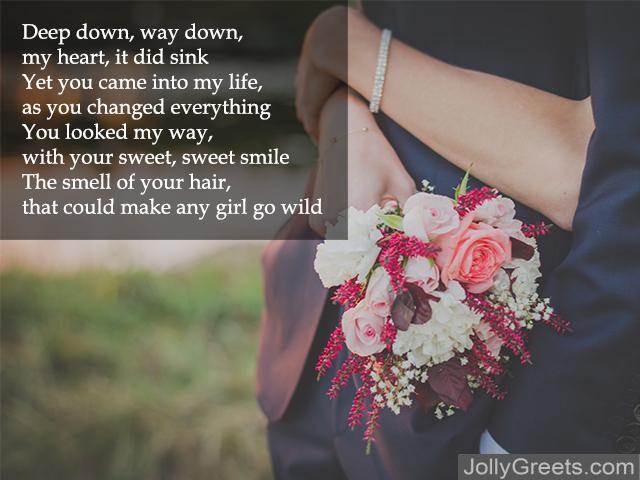 Everyone desires to know how much they are loved. While men typically don't vocalize their need to be loved as much as women do, they need to understand how much you love him just as much as anyone else. Even if their response is hard to read, they do like to hear about how much you love them. There is no one on this earth that willl give you the same feelings that he does, so why not celebrate that by sending him a quick love note. Write a thoughtful little message on a sticky note and leave it on the windshield of his car so that he can find it before work. You can even take a meaningful message and attach it to a gift that you send to him. Give him a card with words that came straight from your heart. Add in an idea for a date night, and then set aside a time for you to take him out. There can be a lot of pressure for the man of the relationship to stir up all of the romance. He might enjoy it being switched up a little bit. There will be no doubt in his mind that he has been on your mind lately and that you care for him in a loving way.
How to Create the Perfect Card - Examples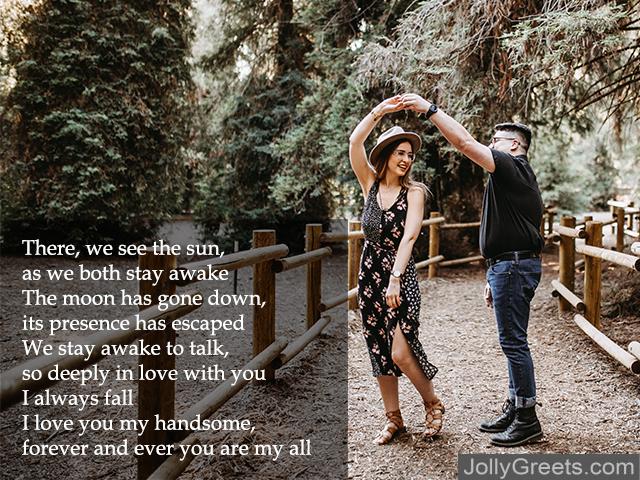 1
Deep down, way down, my heart, it did sink
Yet you came into my life, as you changed everything
You looked my way, with your sweet, sweet smile
The smell of your hair, that could make any girl go wild

2
There, we see the sun, as we both stay awake
The moon has gone down, its presence has escaped
We stay awake to talk, so deeply in love with you I always fall
I love you my handsome, forever and ever you are my all

3
Look to me, if you ever feel unsure
I'll stay by your side, I'll always be your girl
I'll hold your sweet hand, and walk through the fire with you
Any obstacle or hard challenge, we will always make it through
.
4
Your love is like the sun gleaming. The moon beaming.
Your love is like the stars shining so bright. All through the heavenly night.
Your love is like violins playing. Sunny days staying.
Your love is like birds singing. Bells ringing.
Your love is like rivers flowing. Flowers growing.
Your love is like a cool wind. Love that never ends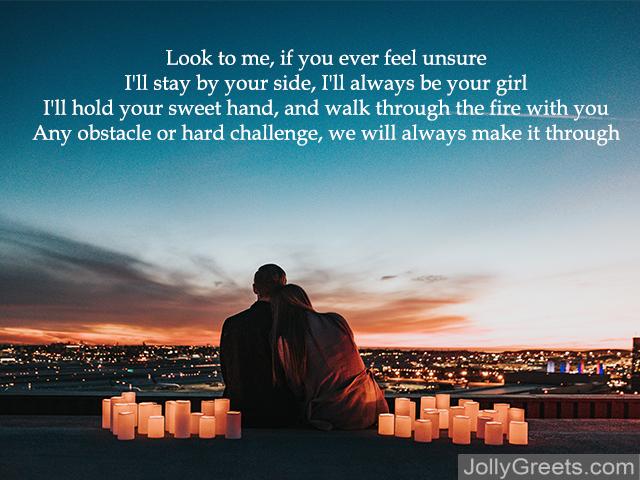 5
Looking into his eyes set her free.
Like a bird flying over the sea.
Just like a kite soaring into the great blue skies.
She got lost in his paradise eyes.
Blue as they could be.
Those paradise eyes made her fall deeply in love with him.

6
When I first laid eyes on you
My hear chose you
Ever since then you've become my entire world
You've become my inspiration to be better
You've shown me that love can be beautiful
And you've made me the happiest woman alive

7
When you look at me, the world falls away
We are alone in a crowded place
My love for you will never die
Our beating hearts leave a trace
And when our lives are over
And its time to say goodbye
I'll still love you forever
You will always be my guy

8
Each day I thank the moon and stars
For giving me your loving heart
I wish for nothing more than you
My heart will always be so true
To give myself in every way
I love you more with each new day
You are the sunshine in my life
I hope to one day be your wife

9
Loving you babe is all I think about
I can't sleep or eat when you do go out
My heart is broken each time you leave
Your prompt return is the only reprieve
I love you so much I can't be without you
I need your affection your love is so true

10
The strong virile sweetness
In a kiss, hand on hair, skin against skin
Love known in two hearts
Beauty of loving flows
Souls entwining in secret song
Lips touch lips, limbs excite limbs
And sweet desire, fulfillment, titillation
Suffuse our writhing forms
Take me, my love, in your arms
Kiss me deep and long
Forever place your soft lips against mine
Cheeks fine, light stubble divine
And brand me to be yours for all time.
11
When you love someone
You live in the realm of fantasies
You create unimaginable pictures in your head
And long for them all to be real
Love gives you hope for the future
It refreshes you in the present
Makes the heartbreaks of the past forgettable
When you love someone, you can do anything,
believe a lie, deny the truth
You'll do crazy things you can't explain
You'll shoot the moon and put out the sun
Love leaves you speechless, strikes you deaf
Yet you'll hear when it speaks
It makes you feel you can really fly,
even whilst your feet are on the ground.

12
When you love someone
You will feel it deep inside
Your heart speaks and your body listens
You take a leap of faith
You walk the narrow path of love
Embark on a journey to the unseen future.
You scale heights unthinkable,
You travel an extra mile,
You give it your all.
When you love someone
There's no stopping you
You do all you can
You don't think about only that which soothes your heart
You only crave for what pleases him
When you find love
You've found everything
You've found yourself
You've found light in her
The rain is gone and you can see clearly
You see a future that seemed impossible
Only because your heart is with your beloved.
13
You're more than I ever wanted,
More than I ever could curate.
Yet somehow you're everything I needed.
A quiet force for my pigheadedness,
A calmness to my wild inspirations,
A kindness to counter my indifference,
Someone to teach me how to debate.

14
My dog is my child.
So when he first met you,
My nerves were running high,
high strung,
nervous.
He sniffed you,
he checked you out,
Tail wagging.
He'll let you move on to the next round.
You play with him.
You give him love.
You treat him as your own.
He sits by you,
He approves.
My heart sighs with relief.

15
I thought I loved you then,
When we were fifteen.
Fifteen is so young,
Young like a baby doe just learning to walk on it's legs.
The doe finally figures it out with a little help and a lot of tries.
But when he finally stands, he remembers that day,
Like the day that I told you I loved you.
You are my first love, you'll always be,
A special day in my mind.

16
You make me smile,
You make me laugh.
When I'm in your arms,
I feel safe at last.
You mean more than the world to me,
And in my heart I hold you dear.
I love you into infinity and beyond,
And back.
17
You are always there for me,
When I need you most.
Your arms fit perfectly around my waist,
And my head rests on your chest.
Every day is filled with love,
And we never need to fight.
Even if we disagree,
We always solve it peacefully.
You fill my heart with joy so bright,
And you make me feel like a queen.
I never imagined a guy as perfect as you,
But I wouldn't rather any other by my side.
18
You're always there to protect me,
Even if I don't need it.
You're always there to support me,
When I need it most.
You love me with no reservations,
Though I have many faults.
In me you only see beauty,
Even if I look my worst.
You always take care of me,
Even when I am well.
If I didn't have you by my side,
I wouldn't be able to feel this love as well.
Everyday I spend beside you,
I feel like I am blessed.
For I get to love you truly,
And you are the very best.
19
Deep down from my heart
I feel you are the one.
Your laughter being more radiate
Thank the spokes found on the sun.
Your eyes, they shine so bright.
Yes, they are impactful in every way.
I intend to love you, handsome,
Each and every day.
20
From the depth of my soul
I love you most of all.
You allowed me to move past myself to see,
That this world is about more than only me.
And for that, I am eternally grateful
And thankful as can be.
I also love that you are able to love
Me for me.
21
Love does not always come easily
And so I cherish when it does.
I hope I make you happy.
And give you what you desire.
What I love about you is that
I can see your fire.
22
Thank you for putting away your video game
my heart is a flame which cannot be tamed.
With you my passion can be regained.
That you have put aside your hobby for me has made me
want to dance with glee.
23
A thief you must be for stealing my heart,
locking it away and throwing away the key.
Walking towards you it takes all of my breath.
If you would leave me then I feel might fall to my death.
24
The exact moment you swept me off my feet
I knew there was no place else I would rather be.
In your strong arms I am secure from all harms.
You carried away my heart with all your charms.
25
I love how your beard tickles me; Each time you kiss my lips; I love how your hands comfort me; When placed upon my hips; Your eyes that twinkle give me life; When you glance in my soul; I'm grateful that I am your wife; Your presence makes me whole.
26
I've dated many men, it's true; I've honestly lost track; But it wasn't until I met you; That someone had my back; You love me for more than just my body; You appreciate my mind; As a man, you're certainly not shoddy; In fact, you're quite the find.
27
When I felt lost within the world; No place to call my home; You showed up to save this girl; To show me where to roam; With you beside me, I now feel; We can go anywhere; I will follow you with zeal; No matter what the fare!
28
All of the years we have be together
We have braved some rocky weather
Every challenge we have been able to face
We have only gotten through it
With your shining grace
Your quiet strength brings much to our love
Your love is a gift sent from the heavens above
Thank you for all that you do for me

29
You were once just my boyfriend
Now you feel like family
For the years we have spent together
Taught me how love should be
Have created an inseperable bond
I hope it lasts for years and beyond
The life we have created
Is so beautiful to me
I am beyond blessed to have you
You make my life complete

30
Road trips and vacations
An occasional fight
Late nights talking
About the meaning of life
When we argue
We always get through it
Because our love is so strong
This has been proven
By all the times that you have been there for me
You are my soulmate
For eternity

31
i could say
i love you
a thousand times a day
kiss you a million more
i could say your
my soulmate
and my bestfriend
i could give you hugs
and whisper to
that's how much i love you
32
the time with you
has gone by fast
and even though
some times were bad
you're still the reason
i get butterflies
the reason my heart
swells and my
eyes light up
your the reason
my world goes right
33
no poem
book or blog
could show you
how amazing i think
you are
my love for you
grows each day
i love you
more and more
you are the love of
my life
my reason to smile
i love you so
much my heart
swells with pride
34
It fulfills me simply being close by.
Every one of these sentiments I can't cover up.
You'll generally be in my heart.
Can't endure the agony when we are separated.
No one is as unique as you are to me.
I trust you are starting to see
Exactly the amount I care for you,
And every one of my sentiments will dependably be valid.
I can't depict the amount I give it a second thought,
In any case, when you need me, I'll be there
To wipe those tears when you are tragic,
To satisfy you when you are distraught.
Every one of these things I can truly do.
Simply recollect that I'm considering you!

35
To live with you is the thing that I need for my entire life.
I petition God for the day when we would be a couple,
Having intercourse to all of you night long kissing,
Letting our adoration to stream inside.
The sweet taste of your delicate lips
I could never need to miss.
I feel so sheltered when you embrace me tight,
Everything is by all accounts flawlessly okay.

36
I feel fortunate in life that I have you
Never figured we would go so far when our adoration was so new.
Intimate romance is estimated by how profound you fall
What's more, made a decision by how low you are happy to slither
Just to spare it and make it last
It is controlled by the fact that you are so ready to open up and offer your trust.
It is cordial, stunning consistently, and constantly kind.
It is never partial, it is visually challenged.