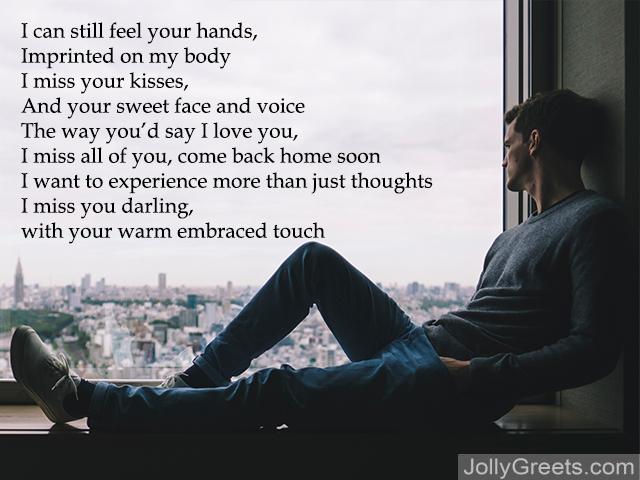 Are you missing your man like crazy, but you are hesistant to tell him so? If you don't tell him, he might think that you are having a great time without him. He will be unaware that your thoughts truly drift towards him often. When we keep our feelings to ourselves, no one knows that they are there except for ourselves. It's time to tell your fella how you feel without any feelings of shame being attached. You will most likely find that he has been feeling the exact same way! What a relief it would be to hear your man saying back similar words of endearment. Although that last part isn't a guarantee, it's still better to tell him how you feel rather than locking it inside. You can either look through the inspiration that has already been provided on this page, or you can look within your heart to find the perfect words that will let you know how much you are yearning to see him. You won't regret telling him how you feel rather than allowing your thoughts to remain silent, and further stretching the distance that is already between the two of you.
How to Create the Perfect Card - Examples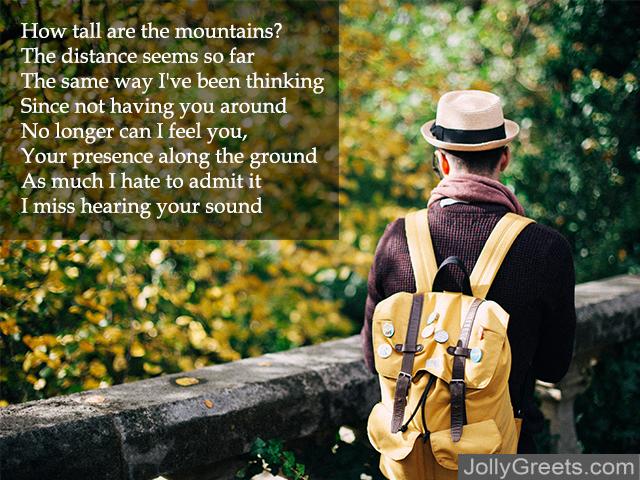 1
I can still feel your hands, Imprinted on my body
I miss your kisses, And your sweet face and voice
The way you'd say I love you, I miss all of you, come back home soon
I want to experience more than just thoughts
I miss you darling, with your warm embraced touch

2
How tall are the mountains?
The distance seems so far
The same way I've been thinking
Since not having you around
No longer can I feel you,
Your presence along the ground
As much I hate to admit it
I miss hearing your sound

3
Off on the road he goes again
As much as I fight it, I can never win
I hate that I always miss you
Just stay a little longer please
For once don't choose to go
Come to bed, and stay home with me

4
The days always seem gloomy
The nights are cold and lonely
Time goes by so slowly
When I can't see you daily
I think of you constantly
Wishing I could hold you tightly
And tell you how much you mean to me
By my side is where you are meant to be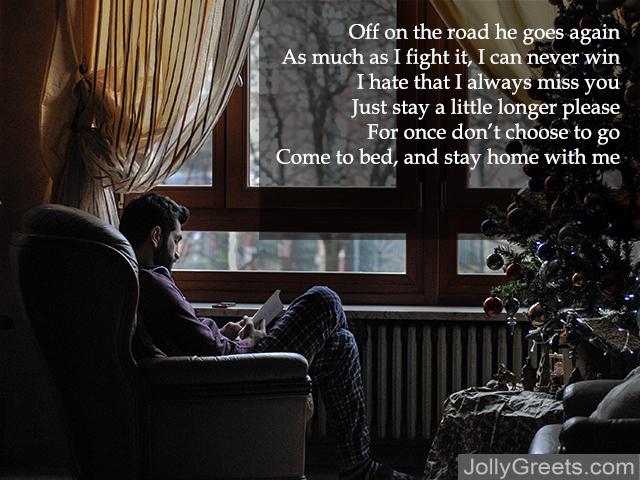 5
I miss you so terribly
That without you, life seems so empty
I can only look forward longingly
To your hugs and kisses especially
As time goes by day by day
I count down to the moment I'll see you again

6
It's hard to explain
Why these memories carry so much pain
I realize the distance between us tore us apart
Or maybe it was my refusal to play my part
I miss your love every day
I may never call but I want to say
I wished you could have stayed
I miss all the games we played
I'm here all alone
Wishing you would come along

7
I miss the way you touch my face
Take me in your strong embrace
Make my heart burn with desire
Love me gently by the open fire
I miss you each and every day
More than I could ever say

8
I have been without you for so long
My heart is empty without song
My days are filled with silent woe
My feelings have no place to go
I miss you more than you could know
Without you my blood cannot flow
To the heart that beats with yours
I love you now and for evermore

9
I miss him in the biggest way
How very much is hard to say
I have a huge hole in my heart
I can't believe that we're apart
I hope this agony does end
I want him back my dearest friend

10
Maybe I didn't treat you quite as good as I should have,
Maybe I didn't love you quite as often as I could have,
Little things, I should have said and done,
I just never took the time,
But you were always on my mind
You are always on my mind,
I miss you.
11
Swipe right to left
What we do with tablets
Type till there's nothing left
Till thumbs become gauntlets
To those who do and who do not care
We profess love and hate that we do not share
Lies, truth, all travelling through the air
To friends and foes whatsoever they wanna hear
But being in person cannot compare,
I miss you
12
Last night I had a dream,
We were walking hand in hand,
On a deserted island beach,
Over endless miles of sand,
The moon was shining bright,
You looked over at me and smiled,
Your eyes so full of passion,
Our thoughts both running wild,
We laid down and held each other,
So close but never enough,
The tides came in and nearly covered us,
As we made pure and beautiful love,
I had never known so much beauty,
As your skin in the pale moon light,
Every moment so intense and new,
On this warm, dark and blissful night.
But as the sun rose the next morning,
You disappeared and left me alone,
I'm still on that deserted island,
Come back and bring me home……

13
I miss you like the right shoe misses the left,
When the dog chews it up.
I miss you like a knife misses a fork,
When the fork breaks in the disposal.
I miss my other half, my missing piece,
Even though it got really messy.

14
Seasons change, memories fade, decades pass
I've moved on, I don't think of you much.
My life is going great and then wham—
You flood my mind,
Like a depression, it's all consuming.
I don't know where you are or what you're doing.
I don't know if I'm going to mess up your life.
But I needed to say,
I miss the way you say my name.

15
I feel you in the bed beside me,
I hear your heart beating fast.
Your breathe starts to slow to a pattern,
In.
Out.
Chills run up my spine,
As I think of what we just did.
I roll over to look at you,
And you're gone.
Where did you go?

16
I miss your laugh,
I miss your cry.
I miss you like I would no other guy.
You make me smile, you make me feel safe.
You make me feel as if I can have faith.
With your loving embrace that I miss so,
when you are away I feel so terribly low.
17
When you're gone it hurts,
And I miss you so.
Your smile, your laugh, your
eyes,
And the way you embrace me.
When you return my heart will soar.
But until then, I will be waiting.
Your warmth and your love,
Without them I am cold.
So until you are here,
I will save my good morning kisses,
And my hugs goodnight.
18
It's hard to see you go when I know you must leave.
I will miss you through the morning and into the eve.
Seperated though we are, I still know I'm in your heart.
Your embrace of goodbye still warms me,
And I will see you when you get home.
19
I miss you so much
That my heart has begun to ache
Will you please come back?
Pretty please, for my sake.
It would make me incredibly joyful
I know you would if you could.
Maybe you can come see me early
I really think you should.
20
When will you be home?
I miss you beyond what I can express.
There is nothing within this world
That could make me love you less.
I think about you all day,
And quite possibly at night.
Waiting until I can see you again,
That will be quite a sight.
21
I miss you terribly,
I wish that you were near
I understand why you are gone
But that does not fix my tears.
Until you come back
I will wait
And fix my eyes upon the gate
22
When the wind blows I hear your name.
In the birds songs I find myself searching for your presence.
Each drop of rain I imagine a kiss falling upon my head.
That you were here with me again.
23
The silence of your absence is loud as thunder.
There for so long and now you are gone.
Lightening as jagged as the scar on top of your shoulder.
In everything you are there.
That this home be full of sound.
24
I miss you every morning as I drink my coffee.
In the silent spots of work, walking in the park.
I did not know the soul could feel this heavy.
Alone with my heart the world is so loud.
That you would wrap me in solitude.
25
Your favorite chair is empty, there's more food in the fridge; If I am being honest, I miss you just a smidge; The house is far too quiet, when you're not by my side; But I'll be thinking of you, my heart chock full of pride!
26
Since you've passed, there's a big hole; Where my heart once used to be; It's not fair, but I feel God stole; Your presence away from me; I miss your laugh, I miss your smile; I miss your manly grin; And through, the pain, all the while; I miss what could have been.
27
I know you have a job to do; I won't stand in your way; But I will not stop missing you; Every single day; Your touch can calm my worry; Your arms can keep me warm; I can't tell you to hurry; But I pray you're safe from harm.
28
Although loving you is worth the pain
I still feel so lonely without you near
Hours I have spent looking at your photos
Although I care for you endlessly
I feel as though my life is empty without you
My dreams are filled with wishes of you
Disappointment fills my heart when I awake
To find that you you are not here with me
Although I will always fight for our love

29
Movie stubs and photos of us
All scattered on the floor
I try to wipe my tears
But I think of you some more
I cry alone in my room
Thoughts of us together
They used to bring me strength
Now it feels as if
Too much time has past
I want to know if our love will really last
Missing you has caused me so much pain
I can't wait to see you
I hope you feel the same

30
Even though we keep in touch
It's hard to be apart
I miss you so much
Seeing your face on my phone screen
Comforts me a little
I just wish you were here with me
I am sure I will see you very soon
Then we will be able
To chat all afternoon
In your arms, I can't wait to be
Patiently I wait
Till you are close to me

31
i look up at the
sky at night
and i think of you
and i miss you so
i talk to you
in hopes you hear
sometimes i shed a tear
it's not the same without
you here
i miss you
more than you know
32
i miss your smell
i miss the way
you looked at me
i miss the times we spent outside
the times when
i was with you
i miss the way
the world stopped
i miss the way
your arms felt
33
i watched you
board that plane
and my heart sank
i lay in bed
and think of you
wondering if you
miss me to
nights are long
days are slow
my heart misses you so
i really can't wait
to have you home
34
I had this dread at the top of the priority list
I had this dread in my brain
A dread that was not all that sort
That imagine a scenario in which you leave from me one day.
What will I do and in what capacity will I remain
I am experiencing that at this moment
What's more, I need to disclose to you how
Since the time you have abandoned me
There is nothing more to see
I consider you the entire day
Also, that just makes me state
That you are my life and my reality,
Return soon my kid
Without you, I miss my grin along
You are my solitary bliss
I miss you to such an extent!

35
Baby I cry
Child I cry taking a gander at your image,
I cry futile for every one of the occasions,
How things have transformed I don't have the foggiest idea
Whom to fault and No one to appear
Your inclination and your essence was such
That I genuinely miss you much,
Child I can't survive without you,
There is a sentiment of being distant from everyone else,
A sentiment of blue,
I truly miss you!

36
It isn't so natural to give up
It is difficult to express that what you intend to me
Since the time you have left
There is nothing left to see
Coz you were my reality my adoration
My solitary predetermination
Hanging tight for the day when you will return
Furthermore, I will get my grin throughout everyday life
I recollect you every day of my life
Every minute intense to get the job done
Coz I am missing you to such an extent
As I adore you such
Holding on to take a gander at your face
That enchant and your effortlessness!