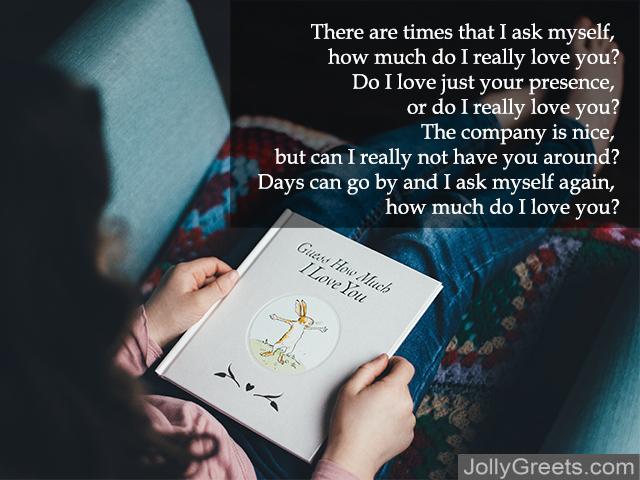 Do you wish to tell the man or woman in your life how much you love them but you can't quite figure out how to put the message into words? This seems to be a dilemma with most people that have a loving, yet creative heart. The words are there to say and you know it, but somehow they just don't make it down on paper. If you are having trouble coming up with precisely what you want to say, use these poems as a guideline for what your thoughts are already telling you to be true. You already know that you love them- that much is obvious. But why not come up with a unique way to dispel this information? Think about events in the past that have meant something special to the two of you. Think about how you two seem to have this secret form of communication that is only for you two. Use the thoughts that pop up in your mind and your heart as a guide to creating a message that will warm your partner's heart. By doing so, you will make sure they know just how much they love you.
How to Create the Perfect Card - Examples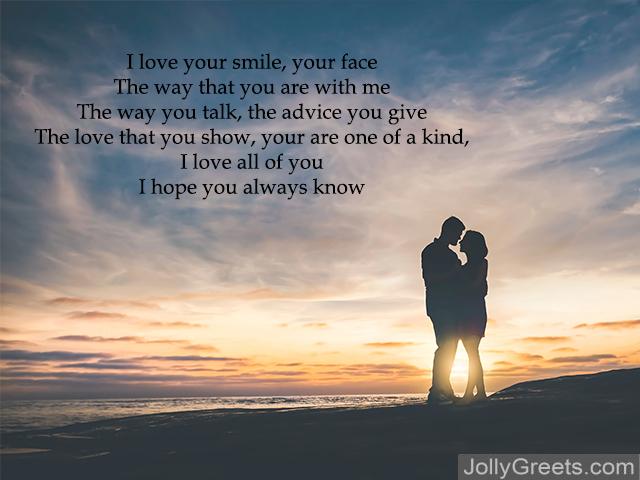 1
There are times that I ask myself, how much do I really love you?
Do I love just your presence, or do I really love you?
The company is nice, but can I really not have you around?
Days can go by and I ask myself again, how much do I love you?

2
I love your smile, your face
The way that you are with me
The way you talk, the advice you give
The love that you show, your are one of a kind,
I love all of you
I hope you always know

3
Birds chirp, The Sea sits still
The moon rises high, as the sun sets
Balloons fly, along in the big blue sky
My heart is all yours
This I could never deny
I love all of you, when you're with me
As the world stays in place, my love for you will always be

4
You are my sunshine when it rains
You are the cure to my pains
You brighten my life with your warmth and love
I swear you must have come from the heavens above
I love you with every ounce of my heart
And I pray to God that nothing will tears us apart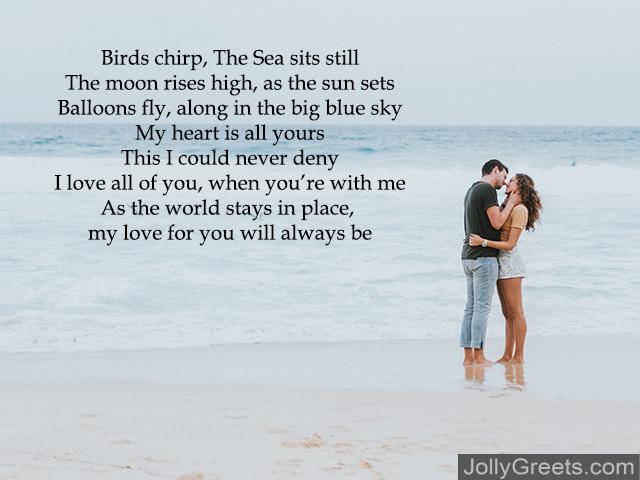 5
Do you know how much I adore you
There is nothing I wouldn't do for you
Though we may be worlds apart
You will forever be in my heart
I would cross the oceans and the seven seas
Just to get another chance to see your pretty face
Though I may never say it quite enough
I love you so very much

6
Even if the world stops today
Even if I have nothing left to say
Nothing will change how I feel
For in my heart I know it's real
No matter what happens
In my heart you will always have a place
I love you lots and will always do

7
I love you more than words can say
Deep in my heart, you'll always stay
And if we were to ever part
My life would be so very dark
I love you more than life itself
My love for you is so heartfelt

8
I love you more than the stars above
I love you more than I thought I could
I love you more than the summer rain
I could love you over and over again
I love you more than the bee loves honey
I love you deep inside my tummy
I love you more than my life is worth
I will never let your heart feel hurt

9
I love you so much I can't convey
How much I need you every day
I want you by my side forever
Together we can brave all weather
And if the world should cease to turn
My love for you will always burn

10
I want to burn
I want to burn with love, and watch you bask in the white smoke of my affection
I want to envy the heat of my flames as you writhe with pleasure from the cores of my being
I want to tap on your shoulder recapture the sounds of language from your lips and build roots with your excitement.
Sculptured with my hands and placed on the Everest for the world to see

11
If the skies are blue
Roses red and the grass green
My love for you would be dark
The tar of charcoal, like a black hole
Where stars dare not shine
I loved you like kohl to my eyes
Like intricately hennaed hands and feet
Tinkling bangles called out to you
The you within me cried out for you
A bride led to the slaughter
Fattened lamb to the altar
Visceral offal to the crowsVisceral offal to the crows
I'm standing here all patched up
Like a piece of child's play.
Some parts of me are nowhere to be found
This puzzle can never be whole again
Now I'm searching for you… For love
Across seven seas I would come
To give you sweet ginger love
A taste of your own poison
Certainly it won't kill you…
Or will it?
12
I want to love
I want to love you
I want to love you like I loved the tears from the sky when I was little
I want to love you like the blue sky on a windy day
I want to love your flaws and make a home for your demons with my rib cage
I want to run from your beginning to your very end
And with every step, every mile I conquer, every strand of hair blowing in the wind, every sweat breaking out on my skin
I want to be everything you didn't know you were looking for.
13
My heart is so full,
I can feel it pounding in my throat.
My eyes are swelling with tears of happiness.
My soul longs to be yours and yours alone.
I can feel your love surround me,
Like water rising over my head,
Filling a pool to its brim.

14
My love for you is like the vast universe,
Never ending.
Deep, sometimes dark, yet peppered with sparkly, bright stars.
I'll chase you like the moon chases the Earth.
Yet there is that space always there if you need it.

15
You loved me when I couldn't love myself.
You cared for me physically, mentally, emotionally.
You made me see the light.
I began to love again.
So much so that you became a part of me.
Now I am you and you are me.

16
If I took the sands of all the beaches,
Of all the worlds that this universe reaches,
And multiplied them by all the stars,
In the night skies and of galaxies off far,
I would still not have a number big enough,
To count the ways I love you.
17
To infinity and beyond,
As I have said before.
It still doesn't explain,
How deep my love goes.
I love you past the stars,
And deep to the earth's core.
I will love you for eternity,
Even after we both pass.
My love for you goes beyond all boundaries,
And it shall never fade.
18
My love for you is deeper than all of the oceans,
My love expands far past the stars.
All the grains of sand can be counted,
And won't come close to All my reasons for loving you.
All the particles of air that fill the atmosphere,
Can't compare to how full my heart is with you beside me.
19
Let me tell you how
Incredibly I love you
And how much you mean to me.
I hope you feel the same.
We will wait and see.
The impact that you have had
Really can't compare.
I love you the most
This I truly swear.
20
I love you more than anything
That I have cared about before.
Beyond the moon, and past the starts
And even the galaxy galore.
I hope you feel the same,
But even if you do not,
All this love within my heart is still what I have got.
21
Do you know how much I love you?
Have I told you lately?
It seems as though the phrase
Has slipped my mind too often.
But I hope this poem will help
Your heart is what it shoud soften.
22
I love you more than Sunday evening,
football on TV. I love you more then pancakes,
soft pillows, and fine wine. I love you more than
sunsets, wind whispering in the trees. You ask how I love you.
I love you more than..
23
One poem cannot contain all the love I have for you.
It fills me like a balloon. Untethered I would fly away if you
were not there by my side.
We would sail above the universe
exploring each others souls.
24
So many ways to love you.
I would need new words to express how you make me feel.
The colors are dull compared to your brilliance.
How could anyone not see you are a star,
brought down from heaven.
25
Every time you're near, you make me smile; Your cell phone number's always on speed dial; Your encouragement means more than you will know; The lessons you teach me truly help me grow; I'll always help with everything you do; I want you to know just how much I love you!
26
I love that we love to do the same things together; On bright days or even in stormy weather; When you are by my side the world feels right; I'm happiest when I can hold you tight; You say all the of the things I want to hear; For those reasons and more, I love you, dear!
27
No matter what I say, you always hear me; No matter what I do, you never fear me; When my jokes aren't funny, you still chuckle; When I pressure you, you never buckle; You take me as I am, and love me still; Please know that I love you, and always will!
28
When you asked me how much I love you
All I could say was, "with all of my heart"
What I really wanted to say was
That I love you more than anything in the world
At times, it seems like I'm insane
For the sacrifices I have made for you
All of the money and travel in the world
Could never keep me from you
One smile for you, and my heart melts
No one could replace you
Having you with me is worth it all
That is is how much I love you

29
I have been known to do some crazy things for love
Just being with you is more than enough
I know that I can be a little dramatic
You accept me for I am
Even when I'm erratic
You are a true partner
For being understanding and kind
There's no words to describe
How happy I am
That you are all mine

30
I've been known to travel miles
Just to spend a couple days
In the company of you
To see the smile on your face
There is no distance
That could keep us apart
I would travel hours
Under the gleaming stars
Just to see you
For even an hour
That is how much I love you
Your love has so much power

31
i love you more
than fish love water
i love you more
than a bird loves worms
or a spider loves webs
i love you more than a rabbit
loves carrots
i love you more
than a lizard
loves flies
32
how much i love you
can't even compare
i love you so much
it doesn't seem fair
words just don't compare
my love for you
is hard to share
my heart explodes
with love inside
i love you so
much i'll shout it to
33
one day or two
a million or three
from far away or near
i love you still
one day can go
and i'll still love
you so
a million hearts singing along
another day come and gone
and i still love you so
34
Love is the point at which I see
Love is infant when I recognize easily
Love is the point at which you talk so shrewd
Love is in the profundity of your being
Love is the things that we see
Love is the point at which you hold my hand
Love is the point at which you influence me to get it
Love is your enthusiastic touch
When you snuggle me so tight
Love is the inclination my dear
This makes my reality so brilliant
Love is an inclination that begins with you
Also, it finishes on you
Child I really adore you!

35
Getting to know you
Becoming more acquainted with you was my destiny
The day when we began to date
The more I became more acquainted with you
The more I began cherishing you
Your lips..Your eyes and your grin
Hypnotized me at the same time
Your pretty and sweet little ways
Lit up my dull days
In the event that this is love, at that point it is valid
My heart thumps just for you
Infant I would love to let you know
That you are exceptional the whole distance
Child I am infatuated with you
I cherish you!

36
That first minute
That first minute when I saw you
Something just gotten me
That beguiling face so brilliant
Made me feel that light
The light of adoration that I could feel
Getting that vibe in my heart
I realized that was the begin
Of affection and my life will change
Child I adore all of you the way
Can't remain without you notwithstanding for multi day
This affection will last till the end
It is genuine the whole distance and no imagine
Child I adore you!