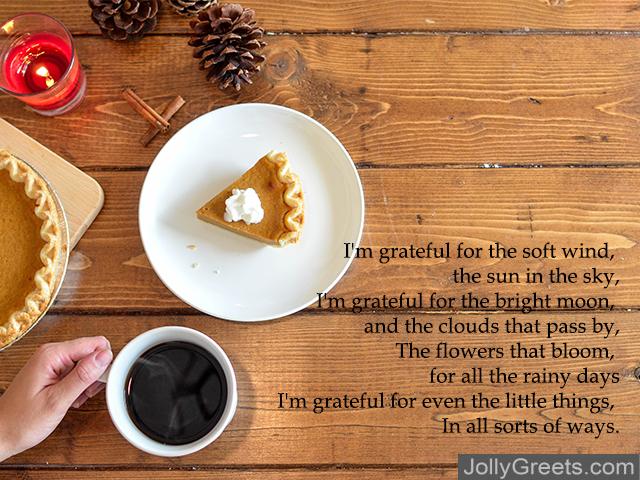 Do you have the type of attitude that overflows with gratitude? This doesn't always stem from a natural state of mind. It's important to be thankful for both the people and the things that we have in our lives. What is here today could very well be gone tommorow. This is why it is essential that we take time daily to have and maintain thoughts that produce a grateful heart. Having an attitude of thanksgiving doesn't need to be prevalent only around the holidays. It's a process to stay in this type of mindset but when we strive to maintain it, it will help to put joy into others as well as ourselves. These posts make it easy to gain ideas on how to send a message that is full of gratitude. If you wish to create your own poem about gratitude, begin by thinking of all of the things that you are thankful for in your life. You may start to think that there isn't much to be thankful for in the beginning, but as you step out and write down the items, you will surprise yourself at just how much there is to be thankful for in this life.
How to Create the Perfect Card - Examples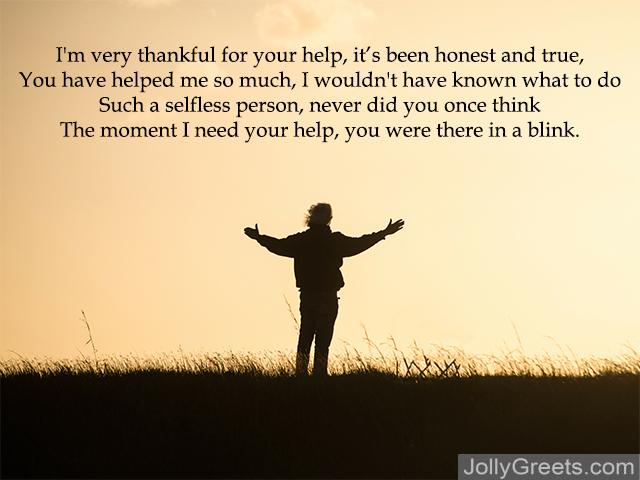 1
I'm grateful for the soft wind, the sun in the sky,
I'm grateful for the bright moon, and the clouds that pass by,
The flowers that bloom, for all the rainy days
I'm grateful for even the little things, In all sorts of ways.

2
I'm very thankful for your help, it's been honest and true,
You have helped me so much, I wouldn't have known what to do
Such a selfless person, never did you once think
The moment I need your help, you were there in a blink.

3
Some days may seem hard, to be thankful for all that's is around
When the world appears to be constantly, wanting to kick you to the ground
It's hard to be thankful, but remember its okay to be grateful
The good in you, will always find a way

4
Thank you for helping me
Helping me when I didn't have the strength to keep going on
Your support helped me blossom from a place of despair
Your light guided me in my dark times
Your kind words echoed through my soul
Your love was the pillar that kept me standing
This is my way of saying thank you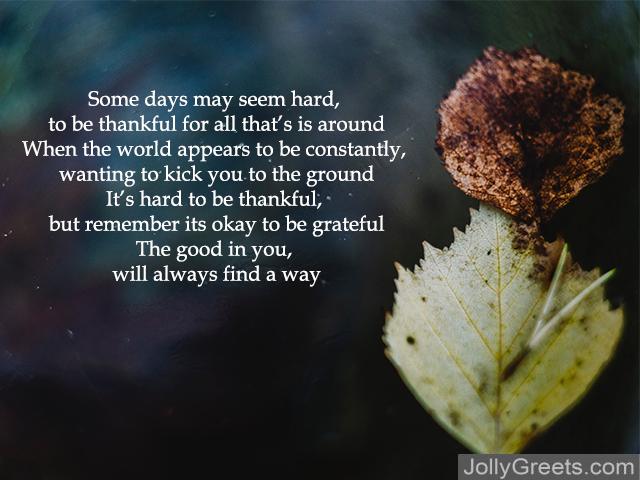 5
Gratitude is all about counting our blessings
Sometimes we take so many things for granted
When we finally get the things that we wanted
It's good to sit back and appreciate them
Be thankful for what you have
For you never know when it is lost
Count your blessings and let them multiply
Don't just sit by and let things fly

6
There is beauty in being grateful
A thankful heart always welcomes more blessings
A life of gratitude is a life of joy
Appreciate your friends and family
Appreciate the little things in your life
Enjoy every second of your time on this earth
Savor every moment like it's your last

7
I am grateful for each and every new day
For the kindness that's offered me in many small ways
For the things in my life that are honest and true
But above everything else love, I am grateful for you

8
I am grateful for the world I live in
For nature, beauty and knowledge
I am grateful for the people who love me
For kindness, patience and laughter
I am grateful to the heroes around me
For coastguard, nurses and firemen
And I am grateful to the universe
For allowing me to live

9
I'm grateful for the earth that spins
It keeps me from falling in
To space where there is no such thing
As gravity and the air's so thin
I'm grateful for the air I breathe
Invisible, silent it keeps me alive
to put in a tank so I can dive
Helps us all to live and thrive

10
You nurtured and protected me
And taught me with great care
And every time I needed you,
You were always there.
If you could look into my heart
how quickly you would see
the special place you hold there
and how much you mean to me.
May you receive the blessings you are deserving of
for your caring and your sharing and each sacrifice of love.
And may you carry in your hearts these words forever true
No parents anywhere on earth could be more loved than you.
11
I don't know when it started,
Or how it all began,
But God created families,
As only our Lord can.
He was teaching what it means
To love, honor, and obey.
He wanted a strong bond
That we don't see too much today.
He wanted someone to hold us
And show respect for others.
He wanted someone who'd be gentle,
So he created mothers.
He wanted someone strong,
A support filled with love,
So he created fathers,
Sent from heaven up above.
Brothers and sisters came next,
With that, an instant friend.
Someone to look up to,
Someone on whom to depend.
When he put them all together,
He was amazed at what he'd done.
He had created a family,
Mother, father, daughter, son.
But look at the family,
Created by only two.
How many we've become,
And all because of you.
We have a lot to be thankful for,
The memories through the years.
The many times together,
Full of laughter, full of tears.
I don't know where we'd be today,
If it weren't for the two of you.
To show us strength, support, and love,
Like only the two of you can do.

12
Thank you…
For standing by me through thick and thin,
For not giving up on me when I didn't win,
For your patience when I kept pushing you away,
For caring when I said I didn't need you anyway.
I am grateful knowing…
I can count on your strength,
Ask for your support and know you'll go to any length.
When I lose my way,
You help me get back on track.
When in pain,
Your comfort soothes and brings me back.
I am lucky because…
When I was sad, you gave me faith and hope.
When I was confused, you taught me how to cope.
When I felt I couldn't go on,
You carried me long miles.
When I didn't believe,
You restored my smiles.
Mom, thank you…
For your guidance and the faith you've shown,
For giving me a safe place where I have grown,
For showing me how to strive.
Because of your love,
I will survive.

13
How can I ever repay you?
You saved me.
Pushed me out of the way,
Like a superhero saving the distressed women.
My hero.
My saving grace.
Please let me do something for you!
Money?
Dinner?
A favor?
I'll lend a helping hand.

14
You consume me.
Every thought, every word, every feeling.
You've changed me.
For the better. I'm like a butterfly emerging from its' cocoon.
You've give me new life!
I'm like a kite soaring high,
With you as my anchor.
I trust you to guide me.

15
Blessed.
From the one above;
He gives me life!
His plan is greater.
I'm so thankful I don't have to do it alone.
My life is radically different than I thought it would look like.
Single, alone, far away from home.
But it's so much better!
Filled with sincere souls, bright lights, and adventure.

16
Thank you for filling me with energy,
And giving me light.
Thank you for caring for me properly,
And keeping me alive.
I may get sick and weepy,
But you instill strength in me.
I am happy to have been taken care of by you,
In this garden so full of life.
17
Thank you for creating warmth,
And lighting all my days.
Thank you for making it possible,
To grow in your rays.
Thank you for keeping me healthy,
And making my skin glow.
Without the sun we would wither,
Just like a dry plant.
We need sunlight to function,
And go about our days.
Without you I would falter,
In a vitamin d disarray.
18
Without you I would fall,
You keep me on my feet.
Without you I would be nothing at all,
For there would be no strength in me.
Without you I would be useless,
Just a sack of skin in bone.
Muscles I thank you,
For keeping me whole.
You keep up and moving,
You allow me to get around.
And without you I wouldn't be here,
For I would be long gone.
19
I am so very grateful
To have you in my life.
You have taught me well
And will continue to teach
There is no one that
I would rather learn from.
20
I have learned to be thankful
For all that life has given
Sometimes I have a lot,
Other times not so much
Either way, I have found myself absolutely content.
And that is a gift that has no price attached.
21
I have been given much in this life
Sometimes it takes a while to see.
I have brothers and sisters,
And of course, they have me.
There are many things I cannot count
For they are seen with the heart.
22
A cat stretched lazily in your pool of light.
Eyelids fight flutters of tiredness
as your heat seeps into my skin.
I smile because I have nothing to do.
A pair of sandals hug my feet as
I slowly saunter in serenity.

23
Each day a present to repeatedly open.
Who knows what it will bring?
Each time my feet dig into the sand, a flower blooms, I see the moon,
my heart fills to the brim.
For all I have in my life.
24
As I walk into the door I pause to think
what I am grateful for.
So many moments come to mind, its hard to choose just one.
Buoyant I am with all I have to be thankful for.
The day is done.
25
Thank you for all that you've done; It really means a lot; Of everyone under the sun; You're the best friend I've got; I don't know how I will repay; The kindness that you've shown me; At least until the end of day; I am your slave, you own me ;)!
26
I'm so very grateful for the years you've stood by me; When others might have given up, you've shown your loyalty; No matter how long it may take, I'll repay you in kind; Whenever I need a helping hand, I'll keep you in mind!
27
With gratitude I write this poem; To say how much I care; Even if I'm far from home; You'll always be there; For everything you've done so far; And all that's yet to be; You are a special superstar; I pledge my loyalty!
28
Everyday that I awake
Is a blessing to greatly behold
The sun is glistening brightly on the lake
I admire nature, bright and bold
I am hopeful of the memories I will make
And how I will feel as today unfolds
Even in the evening when my muscles ache
I whisper the prayers I've been told
I thank the world for its beauty
And for all the love that it beholds

29
When my days don't seem to go right
And every task feels like a fight
A glimmer of hope comes from
Closing my eyes and taking a deep breathe
Thinking of all the love and good
That I actually do have in my life
Cared for by dear friends
Challenged by my career
Adored and cherished by family
Exhaling a deep breathe
Relief comes over my body
I am ready to begin this day
Again

30
Every morning that I wake
I am mesmerised by the great beauty of this world
The blue sky has gifted me a beautiful view
Everyday is a blessing, starting anew
There is so much that I am grateful for
In nature's vast beauty
There is always more to explore
Whenever you feel like the world is rough
Take a look around you, remember you are enough
The sun still shines brightly just for you
Life is a gift that is precious and true
I hope you feel grateful for each day
That is given to you
Life can be a grand adventure
If you look at it in the right view

31
thank you thank you
never enough
a hug , a word
nothing compares
to how grateful i am
thank you thank you
i'll always say
because nothing
i say can compare
to how grateful i am
thank you thank you
from here to there
32
i can't even say
no it's not enough
i owe you mountains
and tons of love
a flower, a book
is never enough
my heart is swollen
with so much love
thank you is
just a word
but thank you for
all you have done
33
mama always said
to use my manners
to show gratitude
to say thank you
or give you a hug
to say many thank yous
isn't enough amazing
things can't describe
the millions of times
saying thank you was
just enough
34
I had no expectation throughout everyday life
I had no expectation in things that day
I was broken so to state
You tagged along and gave me a reason
You persuaded me when I required the most
Much obliged my dear to be there with me
Much obliged my dear to help me
I can confide in you indiscriminately on things
I can disclose to you that you show at least a bit of kindness of gold
Such a significant number of things you have kept in there
Of numerous feelings untold
Truly much obliged for being there along
Due to your help I am so solid
Much appreciated you such a great amount for everything

35
It isn't sufficient for me
It's insufficient to state this word
In the event that you don't mean it from your heart
I simply need to state unique thanks
Directly from the begin
Much obliged for making my life so decent
As a result of you, I am so astute
A debt of gratitude is in order for giving me my name
Without you things wouldn't be the equivalent
A debt of gratitude is in order for the individual you are
Sparkle splendid like a star
Much appreciated to such an extent!

36
Filled with Gratitude
You trained me all that I ought to learn
You put resources into me each penny you earned.
Gradually you helped me develop,
In life through its good and bad times.
I generally have a remark,
With regards to thank you for your help inside and out.