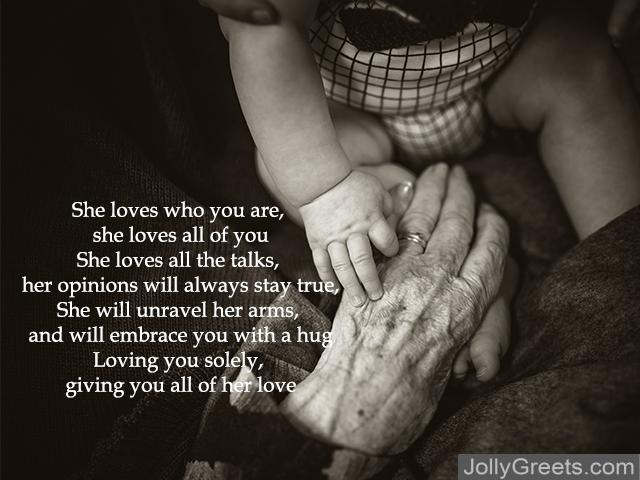 There is no one else in the world that is akin to your grandmother. She is without a doubt, one of a kind, and should be treated as such. Are you wanting to send your grandmother a special note for no reason at all? These posts will help you find what you have been looking for. Dive into this plethora of words that has been made availible to you and find exactly what you need. You will find a variety of poems that you can either use yourself, or that can serve as a source of inspiration. Think about what your grandmother is good at and go from there. Does your grandmother like to bake? Does she enjoy quilting? Does she have interests that are completly unique to who she is as a person? Don't dismiss what could be seen as a special quality as something that all grandmothers like to do. Show her that you pay attention to her hobbies and appreciate what makes her, her, even if some of her qualities may be similar to that of another grandmother. She will be overfilled with joy at the fact that you thought of her.
How to Create the Perfect Card - Examples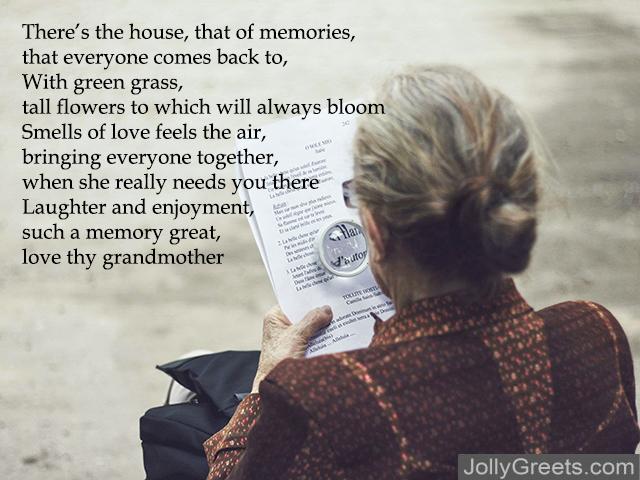 1
She loves who you are, she loves all of you
She loves all the talks, her opinions will always stay true,
She will unravel her arms, and will embrace you with a hug
Loving you solely, giving you all of her love

2
Cookies in the oven, the house smells so good
Full bellies and happy tummies, such a wholesome feeling you will feel
The house feels so warm, such happiness inside
A grandmothers home, is one you always can find

3
There's the house, that of memories, that everyone comes back to,
With green grass, tall flowers to which will always bloom
Smells of love feels the air, bringing everyone together, when she really needs you there
Laughter and enjoyment, such a memory great, love thy grandmother

4
Dear granny, I miss you so much
I wish you were here with me
Mom made me eat my vegies again
I know would come to my rescue
You always let me have what I want
And I miss our little talks
I can't wait to see you again next summer
I love you granny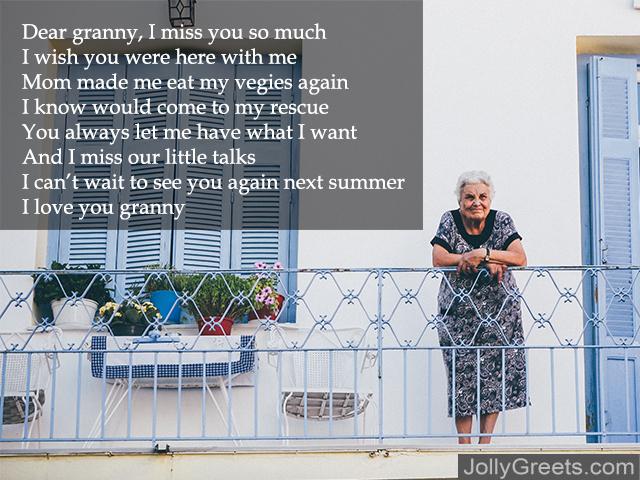 5
You should meet my granny, she is so lovely
She's warm and cuddly just like a teddy bear
She loves to bake us cookies and cakes
And in the morning she makes us pancakes
I love when she tells us stories
Sometimes she even teaches us some songs
You should meet my granny, she is so lovely

6
She may be old and wrinkled
But she is still bold and beautiful
She taught us everything we know
And for that we will forever be in her debt
Today is her birthday and the whole world must know
Our grandma is the best just so you know.

7
My grandmother is my mother's mum
With snow white hair tied in a bun
Her arms and legs are made of jelly
She hugs me tight against her belly
And when I fall and hurt my knee
She gives me cake and sweet, warm tea

8
Comfy old sippers and wrinkly tights
Hot buttered toast and cosy firelight
Comics at weekends and sweets before bed
Staying with granny is simply the best
Days in the garden all covered in mud
I wouldn't be anywhere else if I could

9
Granny you are the head of the family
You keep us in check and help us randomly
You always have so much time on your hands
You do things for kindness and never demand
I can't wait to be as old as you are
So I can bake cakes and drive a sports car

10
The way it smells when she cooks
When you are bad, the way she looks
How she would do anything to help a friend
The way she will stick by you until the end
She;s one of the nicest people you will ever meet
Unless you get on her bad side, then you're in for a treat
The way she will cheer you up when you are down
And how she helps you to turn your frown
The way she jokes and laughs with me
Her soul so kind, so sweet, so free
She inspires me in different ways every day
11
Her words
are like a golden thread that binds our family,
Her wisdom
like an art that shares so generously,
Her feelings
like a quilt that warms us like no other
The hands
of one so dear the one we call Grandmother

12
Laying in her bed while she tells us her childhood stories,
Never ending perfect days without any worries.
Making us laugh was her specialty,
and all those long summer evenings having tea.
She taught me so much about life's ups and downs,
and so long for her to still be around.
Every precious moment we had I will always treasure,
and in my thoughts and my heart she will be forever.
Although she's left me for now,
I know for sure I will see her again
13
I never got to meet you.
I imagine you were a saint.
You raised three amazing children,
And kept grandpa in line – that's not for the faint!
I'm sorry for what you went through,
And how difficult it must have been.
I know you're in a better place,
Watching over us – can I get an amen!

14
Granny, you radiate life,
Like a fresh spring day when the flowers are starting to bloom.
You exude kindness,
Like river flowing freely after a thunderstorm.
You envelop any problem and solve it with ease,
Wrapping it up like a present topped with the perfect bow.

15
You love me like your own,
Even though your own was not capable.
I know this wasn't your plan.
Like a ship sinking,
You came and rescued me and your daughter.
You are the lighthouse in the storm, the hope, the saving grace.

16
You are wise like no other,
And are always dressed your best.
While you're not so green,
You still cook and clean.
You are an inspiration,
To the rest.
You are an amazing grandmother,
Always chock full of love.
I am grateful to have you,
You're a gift from up above.
17
You are kind and sweet,
And always ready to jump on your feet.
You have done your best,
Let us take care of the rest.
Even though you are getting older,
You still getting bolder.
Grandmothers are amazing,
Your love for us is blazing.
18
You are young at heart,
Even though your hands have wrinkled.
You give us great joy,
And share all of your wisdom.
You bake and carry on,
Even though you aren't quite as strong.
Grandmother just look as you,
Still working at your best.
19
Grandma, you are the glue
That sticks everyone together.
You keep us all tight-nit
And far above the weather
You care for us so deeply.
Your effect on us is immense
You are wonderful at keeping us calm.
While everything else can be tense.
20
Grandma, I cherish our time that we have
And I love you incredibly
You are the best grandma I know
I enjoy that I get to hear your heart
And what you want for me.
I will make you proud,
You just wait and see.
21
Grandmother, you are spectacular
You help me do my best.
You have allowed me to grow
Above what I would have guessed.
I am thankful you're in my life.
Whether you realize it or not,
You help ease the strife.
22
Grandma, generous in all you do.
Your tenderness soft as rose petals
pulling me into an embrace.
A smile forever upon your face,
love clearly placed.
Gentle hands my guide,
your love sweet as apple pie.
You are the twinkle in my eye.
23
Grandma,
Generations of wisdom you have taught us.
Each story a gem gleaming guiding our lives.
You never make a fuss when we cause a mess,
it must be we are blessed to have a grandma as wonderful as you.
24
Grandma,
gracious in your time and commitment
caring for me.
Through your strength and love I have come to be
a better person.
Playing together I remember shouts of glee.
Calling you grandma is happiness for my soul.
Sunshine abundant in your embrace.
25
A grandmother is like a mom, but not nearly so tough; She doesn't tell you what to eat, or not to play so rough; She's always ready with a hug, or kiss upon the cheek; Grandmother, you are so great–let me stay another week!
26
When I am at grandmother's house, she always feeds me well; My eyes get bigger than my tummy, and my belly starts to swell; Then she heals me when I'm sick, and tells me to get rest; I always love my time with her, 'cause Grandma is the best!
27
A grandmother will never judge; If you'd done something bad; A grandmother won't hold a grudge; If you have made her mad; You are a very special kid; The apple of her eye; No matter what dumb stuff you did; On her you can rely!
28
Sweet Grandma
Growing up, you were always there for me
After school, I would spend time with you
You always cared so much about me
You were patient and kind
Always listening to my hopes
And comforting me when I was in tears
Today, I find myself thinking of you
And wishing you were here with me
I love you, Grandma

29
Grandma
As I grow older I look back on my childhood
I remember all the time you spent with me
Teaching me to knit, telling me stories
Always so patient with my siblings and I
Cooking and cleaning
You never complained
Always caring
With a smile on your face
Thank you Grandma,
For all that you have done
Working so hard for your family
Today, you deserve some fun

30
Grandma
There is something about you
That makes me feel at home
Just a simple call from you
Reminds me that I'm not alone
You helped out when I was younger
Making sure I never felt hunger
Together we baked cakes and pies
Gentle and patient
Teaching me with love in eyes
Thank you so much for always be there
Your love for me
Shows how much you care

31
a grandma like you
i cherish and love
a grandma like you
i can't even describe
the feeling i get inside
your sweet and kind
a friend the one
who spoils me
it's true
everyone needs a grandma
like you
32
sunday dinners always
cooked
a phone call always answered
questions always asked
a door always open
and hugs always there
treats and ice cream
love everywhere
thank you nanny
your the best
33
she taught me to cook
took me on trips
always fed me
candy and chips
cooked my favorite
foods
even let me spend
the night
always got me gifts galore
and gave me
plenty love
and more
because you
grandma i adore
34
"There are a few things so exceptional
There is some value of an extraordinary association with you
I feel so quiet with you
I can share my discussions when you are near
Your enthusiasm and love that encompasses
I think I am genuinely among the favored few
As I have a flawless great little girl like you
Furthermore, I need to state that I adore you!"

35
A magnificent granny
My magnificent amazing mother,
You mean everything to me,
Such huge numbers of things are there
With you that I can see
You are the tree that gives me shade throughout everyday life
In view of your help,
I can without much of a stretch endeavor
Adore you for what you are throughout everyday life
Flawless as you can be!

36
Grandma Stories
Grandmother you have the ability to see past reality,
Your minding words and beautiful grin does each inconvenience sooth.
Your awesome stories and minding grasp,
Furthermore, the chipper grin on that elegant face.
Grandmother is a unique soul,
Also, mine will be the best in each survey.