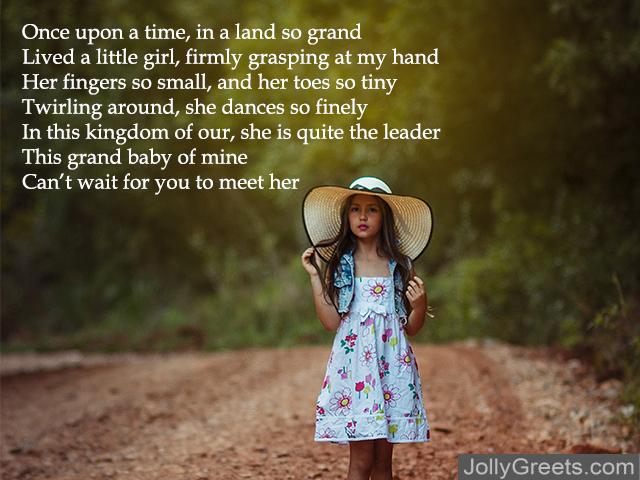 Granddaughters hold a special place in the heart of grandma's. It may seem, at times, that they can do no wrong. Sometimes instead of expressing these deep, meaningful thoughts that we have, we keep them closer to our own hearts than we need to. In other words, we don't always say what we need to say. Catch your granddaughter by surprise by sender her a message that means something to her. She might not remember everything that you say, but if you take the time to still yourself and reveal to her the thoughts inside your heart, she will hopefully keep the message close to her heart and she will remember what you spoke to her. Write down these delicate thoughts on a card so that she can put it in a place that will remind her of you often. Use them in a conversation, and impress her with your choice of words. Simply recite the words that you have in her heart for her over lunch or while the two of you are baking cookies together. After you do, she will have no doubt that there is a big area of grandma's heart that is reserved for her.
How to Create the Perfect Card - Examples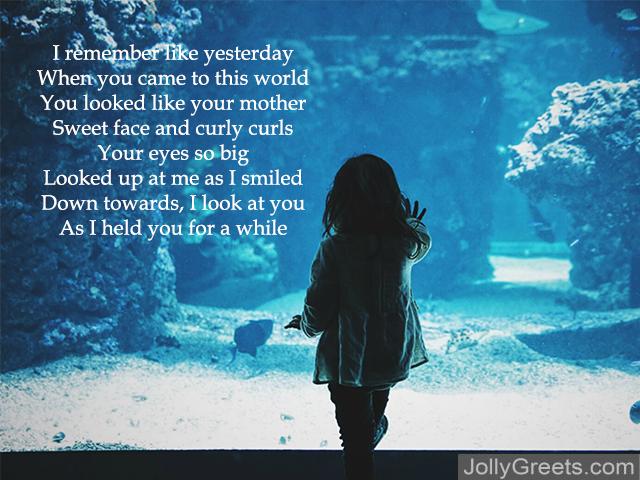 1
Little Rosie Lou, what shall we do
You keep playing hide and seek
When grandmas looking for you
It's time for your shower, your dinner is getting cold
Bending down to look under the bed
Such a brave heart, so bold
Bedtime is creeping, little Rosie Lou
As I look behind the curtain
Aha! I've found you

2
Once upon a time, in a land so grand
Lived a little girl, firmly grasping at my hand
Her fingers so small, and her toes so tiny
Twirling around, she dances so finely
In this kingdom of our, she is quite the leader
This grand baby of mine
Can't wait for you to meet her

3
I remember like yesterday
When you came to this world
You looked like your mother
Sweet face and curly curls
Your eyes so big
Looked up at me as I smiled
Down towards, I look at you
As I held you for a while

4
You are a beautiful sight indeed
My favorite grandchild
You're one of a kind
I love when you visit me
And tell me all the stories from the city
You are kind child just like your mother was
I love you my dear granddaughter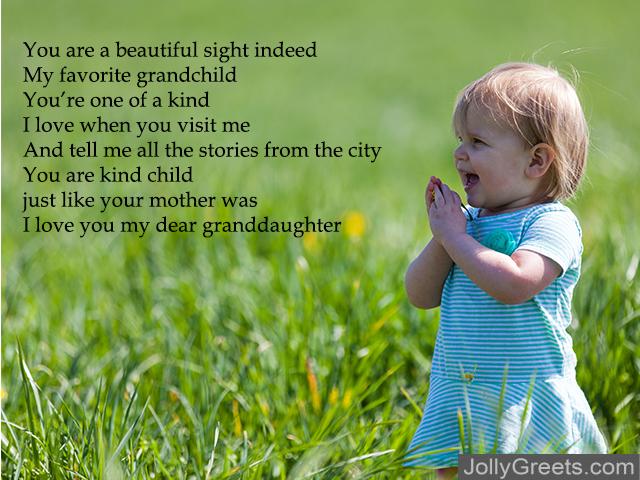 5
Just a while ago you were a tiny little soul,
Precious and sweet
Now you are all so grown
But to me you will always be my sweet angel
With tiny little feet
I miss the days when we would go walking down the street
You were so jumpy and loved dancing with your feet
I love you my grandchild
I always will.

6
I see that pretty little face
And I know it's my little grace
A princess with a sweet smile
A smile as bright as gold.
And though I may be growing old
Our bond will forever hold
I love you with every inch of my heart

7
You bring such joy in to my life
I would give the world to you
Your sense of wonder makes me smile
And your affection is so true
A hug from you fixes everything
A loving bedtime kiss
Granddaughter you are amazing
Life doesn't get better than this

8
Our play dates are my favourite thing
Pushing you on the garden swing
Giving you bread to feed the birds
Making up stories you've never heard
Hiding sweets brought from the fairies
Teaching you to play dirty Mary
Collecting pennies in a jar
Telling you that you'll go far

9
Granddaughter you are a cute little monkey
Chunky and small and really quite naughty
You think you're grown up
You're so independent
I love you so much you make me laugh loud
You cheer me right up whenever I'm down

10
When God was making our granddaughter
He thought, 'What can I do to create a perfect little girl
To make a grandma's dream come true?"
He started with cute and healthy
Then added extra smarts.
Then threw in lots of giggles
To lighten up the heart.
He made her eyes a great big blue
And put extra twinkles there
Then stroked her skin with angle dust
To make it soft and fair.
He made her brave and made her strong
And made her big enough to share
So everyone could treasure
And I'm thankful everyday
That he heard the prayer from Grandma
And sent the perfect little girl our way.
11
There's someone we love,
Our special granddaughter;
She's sweet and she's nice,
Just like Dad and Mom taught her.
She's got a really cute smile
And pretty blond curls;
She's a wonderful person,
The best of all girls.
We're so glad she's ours;
We rejoice every day;
She's our angel granddaughter.
12
Sometimes I really do wonder,
Why they are called grand?
Then I know A Loving Grandmother
Can always fully understand.
You get that important phone call
You have waited for so long,
Excitement really kicks in,
As you arrive and rush down the hall.
You see that precious baby,
Gender really doesn't matter at all.
It brings back many memories
Of when your children were so small.
You congratulate the parents,
As you see mother and baby are o.k.,
You know without a doubt,
This was done in own God's way.
Many sacrifices made along the way,
Are very much worthwhile,
When you see that sweet little face,
And that bright cheery smile.
Time rocks on as they grow and grow,
Then comes their future, rushing to and fro,
They will always be our babies,
If anyone should ask,
They are all very special,
From the first one to the last!!!!

13
You gave me life,
When I didn't want to continue on.
You gave me hope,
For humanity.
Every time I hear your laugh,
I thank God for giving me you.
You bring me so much joy,
Granddaughter,
You always make my day.

14
I know you're grown,
But that doesn't matter.
Sometimes you need to watch your tone,
And call your mother on the phone.
Now listen to me,
Here's your daily sermon:
Get your master's degree,
No matter how costly.
One day you'll wake up,
And thank your grandfather,
For the heads-up.
Now chin up buttercup.

15
Precious child,
Still in your mother's womb,
I know you'll grow to be so lovely.
But I'm afraid I won't make it to see you dear,
I fear my time has come.
Be good to your sister,
And listen to your mother,
But most importantly be who you are meant to be.

16
A granddaughter like you,
Will always make me proud.
You stand so strong and steady,
With your head held high.
You always try your best,
And you do a fine job.
As the years pass by quickly,
I'm glad I get to watch you grow.
You're a fine woman already,
I'm sure I would know.
17
You are kind,
You are funny,
You are witty and sweet.
Granddaughters like you,
Can always bring great cheer.
You can be silly,
Or be wise,
And your fashion is your choice.
And I love you like no other,
For you are one unique granddaughter.
18
Granddaughters are cherished,
Different than daughters.
You watch them grow and change,
And influence them in different ways.
I don't care for you,
Like your parents do,
But I will love you regardless.
You are unique and brave,
And so full of laughter.
I am so proud of you,
My sweet granddaughter.
19
My granddaughter, I could not be more proud
Of the fine young lady you have become.
You have accomplished much
And I have no doubt you will go
So much further.
I love who you are, my little girl.
20
My beautiful granddaughter,
Your heart is as pure as gold
You inspire those around you
You do not easily fold
I am proud to be your grandma
My job is the best!
You make it so very easy,
And you put my mind at rest.
21
Granddaughter, you are the best!
You are as perfect as can be.
I love to show you off.
I want everyone to see,
The lady you have become
And where you are headed still.
You are the reason that my heart does fill.
22
Granddaughter,
Since you first entered my life you have been a jewel. My most prized treasure.
My life is more joyful just by having you in it.
Your actions bring such pleasure, there is so much to do.
From cooking pancakes together to planting flowers in the garden.
Growing our love into the most beautiful blooms.
23
Galloping towards me granddaughter
arms out-stretched in greeting.
The most wonderful feeling is when your hand finds mine.
Meandering together we spend time
telling stories, singing, swaying in the breeze.
I imagine we are trees growing old gracefully granddaughter.

24
Being a grandmother to you granddaughter is an unexpected gift.
That I could so quickly fall in love.
Laughing at your silliness, playing on the floor.
I know you are excited when I knock upon the door.
You lift my heart to the clouds.

25
A granddaughter is a special girl; Who makes a grandmother proud; Playing on the tilt-a-whirl; She always screams real loud; She loves to play with toys; She loves to be spoiled rotten; She charms the little boys; So she'll never be forgotten.
26
My grandaughter, you are so tall; You're surely growing fast; With you I always have a ball; I hope our time will last; I wish I could grow with you; And watch you fully blossom; I guess today will have to do; Granddaughter, you are awesome!
27
A granddaughter is such a treasure; An endless well of fun; It always brings me so much pleasure; To see her laugh and run; But to my child and to the spouse; Before I start to riot; You must return her to your house; So I'll have peace and quiet.
28
To my beautiful granddaughter
Smart and kind
Funny and generous
It has been ones of my greatest gifts
To watch you grow
From a clever, curious child
To a gorgeous and delightful young woman
Thank you for being such a joy in my life

29
Granddaughter
Laughing with you all these years
Has been such a gift
With your sweet smile
It's my spirits that you lift
Long days spent
Playing with you
Chasing butterflies
Going to the zoo
Teaching you to plant flowers
We worked hard in the sun for hours
I cherish the all times that we have had together
Please know that I will love you forever

30
Granddaughter
After all these years
You have become so adult
Poised and polite
You are getting so old
Offering to help out
You have always been so kind
Making your parents proud
Never complaining
I've always been impressed
By your smarts and good grades
The fun things you like to do
You are such a good kid
That is very true
When I'm in town
You are the first person
That I want to see
You are my sweet granddaughter
My little girl
You will always be

31
i thought i knew love
and then i met you
this tiny person
with such a little voice
you look at me
and i just melt
my heart is full
my fridge is bare
but i love to hear
those little words
grandma

32
she calls me nana
all day long
she runs me ragged
and answers my phone
i give her sugar
while i comb her hair
we play dolls
and run down the stairs
she's small and quiet
but i don't care
she's my little granddaughter
33
i had my kids
i thought i was through
then my daughter
gave me you
and now i see
what they meant
as your little eyes
look at me
i know i'm hooked
you see
that smile, those cries
they can drive a grandma wild
a granddaughter like
you i'll give you the world
34
For All The Times
For every one of the occasions that you ensured that to indicate you give it a second thought,
For every one of the occasions that you made it a point to be there,
For all the warm much love you gave us,
We adore and value those minutes in each and every piece.
Simply need you to realize that we're so appreciative to God for you,
The amount we cherish you my sweetheart, I wish we could give you a clue

35
Cute little heavenly attendant you are
An adorable minimal fabulous little girl like you is actually elusive
You are insidious in your ways,
You are exceptional
Your grin brightens up the most dull days
Your fun talks peps up my state of mind
Remain as you are as you are flawless throughout everyday life
Try not to change ever, it's a touch wood
Cherish you a great deal my angel!

36
There are a few things so exceptional
There is some value of an extraordinary association with you
I feel so quiet with you
I can share my discussions when you are near
Your enthusiasm and love that encompasses
I think I am genuinely among the favored few
As I have a flawless great little girl like you
Furthermore, I need to state that I adore you!"