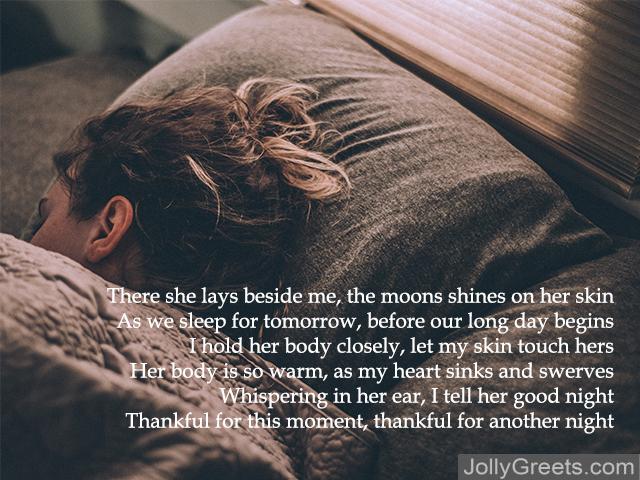 Poems written to your girl for the morning are a sweet gesture that not everyone considers doing anymore. However, what if you're not a morning person? It can be difficult to wake up with just enough time to get ready for work sometimes. There's nothing wrong with sending her a good night poem instead. These messages can equally show her just how much you care about her. A goodnight poem for her can show that you are thinking about her right before the day is about to end. It's a simple, yet sweet action that can have her dreaming about you until the morning comes again. Have fun stringing together sentences that will let her know your romantic thoughts you have towards her, right before she's ready to turn in for the night. You won't regret sending her even a quick text that's full of your caring thoughts. Let her know that her beauty invades your mind, even during the dark hours of the night. Go overboard with expressing how wonderful you think she is. Allow her to fall asleep to the sound of your kind words shifting around in her mind.
How to Create the Perfect Card - Examples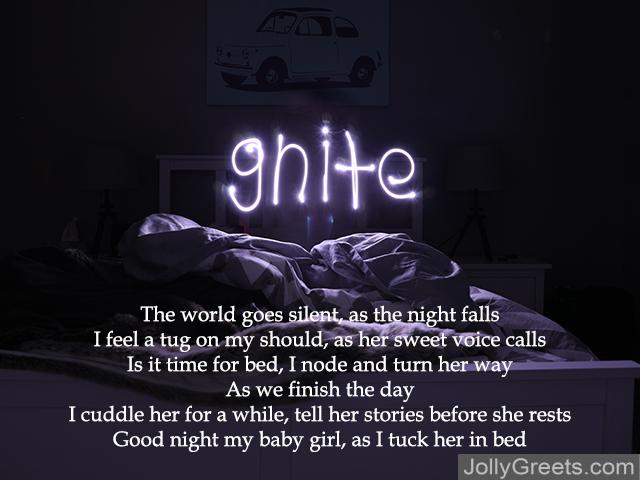 1
There she lays beside me, the moons shines on her skin
As we sleep for tomorrow, before our long day begins
I hold her body closely, let my skin touch hers
Her body is so warm, as my heart sinks and swerves
Whispering in her ear, I tell her good night
Thankful for this moment, thankful for another night

2
The world goes silent, as the night falls
I feel a tug on my should, as her sweet voice calls
Is it time for bed, I node and turn her way
As we finish the day
I cuddle her for a while, tell her stories before she rests
Good night my baby girl, as I tuck her in bed

3
Good night my sweet angel, drift away to sleep land
I'll be there beside you, as I hold your little hand
What tomorrow awaits you, now only God knows?
But I'll be her throughout the night, ready to hold you
Sleep tight my sweet angel, as I rub your hand
Sleep tight my darling, it's time to go to bed

4
The night may be young my love
But it's time to say goodnight
The stars may be shining tonight
But it's your light that shine's the brightest
We may be worlds apart
But we're still under the same sky
So as your close your eyes
Remember that you'll always be mine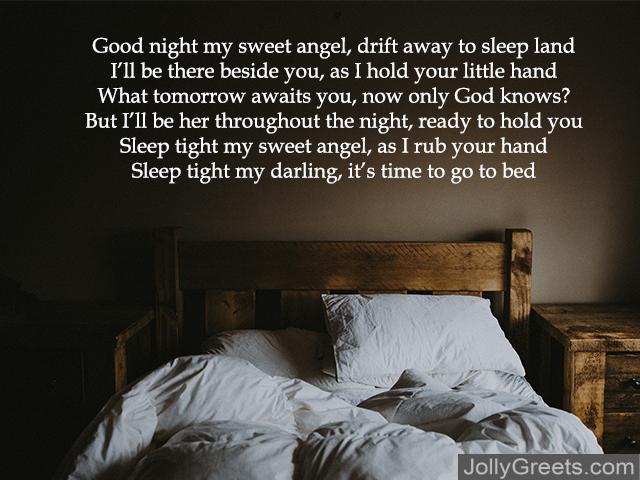 5
I lay on my bed, thoughts running through my head
I dream of you, laying close in my arms
I wish this was true
I know you do too
As we bid goodbye to the night
I know you're always in my heart

6
I can't help myself but smile
At the thought of seeing your face
I'm counting down the hours till the next time
I think maybe we should just FaceTime
Instead of texting you this long message
I would rather say it to your face
Goodnight my love.

7
Goodnight sweet girl close your eyes
And while you sleep the stars will shine
To keep you safe throughout the night
And at daybreak the sun will rise
And when you open up your eyes
The stars will sleep and let you shine

8
Sleep tight my love and rest your head
Sleep now in your cosy bed
And in the morning when you wake
You'll brush your teeth your bed you'll make
Sleep tight my love just close your eyes
I'll still be here right by your side

9
Sleep tight my darling close your eyes
I'll see you on the other side
Till morning rays touch your face
The darkness won't invade this place
My love will keep you safe and warm
My heart will light the dusky gloom

10
Goodnight, my love,
though miles away,
your voice is all that I need
To lull me to sleep
and to know that I'm loved
and that I am yours now to keep.
Night is the time to dream
To stay in someone's special thoughts,
It is a time to unwind,
And then I have to remind
To you, that baby I am missing you tonight
And I truly love you
I know you also do
Wishing you a good night!

11
The birds have stopped chirping
The sun is finally setting
The moon is brightly shining
The stars are magically twinkling
The skies are romantically darkening
My heart is crazily thumping
Our love is madly bubbling
I am missing you badly, darling
Good night
You do not know how happy I am with you by my side
My life would be useless without you in it
We must leave our mistakes behind
So we can be together forever. Good night.
Even as you close your eyes in sleep
my love for you remains true and deep
it's you I love and forever will keep
just to say sweet dreams before we both fall asleep
I think your eyes are tired
looking at this world
reflecting through light,
let your eye lashes hug
each other for few hours.
happy journey into the dream world.
Good Night

12
In the softest night
Free winter rises
Maiden blossoms sincere
Weary blossoms adhere
Winter grass is near
Naked tenderness is here
With tired kisses in the air
Goodnight springtime with care
When it is time to sleep I say a prayer
Thanking God for taking care of my family and me
Asking him to give you a peaceful sleep
I love you, good night
May the night bring you sweetdreams
May the gentle wind lull you to sleep like love hymns
May you have goodnight but a better day
May your dreams be sweet nightmares wont come your way
Goodnight Love
I'm glad I have you near
For the many things you've brought me
There's nothing I shall fear
Good night my dear

13
You start to yawn as we sit down on the couch.
Ok, let's watch the movie.
I smile because you're already tired,
And I know you won't make it through the ending.
You snuggle in close and lay your head on my lap.
I tuck you in under the blanket.
Your leg starts to twitch,
Your eyes draw heavy,
Soon you're fast asleep.
I pick you up and carry you to bed.
Sweet dreams, my little angel.

14
The sun is setting,
It's time for bed.
Pick out a book,
And come rest your pretty head.
Say goodnight to your dolls,
Tell the dog to go to sleep.
If you have trouble getting tired,
I'll help you count some sheep.

15
Goodnight my sweet girl.
I bid you adieu.
But Momma I'm not tired,
I want to stay up with you!
Honey, you need your rest,
To grow big and strong.
Ok, momma,
But will you sing me a song?
Of course my dear,
Anything you want!
Momma I want to dream,
Of owning a restaurant.

16
Goodnight my love, my darling, my dear,
Come in close and lend me your ear.
I'll whisper goodnight, you climb into bed,
It's time to sleep, now lay down your head.
Dream of tomorrow, the morning sunlight,
You lay there sleeping, tucked in tight.
I love you my darling,
Goodnight, goodnight.
17
To you, my love, I say goodnight,
I kiss your head and turn out the light.
I've said your prayer and tucked you in,
You're snuggled up and soon begin,
To fall asleep upon your bed.
Your bear lies there beside your head,
And soon you dream of wonder,
Goodnight, my love, goodnight.
18
Come with me my dear,
To the silver coast of sleep.
There's no need to fear,
Go ahead and take that leap.
Close your eyes tight,
And relax your mind.
Snuggle me with all your might,
Know I am yours and you are mine.
Here's your kiss and hug
goodnight,
I'll see you when the morning alarm has rung.
19
Good Night, my lover
The moon does not ever shine
Any brighter
Than the glow that does surround you.
In the midst of your presence
Does your personality radiate.
It makes me entirely too awake
But I shall try to sleep
For maybe I can catch a dream of you,
Waking up next to me.
20
Good Night, gorgeous
Your eyes shine bright
Even during the night.
Good Night, wonderful
You rescued me so
That I could see you
Every morning!
21
Good Night, beautiful!
Until the dawn breaks again.
I will see you in my dreams
And hopefully in between
You are amazing,
You are my everything!
22
Night is the time I love best with you.
Star light tangled in your hair,
bare skin shining bright.
Being with you is a dream come true.
Do you know I love you too?
Awaking to a day anew with you
23
I only want to have you near, away from you
tonight my dear.
Dreams cannot replace the memory of your face.
An embrace from you and I feel brand-new.
To peer into your eyes is all I want to do.
24
As the moon walks you and I home,
I wish you could stay.
Can there be another way,
to see you always?
Awake I will be tonight with
thoughts of you.
Dreaming of the next kiss I will place upon your lips.
25
The sun is getting low; The moon will start to rise; The stars will start to glow; Like the twinkle in your eyes; Goodnight, my little girl; It's time to rest your head; And for everyone in the world; It's time to go to bed
26
My girl is getting drowsy: I've better tuck her in; So she doesn't say I'm lousy; I'll pull the blanket to her chin; Tucked underneath the cover; She soon will fall asleep; I hope she knows I love her; As she lies there dreaming deep.
27
Hop right into bed, my dear; Snuggle up real tight; I promise you have naught to fear; The bedbugs will not bite; I'll be here to guard you; From the monsters and the ghouls; If they try to touch you; Then they're clearly stupid fools
28
Close your eyes my dear
Cozy up to your pillow and blankets
Curl up in your comfy bed
Drift off into a peaceful slumber
Let all of your worries disappear
No worries to ponder
Just rest your eyes tight
And get a peaceful night of sleep!

29
Gentle stars twinkle in the night sky
A broad crescent moon, hanging above
Moonlight hits your window
Shining on your sweet face
As you fall fast asleep
Rest your eyes, my love
For I will see you when you wake

30
It has been a productive day
You worked very hard
You more than earned your pay
Now it is time for you to lay your head
Cozy up to your blankets, snug in bed
As you find yourself drifting off to sleep
I hope it is sweet dreams that you keep!
Goodnight my love

31
goodnight my heart
close your eyes
i hope your dreams are plenty
and sleep comes fast
goodnight babe
your the best
goodnight my love
go to sleep
beside you i'll be
i'll see you in my dreams
32
the sun has set
the crickets are
chirping
it's time for bed
a goodnight kiss
maybe a warm bath
as the night moon sets
goodnight to you
it's time to rest
goodnight to you
in our little nest
33
the moon is full
so is my heart
good night to you
sweetheart
the lights are off
your eyes are heavy
goodnight sweetheart
take my hand
the dreams will come
and our love will grow
goodnight goodnight
the moon is full
34
"Much the same as the moon is splendid
You become what is of light.
You came to demonstrate me to cherish right
These are minutes I will dependably compose.
Much the same as the moon you rule effortlessly
Bringing me opportunity, love and harmony
What's more, a heart with feelings that never stop.
I cherish how we adore and furthermore bother.
Much the same as the moon the white ruler and Queen
I will love you and be your King
I swear by the finger with the ring
My affection has recently my heart for you to sing

35
In the middle of all we looked for
In affection or sweetness.
I didn't mull over you
You turned into a magnificent story
That the night yearns to tell
With sweet candles or fun
Love notes scattered
I like the water that holds us tight
So we stream in this adoration
Feelings overflowed and fears found
We blemished to live however perfectly enamored.
At the point when night discovers us
Give us a chance to be enveloped tight by one another's arms.
Give us a chance to cherish willingly.

36
I have given my murmurs to the breeze
To wish you a decent night with affection.
I miss the start of today
At the point when our lips chatted with each other.
To the shining moon
I see an impression of your magnificence
A delicate mournful eyes has your picture
Also, wish my hands would contact you.
To the gleaming moon
I state it how my heart appeals to God for it
For your arms to envelope into mine.
For our souls to beat and lie next to each other