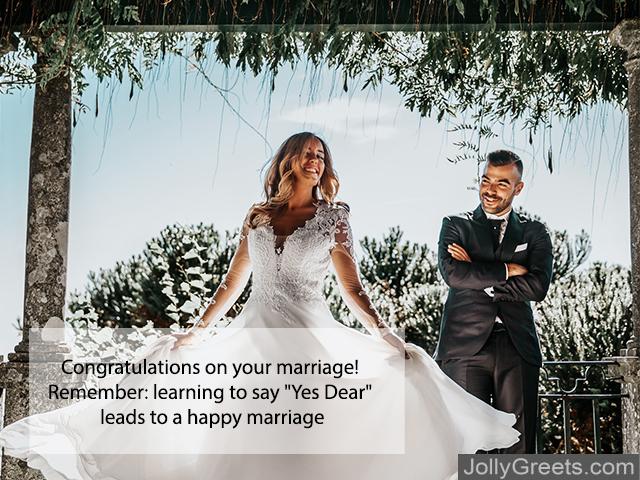 Laughter-Inducing Wishes for Newlyweds
Weddings are a joyous occasions for everyone involved. Getting to celebrate a couple's love is special and you'll likely want to send them a congratulatory message. When it comes time to create well wishes for the lucky couple, you may be tempted to add a bit of humor to your message. Although there's nothing wrong with a heartfelt message, funny wedding wishes are a great way to create rapport with the newlyweds and bring a smile to their faces on their big day. If you are looking to make sure your wedding wishes really stand out, humor is a great tool to employ!
How to Create the Perfect Card - Examples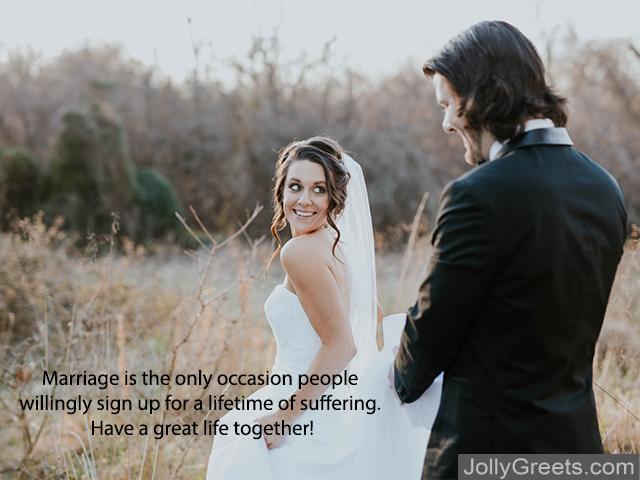 If you are looking to add humor to your wedding wishes, we've taken the time to create funny wedding wishes that are sure to be a hit. Feel free to use these when sending congratulations to the happy couple in your life. These messages are sure to bring a smile to their face and–if you're lucky–make them laugh!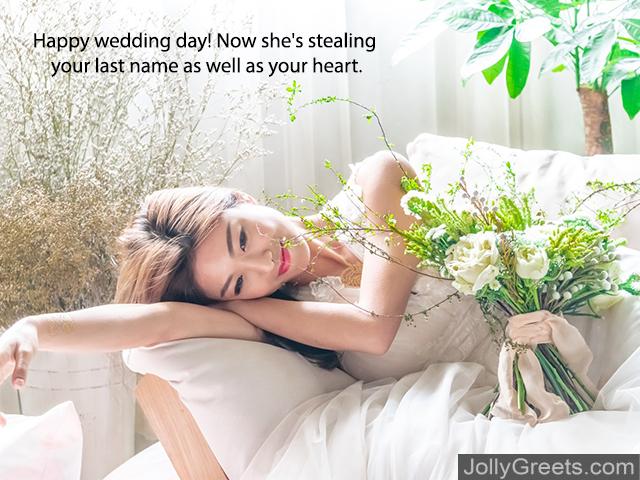 For a couple you are familiar with, but not close friends
These wedding wishes are funny and perfect to send to the wedding couple, but still polite enough that they work for a couple you may not be very close to.
Short & Silly:
Congratulations on finding the one person you want to annoy for the rest of your life!
Congratulations on your marriage! Remember: learning to say "Yes Dear" leads to a happy marriage
Congratulations on convincing them to settle down! Happy wedding day!
Congratulations on signing your life away together!
Your future kids will grow up and move out, but the spouse is forever. Congrats!
Marriage is a two-way street, so remember to avoid collisions. Congratulations on your nuptials!
Prepare for "madly in love" to just become "mad". Happy wedding day!
Congratulations and a piece of advice: don't build furniture together if you want this to last!
Today is a wonderful day to eat, drink, and be married! Congrats!
Welcome to the dangerous, crazy, wonderful world of "marriage"!
Long & Laughable:
The promise "for better or worse" means you better be ready for a whole lot of "worse"! Laugh at the little things that go wrong and don't stress too hard over the big things bound to go wrong. Marriage is a team (so figure out who is gonna be the boss!) Congratulations!
If you're wrong and you shut up, you're wise. If you're right and you shut up, you're married! Welcome to a lifetime of remembering it's not worth the fight even if you're "always right". Congratulations on your union and may you never go to bed angry!
Congratulations to the both of you! A piece of advice for you both on your wedding day: if you keep trying and failing to succeed, try doing it like your spouse told you! Time to really put that teamwork to the test… for the rest of your lives together!
Marriage means pretending you don't see the crusty eye boogers in your partner's eyes when they wake up and ignore when they pick their nose thinking you aren't watching! Congratulations and best wishes on continuing to ignore the little things!
When it comes time to buy your first house together, I strongly reccomend looking into his and hers bathrooms. It will help preserve your sanity and keep your marriage strong! Congratulations on your special day, may you always be able to put up with each other and still love the other person at the end of the day!
For a couple you are close and comfortable with
This part of the list is perfect for making a couple laugh on their big day; they are best used on a couple you are very familiar with, who understands a good-natured ribbing
Short & Silly:
Remember that deaf husbands and blind wives make the best pairs. Congratulations!
Marriage is the only occasion people willingly sign up for a lifetime of suffering. Have a great life together!
Congrats on choosing your personal prison! Happy wedding day!
Marriage is like every other job: it helps to suck up the boss! COngrats!
Congratulations, but remember: speak now or forever hold your peace!
The battle's been won, but the war has just become: congratulations on your marriage!
Here's the secret to a perfect marriage: it does not exist! Congrats!
Happy wedding day! Now she's stealing your last name as well as your heart.
Congratulations on your lifelong contract! Happy wedding day!
Welcome to the wonderful world of marriage, filled with rhetorical questions and sarcasm.
Long & Laughable:
Congratulations on finding the only person you want to smooch for the rest of your life! A little advice on having a long, happy marriage: always agree to take out the garbage, even when it's pouring rain outside; turn on the air conditioner even if you are totally freezing when your spouse asks; and never steal the covers, even when the other is totally hogging them!
Marriage is a bit like taking a long walk through the park. Except that park is Jurassic Park and the two of you think that your can rule the dinosaurs! Regardless, congratulations on your wedding and I wish you a long and happy life together full of laughter and jokes.
When I first got the wedding invite, I was surprised: I knew you were madly in love, but I didn't know you had gone mad enough to settle for each other for the rest of your lives! I hope the two of you really complete one another and never live to regret saying "I do". Congratulations on your marriage!
Weddings are great occasions to remember all the great things about your relationship. Like the give and take: one of you gives, the other takes! Marriage is a game of communication and compromise, where one of you will always communicate and one will always compromise. Try not to tear each other's hair out in the process! Congrats!
Marriage is not for the faint-hearted. You're willingly sign up to put up with someone else's shenanigans every day of your life, always have to argue who gets the last piece of cake, and fight over who gets to have the good side of the bed. The important thing is just to cherish the good along with the bad! Congratulations and best of luck!