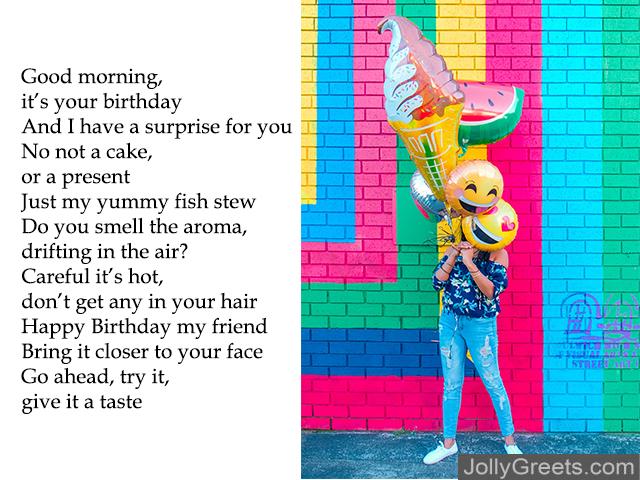 Birthdays are always days filled with fun celebration. There are so many different ways to speak highly of someone on their birthday. However, some years call for switching things up a little bit. Sometimes, the day of celebration calls for a little bit of humor. Whereas serious birthday cards certainly have their place, so do cards that make others laugh on their special day. In order to come up with your own hilarious message, think of a funny moment that happened between you and the birthday boy or girl, and start writing it down. Just get the funny idea down and worry about the wording later. You two may also share a funny phrase that only the two of you seem to chuckle at. This is a good starting point for writing down a birthday message that will help the both of you to laugh and have fun in the midst of someone getting older. Just don't go too far, unless they have the sense of humor that can handle it. You understand the type of wittiness that the birthday person is used to, so choose your jokes wisely. Everybody could use some laughs on their birthday.
How to Create the Perfect Card - Examples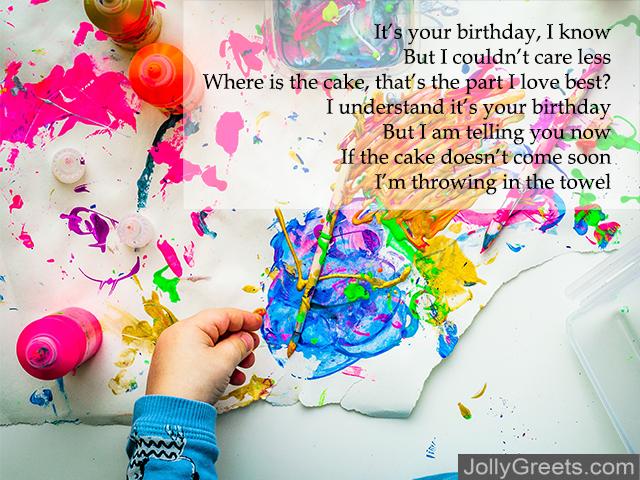 1
Good morning, it's your birthday
And I have a surprise for you
No not a cake, or a present
Just my yummy fish stew
Do you smell the aroma, drifting in the air?
Careful it's hot, don't get any in your hair
Happy Birthday my friend
Bring it closer to your face
Go ahead, try it, give it a taste

2
It's your birthday, I know
But I couldn't care less
Where is the cake, that's the part I love best?
I understand it's your birthday
But I am telling you now
If the cake doesn't come soon
I'm throwing in the towel

3
Your old, let's face it
Another year for you
Your old, let's face it
Smelling sour, like an aged honey dew
Your old, stop lying
And saying your twenty
How many birthdays, did you pull that on
Yes that's right, plenty
You're old
Happy Birthday

4

One year passes and we gather here to celebrate your birthday
Don't be afraid of growing old
You can always remain young at heart
Just don't forget to take out the trash
Once this birthday party comes to an end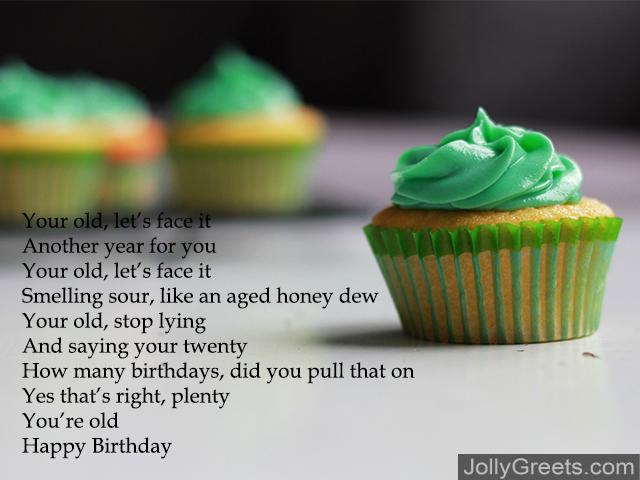 5
Happy birthday to my best friend
One year older and hopefully wiser
I know you're in a hurry to taste the birthday cake
But don't you forget to blow the candles first
And make a birthday wish
Happy birthday once again

6
My feelings for you are deep
That's why my birthday gift for you isn't cheap
It comes straight from the heart
So don't be surprised if you see that it's a card
Words have a deeper meaning than a gift
Happy birthday dear friend

7
And now it's your birthday it's not very fair
That last year you had so much more hair
Your wrinkles were smaller
Your teeth were not loose
Happy birthday to you, you senile old moose

8
It's your birthday at last
You're getting old fast
Each year whizzes by
Oh how time does fly
So put on your skates
And have a quick blast
Before it's too late
And your whole life has passed

9
Happy birthday twinkle toes
Your actual age no one knows
Your inner child is firmly out
Loving life not going without
And now another whole year older
Your bucket list is getting smaller
But everything that you have ticked
Is the same on my child's wish list

10
I know that it's your birthday today,
You don't need to pull that hair,
Because it's really not fair,
That mirror is showing your age,
Haha…take this with some grace,
Wish you a lovely birthday,
Have a super awesome day,
Don't forget to enjoy your day!

11
Happy birthday to the cartoon I know,
You have so many stupid gestures to show,
Ok, don't get bugged, I was kidding my dear,
Coz it's your birthday, so spread the cheer,
Have the most amazing day of your life,
May god give me strength to survive,
With you..Lol!
Wishing a very happy birthday to you,
Have a lovely day!

12
My funny guy, when I look at you,
Making faces, as you do,
To make me giggle, and keep me happy,
When I'm feeling down or sad or crappy,
I see someone who's man enough
To just be silly, instead of tough
To give me gladness, bliss and joy,
That's my man; that's my big boy.
Happy birthday to the man
Who makes me laugh, because he can.

13

Oh no, you're thirty!
How ghastly! How old!
Yet, you're better than you were when you were 29,
You're definitely more bold!
You didn't get carded?
Oh no, you're going to die!
Oh look!
You just got hit on by that really, hot guy.

14
Birthdays are a waste of time.
You say birthdays are for losers.
That you'd rather be in temporary hell,
Than suffer through public humiliation.
So instead of singing Happy Birthday to you,
I wrote you this little poem,
And posted it to the internet along with your 1st grade photo,
Of you in your birthday suit, stuffing your face with cake.

15
Shots for the birthday boy,
Because you only turn twenty one once.
Beers for the birthday boy,
Because he's getting a little wild.
Snacks for the birthday boy,
Because he just hit on a poster.
Red Bull's for the birthday boy,
Because he just fell asleep at the bar.
Waters for the birthday boy,
Because he's going to feel that in the morning.

16
People tend to compare aging to a bottle of wine.
You find yourself a little stout and round,
And dust may litter your behind.
Like the grapes that create a fine wine,
The fruits of your labor have become your wisom from age.
Timeless and valued beyond compare,
And the lable may need a bit of repair.
But unlucky for you,
None of this is true.
I wish I could say something better,
My friend, you have aged like cheddar.
17
Happy birthday,
I have a riddle for you.
Once you solve it, you'll know,
The gift that I brought.
What does a rich man want,
That a poor man has got?
Take time to figure it out,
I'll enjoy the cake while you do.
P.S. Heres a hint:
It's NOTHING you've seen before.
18
Happy birthday my friend,
We've known each other so long.
It's your birthday again,
Let me sing you a song.
Happy birthday to you,
I stole your left shoe.
I fed it to your doggy,
And he turned it into poo.
19
You are so old
I can hardly stand (it).
And quite frankly,
Neither can you.
You are getting
Up there in age
Older than dinosaur poo!
20
You aren't getting any younger
This is easy to tell
Even so, I wish you the best
And hope you are doing well.
Soon you might need a cane
And even go insane
But until you're truly old
I will continue to be this cold.
21
Yikes! You are so old.
I don't know if you were told
That every time
You look more bold
Hopefully you feel young
and able-bodied.
22
It's time cut the cake, every guest is near.
We just can't find the birthday boy.
We've called and looked in every spot he is still not to be seen.
What can all this mean?
It seems he wants to party on his own today.
23
Hooray! It's the day to open open gifts, blow out candles, gain a year of life.
I know I told you to take the cake, but can you bring it back?
That is one gift you need sot share with everyone today.
24
Those lines on your face,
grey in your hair
no one really gives a care.
Come now, it is not time to hide.
Have some cake, don't be late.
Blow out the candles and make another wish.
Another year has passed.
25
Friend you're one year older; Time waits for none, I think; Since weather's getting colder; Let me buy you a drink; I'll make sure it's really hot; And quite the tasty brew; Now let's drink up to the thought; I'm not as old as you!
26
Your hair is falling out; Your teeth are falling, too; But before you start to pout; I have some news for you; Getting older is a pain; You're fast approaching death; But if you can complain; At least you have your breath!
27
Birthday is a time for joy; For every girl and every boy; To kick back and then relax; To take off shoes and take off slacks; To take off more would be a hoot; 'Cause then you'd wear your birthday suit!
28
I'm sure people make jokes about getting older
You politely laugh with a quiet smoulder
I know you, always being so polite
Jokes about getting older aren't always right
Don't worry about it, age is just a number
Don't you ever let anyone steal your thunder!
Happy Birthday

29
Everyday is better with a beer
Especially when celebrating
Your birthday cheer
So please pour a cold one
And think of me
Have another!
Maybe two or three
I know birthdays can be daunting
Just have another drink
Getting older won't seem so haunting!
Happy Birthday

30

Birthdays shouldn't be about age
If you think of that too much
It could send you into a rage
Instead, you should think of your life
As a great adventure
Age doesn't matter
Until you need denchers!
Don't worry yet
You are not that old
So pour up a drink
Make sure it's cold!
Today we celebrate my friend
Who is brilliant and bold
Happy Birthday

31
it's your birthday
your glasses don't
work
your a million years older
and gray hair
just won't stop
it's your birthday
cake in your face
here's a present
it's empty
happy birthday to you
32
you may be hungry
for a cake or
ice cream
all of which i forgot
to make
i did get a present
possibly two
but my monkey ate those to
here's some streamers
and ribbons to
here's some tape
happy birthday to you
we have so much to do
33
it's a day for you
and not at the zoo
a day for you
please don't turn blue
a day to say
happy birthday to you
hope i didn't scare you
happy birthday to you
your out of my sight
34
Modest Birthday
This birthday card,
I simply needed to share.
Got it discounted,
be that as it may, I won't disclose to you where.
I trust you're not considering,
that I'm additional modest.
I'm path past that,
this card you can't keep.
You have 15 additional seconds,
so you better perused quick.
This birthday card,
has been utilized previously.
Birthday cards and presents,
I attempt my best to reuse.
I should loan you,
my stinky old shoes?
I guarantee I'll even,
toss in the socks.
When you're altogether done,
place back in the container.
Cheerful Birthday,
I'm not being modest.
I'm testing your good humor,
it's everything yours to keep

35
Birthday Wishes
A couple of birthday wishes,
I'm planning to send.
Lost your name,
in any case, I know you're my companion.
Since it's your birthday,
we'll sing that old melody.
Check each year,
also, ensure it's long.
Maturing is something,
you shouldn't rush.
However, in the event that you see signs,
do whatever it takes not to stress.
It's not about with whom,
your day that you share.
Be that as it may, the nature of endowments,
toward the end you announce.
I take all that back,
a horrendously mean joke.
Be that as it may, never welcome,
in the event that you realize they are down and out.
I'm attempting to review,
your age and your name.
Today is your birthday,
also, I trust it's not lame

36
Birthday Dream
Young lady, it's your birthday,
so what is the arrangement?
If it's not too much trouble disclose to me reality,
at the point when the shopping started.
How about we not discuss,
wrinkles nor age.
The majority of your faculties,
we should effectively lock in.
Mouth-watering chocolate,
truffles you'll taste.
It's a wonderful sensation,
that must be grasped.
Take a load off,
as she chips away at your nails.
A calming knead,
unwinding involves.
Music is sweet,
select your top sound.
Today is your birthday,
also, you have been delegated.
At that point out of the blue,
you wake from your fantasy.
There's fries in your hair,
also, you hear the children shout."