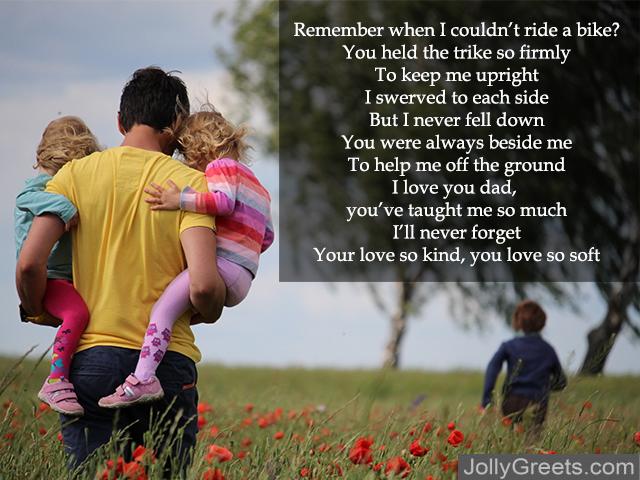 Fathers come in all shapes and sizes and various forms. A father looks different for everyone and sometimes, a dad is not always the person who helped in forming you. A dad could be the person who stepped up and took the role of a father figure when there wasn't one present. He could be the person who helped you learn how to tie your shoes. Your dad could simply be the one person in your life who laughs at his own dad jokes, and sometimes makes you laugh at them too! More seriously, a dad is someone who prepares you for what the world can sometimes throw at you. He can teach you to laugh when life doesn't go as planned, but he can also teach you to keep moving when it hurts to do so. Dads have the capacity to play so many different roles in our lives and it's esspecially important for us to reveal our appreciation towards them on Father's Day! Take this day as an opportunity to show your dad that you keep your relationship with him as a priority in your life. You will both be happy that you made that choice.
How to Create the Perfect Card - Examples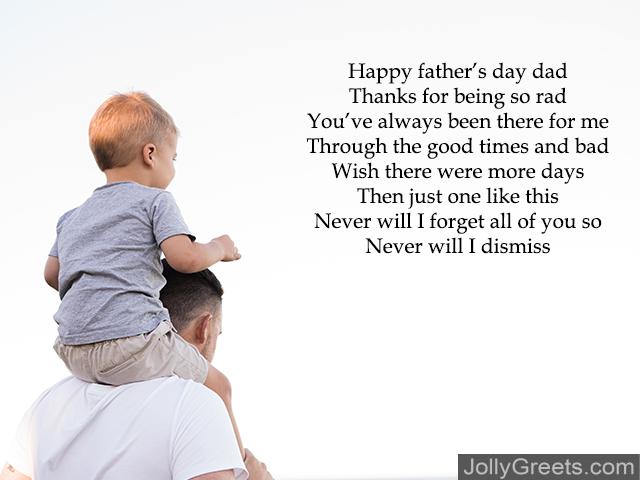 1
Remember when I couldn't ride a bike?
You held the trike so firmly
To keep me upright
I swerved to each side
But I never fell down
You were always beside me
To help me off the ground
I love you dad, you've taught me so much
I'll never forget
Your love so kind, you love so soft

2
Happy father's day dad
Thanks for being so rad
You've always been there for me
Through the good times and bad
Wish there were more days
Then just one like this
Never will I forget all of you so
Never will I dismiss

3
What makes a good father?
That one's not hard to tell
They don't have to have special powers
They just need to know you so well
They'll always be there for you
Through the rain or shine
They constantly will remind you
Of a love so fine

4
A father figure is a symbol of guidance
their love is strong and deep
they are warm and caring
They are people you forever want to keep
we all need a love that knows no boundaries
Gifting us with laughter and joy filled with fond memories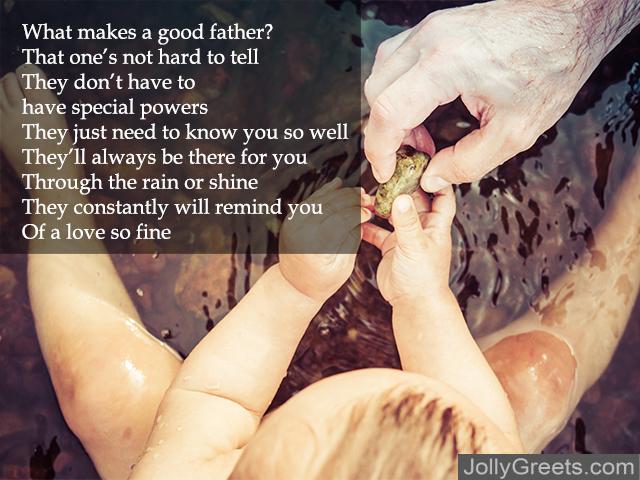 5
A father has an understanding heart,
A father is our source of strength and support
Right from the very start.
A father is constantly ready to help
No matter the situation
A father is generous with his love and protection
And is never afraid to show his affection

6
Dear father we love you
For all the things that you do
You guide and protect us
From all the things that would hurt us
You share and give everything that we need
What would our lives be without a father
I try not to wonder

7
Daddy you have always been my ultimate hero
Without your love and support my life would be zero
So today let me spoil you and love you my way
Oh daddy dearest I love you, have a happy father's day

8
It's time to let you rest
You have always given your best
The best dad I could ask for
You could not have ever done more
So today I'll weed your garden
And bring you all you need
Put your feet up by the fire
And I'll give you a good feed

9
Happy Father's day dad it's your day to shine
I appreciate how you keep me in line
I want you to know that I do really care
If I pass my exams of fail the whole year
You gave me the chance to follow my passion
While learning and a lot and enjoying each lesson
Thank you for teaching me all of your wisdom
I know that one day I will rule my own kingdom

10
He never looks for praises.
He's never one to boast.
He just goes on quietly working
For those he loves the most.
His dreams are seldom spoken.
His wants are very few,
And most of the time his worries
Will go unspoken, too.
He's there…a firm foundation
Through all our storms of life,
A sturdy hand to hold onto
In times of stress and strife.
A true friend we can turn to
When times are good or bad.
One of our greatest blessings,
The man that we call Dad.

11
Every morning I wake up and see
The most handsome man lying next to me.
He's the one I cherish and love,
A blessing sent from Heaven above.
I will love him as a faithful wife should
And do everything for him I could.
I would let him know every day
That I love him more than words can say.
For the two children we have together
And the love for God in each other.
It will keep our love for each other strong,
And the Lord will guide us away from all wrong.

12
For my father, my friend,
This to me you have always been.
Through the good times and the bad,
Your understanding I have had.
A gentle man at heart,
This sets you apart
From the others I've seen.
You mean so much to me.
The laughter we have shared
Cannot be compared.
The tears I have shed,
As you lovingly nodded your head.
You have always been there,
With a smile and a hug,
A precious gift from our God up above.
The times that I have been down and sad,
Your silly ways could always make me glad.
You gave me strength to carry on,
Even when all hope seemed to be gone.
The lessons in life that I have learned
Are from your genuine love and concern.
With deep appreciation for all you have done.
You, Dad,
Are my number one.
13
A father is biological.
A father is someone who cares about you.
A father helps you grow to be your best self.
A father is there for you in times of need.
A father has an undying love for his child.
So today, it's all about you, father!

14
You may not be my father by birth,
But I love you just the same.
You took me in as your own,
And for that you should get all the fame.
I know it's not an easy task,
Loving another man's child.
So here's to you on Father's Day,
I'm so proud to be your stepchild.

15
I know you had a lot of choices,
When you and mom decided to adopt.
Babies, babies, everywhere.
Kicking and screaming and crying.
Somehow you found me.
Sitting in the tree reading.
You stopped and asked me my name.
And with that my life was changed.
Happy Father's Day!

16
I never know what to say,
To thank you for all that you've done.
You helped raise me,
And loved me,
And taught me how to ride my bike.
You've always stood beside me,
Even when we disagree.
It's fathers day already,
So thank you for everything.
17
Thank you for always giving me advice,
Thank you for always standing by me side.
Thank you for helping me to fix my car,
Thank you for everything you've done for me thus far.
Thank you for teaching me math,
And thank you for your hugs.
Father's day is here,
It's the day to appreciate you.
So thanks for everything daddy,
I really love you.
18
Today is the day all about you,
It's a day of love and appreciation, too.
You've always done so much for me,
Even more than I have asked.
I thank you for all of it,
And the memeories of it will always last.
So here is to you on father's day,
Kick back and relax and enjoy today.
19
Dad, you are the greatest
You've taught me everything I know
From how to ride a bike, To laughing at my faults.
You surely taught me how to grow.
I can't thank you enough
But I will begin to try.
Happy Fathers Day, dad
You are the best guy.
20
Happy Father's Day!
To the most wonderful dad I know.
I love you tremendously
Thank you for helping me grow
Into who I am today
You have surely shown me
The one and only way.
21
Happy Fathers Day, Dad
I hope you do have fun
You have made a positive difference
For almost everyone.
I hope your day is filled with puns
And everything that's great
Have a wonderful day,
For that is your fate.
22
Dad,
You are always there when I need advice.
Be it girls or baseball I would never have to think twice.
You are the man I turned to when questions came around.
Thank for all you have shown me how to do.
Happy Father's Day!
23
Happy Fathers Day!
Dad you are so rad,
I could not ask for a better father.
You pass the test and are the best.
I give you an A+
Awesome, Adventurous, Adoring.
All these words describe what you do.
24
Dad,
You have show me right from wrong.
I will hold that memory with me long into my years.
I hope you know your life lessons guide all I do.
Here is to a Happy Fathers Day.
A wonderful you!
25
Let's go outside and have some fun; Dear old dad of mine; As long as there's some shining sun; I can cast the line; We'll fish until we both are spent; Upon this quiet bay; I wish you every merriment; And Happy Father's Day!
26
Father, you have taught me all; A child can ever know; To ride a bike and throw a ball; And shovel mounds of snow; Because of you, I am prepared; To face what life will bring; As I do what no one's every dared; Your praises I will sing!
27
You've taught me to be wise; You've taught me to be strong; You've opened up my eyes; And filled my heart with song; As a father, you're the best; A pinnacle of a man; On Father's Day and every day; I'll always be a fan!
28
Dad
I know it hasn't always been easy
Raising my siblings and I
Many long days and sacrifice
But you always remained strong
You never showed your worry
Always surprising us with gifts
And fun adventure trips
Reading to us at night
And breaking up our silly fights
You always made sure that we felt loved
And had everything that we needed
You are all of what a Dad should be
Happy Fathers Day

29
Barbecuing and Football
Are things you really like
You were always there
To help me fix my bike
Teaching me cool things
When I was a kid
Working hard to support us
So much that you did
You ensured I grew up
Healthy and brave
Today, I want to wish you
The best Fathers Day!

30
Dad
Thinking of you on this Fathers Day
I just want to tell you
I appreciate you in every way
You always helped me late at night
With my math homework
Always so patient
Double checking my work
Thank you for always lending a hand
You are surely the best dad
In all of the land

31
up there somewhere
i see you there
maybe camping in
a field somewhere
a father like you
deserves more than a day
up there somewhere
you see me now
and you know
that deep down
my love for you
is more than a day
but happy father's day anyways
32
father's day
a day for you
a day to say i love you
father's day
a day to say
come on dad it's this way
a day to do what you want
a day just for you
no matter the time
happy father's day dear dad
or should i call you pop
33
maybe a tie
or a tool or two
maybe a golf bag
or a day at the zoo
maybe a hug
a cake or some shoes
maybe a card
and a i love you
whatever it is whatever
you say
it will be a great father's day
34
Daddy You Are My Best Friend
You conveyed me on your shoulders and demonstrated the world,
To trained me to ride the bike as I was your most loved young lady.
You demonstrated to me how I could make Mathematics my closest companion,
You went along with me when I would bunk class, and never constrained me to visit.
Life without anyone else's input, has been and is generally such a great amount of fun with you Daddy,
It shockingly never harms notwithstanding when you right my indiscretions.
Each minute I go through with you, you show me something new,
You figure out how to lift up my spirits at whatever point I'm dismal, forlorn and blue.
Much obliged to you so much Dad. Upbeat Father's day to you

35
Daddy you gave me a reason
Daddy you gave me such a significant number of reasons
To remain so tall throughout everyday life
You were the person who used to run
When I was lost in the sight
Father you are the reason
That I have gained such a great amount from life
You showed me the astuteness
You gave me the correct equalization to be
At whatever point you are nowhere to be found
I miss your affection to thee
Much obliged to you for a superb
Life and all the marvel ways
Much thanks to you so much my dad
Upbeat dad's day!

36
I Could Never Thank You
You get me up in the mornings with a grin,
You disclose to me that you adore me now and then.
You spoilt me with endowments substantially more than I need,
You put stock in me support me all an opportunity to succeed.
I would never thank you Dad for all that you are,
I will dependably adore you like this, regardless of whether you're far.