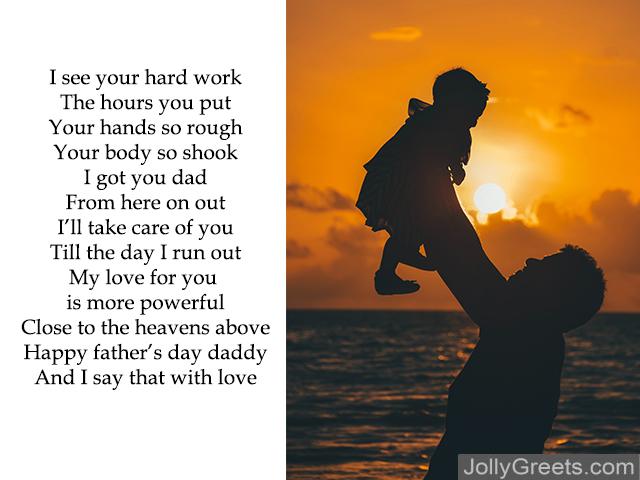 Father's Day is a special time of the year in general. What dad doesn't love to be appreciated on a day that is all about them? But there is something even more special when that message is coming from their very own daughter. Maybe you were always known as "daddy's girl" and so recieving a message from you will be a blessing. Even if you did not hold that title, it's still a good idea to find the words that will your dad will appreciate on Father's Day. Thankfully, it doesn't take too long to find words that are meant to compliment your dad's actions. Since this process doesn't take long, you can use the rest of your time on this day actually spending it with your dad. When the words are coming from his daughter, they won't be taken lightly. Hopefully your dad will understand and appreciate the thoughtfulness that comes from telling him a special message on Father's Day. If you don't find one on this post that will specifically speak to him, try writing a poem of your very own. There is nothing quite like the bond between a father and daughter.
How to Create the Perfect Card - Examples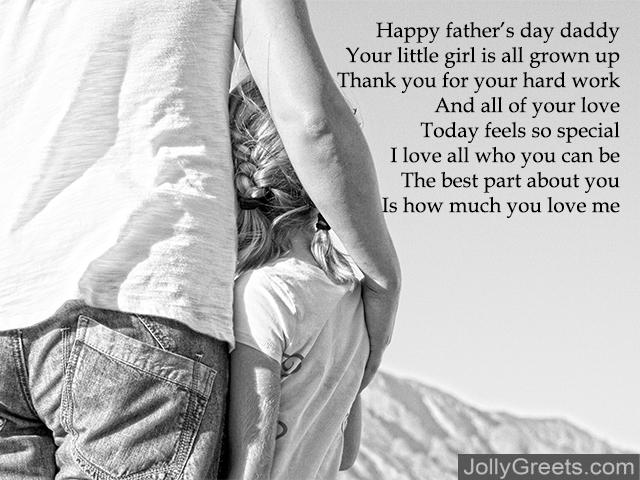 1
I see your hard work
The hours you put
Your hands so rough
Your body so shook
I got you dad
From here on out
I'll take care of you
Till the day I run out
My love for you is more powerful
Close to the heavens above
Happy father's day daddy
And I say that with love

2
Spider has nothing on you
Your webs are more powerful
Batman can't over shine you
You keep him running
Ninjas can stay disguised
Because you have no fear
You bravely show yourself
To protect me from tears
This little girl loves you
For who you are and such
Thank you for being you
And love me so much

3
Happy father's day daddy
Your little girl is all grown up
Thank you for your hard work
And all of your love
Today feels so special
I love all who you can be
The best part about you
Is how much you love me

4
You are the best father a girl could ask for
You work hard so that you can give us so much more
You fix our problems even when you don't have to
We love you very much
Thanks for being there for us
Happy father's day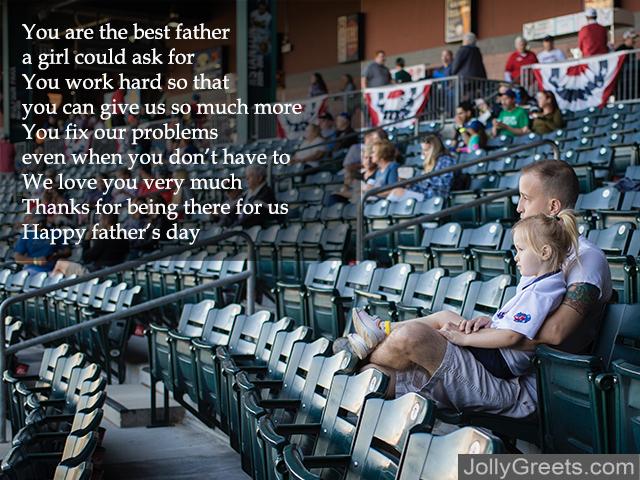 5
Dear father you are my guiding light
Just like the North Star in a dark night
You taught me right from wrong
And told me when to be strong
You give me hope when all things fail
And sing me lullabies when I can't sleep

6
Thanks for making my childhood memories
Full of hugs and kisses
I remember all our trips to the park
And learning to ride a bike
Thanks for being there for me
Always ready in my time of need
I love you daddy
Happy father's day to you

7
To a very special dad, the best in the whole world
You have given me so much I am my daddy's girl
I love you more than all the stars in the universe
Happy Father's day I give to you this lovely little verse

8
Dad I am so proud of you and all that you've achieved
You have always been my hero I wish that you'd believe
You raised me to be fierce and independent too
I know how much you love me happy fathers day to you

9
Daddy you are my number one
Kinder and stronger than everyone
Taught me how to do what's right
Comforted me when I awoke in the night
Daddy I'm proud to be your daughter
Most of all I love the laughter
We share so much from day to day
I wouldn't have it another way
Happy father's day

10
Here in my heart
my daddy will stay.
He nurtured and cared,
he held me tight when I was scared.
my best friend, my teacher in life
I saw the tears in my daddy's eyes
when I said I love you.
I meant it so deeply.
You always carried me to bed
whenever I got sleepy.
You tried to do my hair
and got it tangled every time,
but I never cared
playing the guitar, strum at a time
while I danced around you
You never once sighed
I'm your little girl and I always will be
Even when I forty I'll still sit on your knee
This day is yours, I want to say
I love you dearly!
Happy Father's Day

11
A Dad is someone you can count on
Someone who is always there
Someone who listens when you talk
Who knows when you are lying
And when you are telling the truth
A Dad is someone who protects you
And cares about you
A Dad is always kind
And understands what you say
He understands what is wrong
And makes you feel okay
A Dad is someone who loves you
No matter what you do
A Dad is someone just like you

12
If I could write a story,
It would be the greatest ever told.
I'd write about my daddy,
For he had a heart of gold.
My dad, he was no hero
Known around this world.
He was everything to me,
For I was his baby girl.
I'd write about the lessons.
He taught me right from wrong.
He instilled in me the values
That one day I'd be strong.
He taught me to face my fears,
Take each day as it comes,
For there are things that we can't change.
He would say what's done is done.
He would say hold your head up high,
Carry yourself with pride.
Thanks to him, I am somebody,
I will never run and hide.
If I could write a story,
It would be the greatest ever told.
I'd write about my daddy,
For he had a heart of gold.

13
I know raising three girls isn't an easy feat,
But you did it with honor and pride.
You taught us to be strong, independent, and picky,
And gave us a hug when we cried.
I know that one day can never suffice,
For all of the things you've done for us.
But we want to thank you for all that you do,
So please don't put up a fuss.

14
Today's your special day!
So let's put on your favorite hat
And go out by the pond.
Sip come coffee in silence,
And watch the cows graze.
Whatever you need dad,
I'll be here to please.
Whether it's driving you around,
Or taking you out to eat.
You're my father,
And this is your special day!

15
Father's Day comes once a year,
But honoring you shouldn't.
So today I declare,
It's the year of you, dad!
Every month,
I'm going to take you out to dinner,
And every Sunday we'll watch sports till your heart is content.
I'm taking on your chores of mowing the lawn,
And making sure you and grandpa don't bicker.
So sit back, relax, and enjoy your day!
There year is about to begin.

16
Daddy you have helped me,
With large or small.
I will always be your princess,
Even after I have grown tall.
You're always my prince charming,
Even when I fall in love.
You mean the world to me, Daddy,
Here's a new golf glove
17
Daddy, you're an angel,
Given to me by God.
You always say I was your blessing,
And you thank the Lord above.
I guess in all truth,
We are gifts to each other.
But it's thanks to you, Daddy,
On this father's day,
For all of my blessings,
Have come from your way.
18
Father's day is here at last,
And Daddy it will be a blast.
Thanks for always being there,
Giving me your kindness and care.
I will always be your baby girl,
Even when we are apart.
My mememories with you are a precious pearl,
My love for you will never leave my heart.
19
Happy Father's Day!
To the man who did raise me.
You taught me well,
To get back up, when I fell
To speak my mind boldly
To consider the thoughts of others
And reach out to the lonely
Dad, you are the best!
20
Happy Father's Day, Daddy
I will always be your little girl
Do you remember when
You taught me how to twirl?
And now to be a lady
You are great at what you do
I am thankful you have given me hope
Through and through.
21
Happy Dad's Day,
To my Dad, who is a genius in the making.
Who taught me a lot of what I know
From writing down to baking.
Your character is solid,
It shows that you're truly kind.
If anyone cannot see that
Their hearts must be blind.
22
Dad's deserve praise for raising daughters-
Thank goodness for fathers just like you.
High upon your shoulders I could see the world.
You handed it to me so lightly I thought I would float away.
Instead you were the anchor who taught me to play.
23
To the best dad in the world.
Will the coming of time always hold
you have taught me close.
Humor is the glue that binds us tight
every night I think of you.
Dad, you are my everyday hero.
24
Dad,
You have been such a strong presence in my life.
Showing me through the years what a man should be.
Loving, patient, kind, strong in mind.
May you always know how much you mean to me.
Happy Father's Day.
25
Father, you've taught me what it means; To be a proper girl; To wear a dress instead of jeans; And a necklace made of pearl; Of course, that thinking's out of style; So I've cast it aside; But I've still loved you all the while; And thought of you with pride!
26
As a father, you are an model; Of what a man should be; You never spoil me, never coddle; You've shown the world to me; If I find a man to wed; And then become a wife; You lessons will be in my head; And in my heart for life
27
You are not like other dads, who treat their girls like glass; You've taught me how to hunt and fish, and wrestle in the grass; Because of you, when I grow up, and let my flag unfurl; I'll shout with pride so all can hear, "I'm Daddy's Little Girl!"
28
Dad
No matter how old I get
Or where I live
I will always be your little girl
Even when you are so far away
And it feels like weeks since we spoke
A phone call from you brightens my day
When I am feeling stressed or down
Your number is still the first I call
Because even though I am grown now
I will always be your daughter
Who needs you, and loves you
Happy Fathers Day

29
Dad
I remember when you used to call me
Your little Princess
I would twirl around
In a little tu tu dress
When I got a little older
You were confused
I was a bratty teenager
You were not amused
Eventually, I was able to grow up
And appreciate all your did for me
My gratitude will never be enough
Just know that I love you
And think of you every day
Right here in my heart
Is exactly where you will stay
Happy Fathers Day

30
Dad
All the work you have done
To help me follow my dreams
Has been such a blessing
I love you more than it seems
I know that sometimes I can be a pain
I know I wasn't the easiest child
But you loved me all the same
Helping me crack a smile
Telling me that I'm worth it
Teaching me that life is just a game
You are the greatest dad out there
That is all I wanted to say
Happy Fathers Day

31
you taught me to think
and keep my head straight
you said i love you
even if you were mad
the days we spend together
the nights to
leave me laughing
at some joke or two
you taught me to be nice
even if they were mean
dear dad you taught me
so many things

32
thank you wouldn't
be enough
i could say it
a thousand times
and never compare
to how lucky i am
saying i love you
could never express
how much of a hero
or a father you are
with all the love
i can give
and as many hugs i love
you dear daddy i do
33
dad losing you
was hard on me
it made me cry and
lay around
it made my heart ache
daddy's girl doesn't even cover
how much of me
broke the moment
i lost you
no matter where
or no matter how
happy father's day
daddy from here to
up there
34
I Miss You Daddy
Never has multi day passed by when I don't recollect you,
Not a minute gone by when, without you I was not blue.
I miss the occasions you would take me on a bike ride,
I miss the occasions when it was both of us against the tide.
I miss those occasions when I was my Daddy's most loved young lady,
I miss those occasions when you'd never take your fingers off my twists.
What's more, Daddy as much as I miss being with you,
I realize that you are in the distance missing me as well.
Everything I can say is Happy Father's day to you wherever you are.

35
The significance of father
The significance of father is so extremely unadulterated
The exercises that you have instructed
The significance of everything
Being severe now and again
Being permissive at the prime
Father you are the best in all that you do
I simply need to let you know
That you mean a great deal and I state it from my heart
Glad Father's day to you!

36
There is a solace
There is a solace when I converse with you
You have an issue to all my piece of information
You give me quality when I feel so low
You bring me back when I am so moderate
What might life be without your help?
I some of the time marvel to myself
Much obliged to you father for being your identity
In my life, you are my sparkling star
My adoration for you will never show signs of change
Release the world change and things far
Glad dad's day to you!
With all my adoration for you!