Do you wish to send something sweet to the man in your life? Maybe you desire to send him a poem that says more than just the simple fact that you love him. In other words, you have this passion to tell him that he means a lot to you in a very personal way. Try thinking about what makes him different from anyone else. This will awaken even more passion within your heart and you will be able to stir up the appropriate words that will display how you truly feel about him. If this idea does not give you enough inspiration, there are many other words that you can find here and make them your own. When you think have found the words that work to spark the romance between you and your man, don't wait to share them with him. You may catch him by surprise by sending him and deep, meaningful note, and it will bring back the feelings that you two once shared in the very beginning of your relationship. Don't let those feelings fade, but allow them to be rekindled by sharing how you feel with him and thereby, creating another precious moment in your relationship.
How to Create the Perfect Card - Examples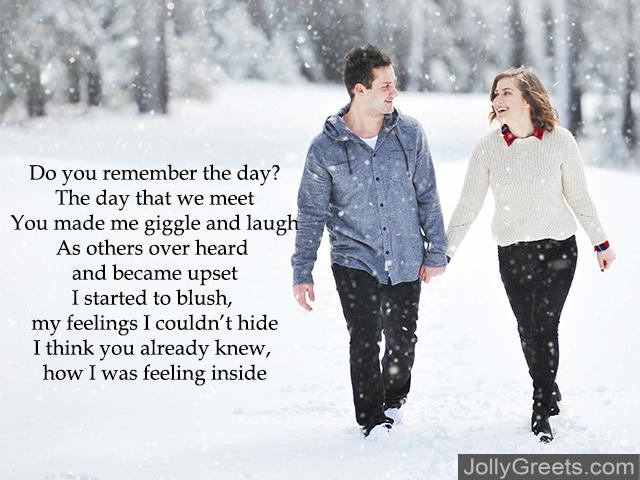 1
The roses smell sweet and we unravel the day
I hold your body closely, as my heart melts away
In your strong arms I feel safe
More safe than other think
So charming and witty
Heart pure of gold as you start to wink
You look down at me as I look at you
My heart is full of love, all the love for you

2
Do you remember the day?
The day that we meet
You made me giggle and laugh
As others over heard and became upset
I started to blush, my feelings I couldn't hide
I think you already knew, how I was feeling inside

3
You're my sunny day
When the sun won't shine
You give me strength
More than I can ever deny
I love your heart
So honest and pure
Your handsome smile
To which you have lured
I can't always express
What I feel in my heart
I'll continue to say I love you
At least this will be the start

4
You are a beautiful part of life
I love you more than words can ever show
You give meaning to my life
Something no one else can
You make my life complete
And I feel lost without you
I love every moment we spend
I pray they never end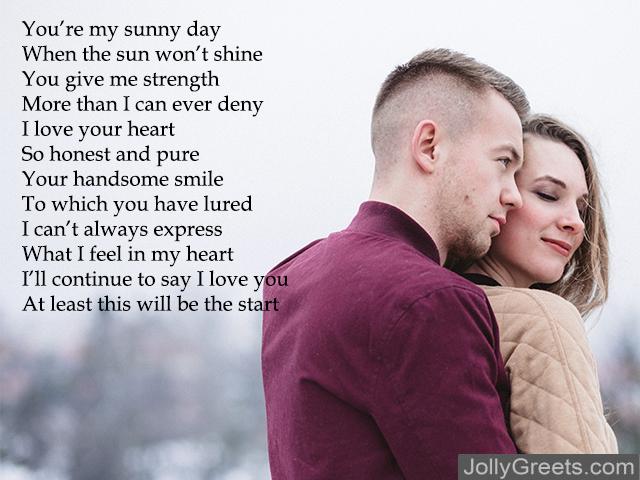 5
I can't really explain this feeling
I get whenever you're around me
I keep getting these butterflies in my tummy
I don't care because you make me happy
I've never felt this way about anyone
I really hope you're the one
My heart beats for you
I just hope you feel the same way I do

6
Forever isn't long enough
When you're with the one
My heart beats pretty fast
Whenever you're around
I get this feeling that I'm loved
Every time you hold my hand
I know I can't say this enough
But you light up my world

7
A man to hold on to
Your love keeps me sane
I drown in your eyes
You are calling my name
Without you I'm lost
I am a little insane
I will never be lonely
While you are calling my name

8
You tilt your head and you smile through your hair
I catch my own breath I have no fresh air
Your eyes are sparkling like the sun on the sea
You make my legs weak that look's just for me

9
A love has never been discovered like the love we share
It's different because I feel it in every strand of hair
A love like ours should be nurtured and cared for every minute
Each day a new opportunity to put all my effort in to it

10
I do not know how to live
I do not know how to exist as a person
All I do well is sleep and be alone
I am mesmerized at the people
Who are able to live each day with such aplomb
Able to find joy and peace in the banal things of this life
Everything is hard, everything is strange, and people scare me
I don't want them to see the cracks
I am afraid they will see the animal underneath the skin
The heavy breaths beneath the porcelain demeanor
I hold onto myself for sanity, my silence is my strongest grip
Please show me how to do this, how to cope, to survive here
I have been drowning since I was born
My feet don't move with the surety that humans come equipped with
Please show me how to be happily human.

11
What I love about you…
The sparkle in your eyes
The fullness of your lips
The radiance in your smile
The character in your face
The smell of your hair
Your breath on my neck
The touch of your hand
Your heartbeat on my bosom
That strength in your stare
Your contours that take my breath away
The warmth of your skin
The compassion in your embrace
Your body next to mine
Its allure that captures me
Your kiss on my lips
And the magic it contains
The stroke of your touch
And the beauty of its rightness
That feeling you evoke
The joy of your commitment
It is for all these reasons and more
That I love you so much.
12
How could I ever have seen a thing that the ocean cannot wash away,
More dramatic than the theatrics of the Royals,
More soothing than morning mountain air,
Something so hope-inducing
So energizing, unending like the band on my finger,
Surely, I have never experienced a sane madness
Now, I know loving you is good poison,
A bitter sweet madness
I never thought I could write
Until I wrote your name
I never thought I could speak
Until I sang your name
I never thought there was someone for me
Until I came to know You

13
Your heart is like the Rio Grande,
Overflowing with love.
Your words are like Texas honey,
Sweet as can be.
Your spirit is like a western cowboy,
Strong willed and stubborn.
Your body is like a tree in Nacogdoches,
Tall and beautiful.
Your mind is like cactus,
Tough to crack, yet peppered with beauty.

14
You're the one I thought I was going to marry.
The one that I rode the ups and downs with.
I thought we'd grow old together,
But then you broke my heart.
Yet fate kept on moving and we found ourselves apart,
But I just wanted to let you know,
You're still the one in my heart.

15
Our eyes lock across the room,
You smile ever so slightly.
My heart beats fast.
We cross paths in the hallway,
I can feel you stare as you watch me go.
You stand a little too close next to me,
You whisper in my ear,
Tonight.

16
I want you,
I want to hold you tight,
Til' your fears are gone.
I want to taste you on my mind,
Knowing every single movement's meaning.
I want to consume you,
To sustain myself on your smile alone.
I want to feel your heart's rhythym in my veins,
To ebb and flow with you,
Lost in a never ending tide.
17
I will drape you in the flames of my affection,
Allowing it to kiss your skin ever so gently,
Not to burn you up in one night.
I will offer you my hands,
With their soft calluses,
Each a badge showing time and care,
A work of hope in holding your favor.
Each of these a promise,
To never stop working for our future.
18
You love me like no other,
For you love like no other.
You love with thunder and lightning,
With loud proclaimations and quick actions.
You love with hammers and forges,
Bluntly with unbridled passion.
You love with rock and grit,
Steadfast and slow conquering.
It's you I want,
It's you I cherish,
It's you I love,
For the way you love me.
19
It's sometimes difficult to express
How much you mean to me.
But I will try throughout this poem,
As you will see.
Your handsome eyes are what I adore.
Your kind spirit makes me want you more.
And just when I think I've had enough
You spoil me even more.
I love you, sweet stuff!

20
I can get rather gushy
When talking of my love for you
I was ever grateful
When you started to pursue.
You came into my life
Exactly when I needed
I love that it was your own heart
To which you perfectly heeded.
21
You have been my rock
Incredibly faithful to me
I do not know what I would do without.
You brighten up my day,
And put a smile upon my face.
But I am glad we can take it slow,
As we are not in a race.
22
A weightlifter you help lift me up.
My dreams are within reach when I am on your shoulders.
You have made me a better person.
Patience and passion have become my own.
For that I have you to thank, my prince upon a throne.
23
I was like a banana without a peel, a tree without roots,
a nut without a shell.
A puzzle piece who was the last one to fit.
Now we are together creating a picture of love that
will last a lifetime.
24
Until I met you I did not know how empty life was.
You have have made my days go from black and white to tecni-color.
From frozen food to a gourmet meal. Thank you, husband, for being in my life.
25
When I met you, my world was whole; You were the missing half; To you my love I do extoll; You make me cry and laugh; Happiness does fill me heart; when you are by my side; I hope that we will never part; My soul is satisfied.
26
I have never known such a manly man; Your passion is without equal; Please love me like only you can; I do not want a sequel; Your embrace will keep me warm at night; And shield me from the cold; Please, dear, hold me very tight, until we both grow old
27
A man is meant to compliment; A woman fair and sweet; You struck me as a handsome gent; On the day we first did meet; As years have passed, our love's grown stronger; Than I can comprehend; And as the years grow ever longer; I hope it will never end.
28
Lately, I feel like I've asked for a lot
Needing your help in ways I never thought
You have held me through my tears
Taking care of me through these hard years
Seeing me in my darkest days
You never ran away
Even when that would have been easy
You always chose to stay
I know our situation is truly unique
When I am feeling sad
It is your arms that I seek
Thank you for all of your love and healing
Being with you is the greatest feeling

29
You always tell me that I've been through enough
Telling me that I am brave for never giving up
All of your sweet words mean so much to me
Although you are the hero in this love story
When we first met, you told me it was okay
That you weren't afraid of my problems
You promised me that you would stay
Taking care of me through those long nights
You never left me when we got in a fight
You told me that a real man stays to fix the problem
We talk about our worries
We stay up late together to solve them
Thank you for showing me what a real man will do
When life seems to be rough
You prove your love is true

30
Despite all of our differences
We've fell in love
Through our biggest fights
We always rise above
Helping me when I'm going through a loss
Listening carefully to all of my thoughts
Promising to protect me at all costs
Your love is more than a feeling
It has powers to help my healing
Thank you for being such a constant in my life
Holding me close
Someday, I hope to be called your wife

31
i remember the day
i first met you
the day my heart started
to soar
i never felt like this
before
my love for you is not
like any other
it's deep and runs
like a river
32
my love for you soars
your my soulmate
my life
the one i want next to me
my love for you
can't even explain
how much my heart
feels
my love for you isn't blind
my love for you is bright and kind

33
a love like this
is hard to find
it's the kind that
gives you butterflies
it makes your heart
swell with pride
and your eyes light up
a love like this
is once in a lifetime
it makes you smile
and sometimes cry
a love like this is
worth a while
34
Experienced passionate feelings for twice
You are so interesting, you are so decent,
You are the kid with whom I experienced passionate feelings for twice.
The first run through was all consuming, instant adoration,
My heart said 'ouch' when cupid's bolt striked.
The second time I feel for you was the point at which I became acquainted with you,
I understood this was love, on the grounds that the inclination was totally new.
Since I have you in adoration with me as well,
I will never at any point let you leave and abandon me blue.
I will hold your hand and remain by you until the end of time,
I will dependably be your better half, will abandon you never!
I adore you today and for always!

35
When I am separated from everyone else
When I am distant from everyone else in my room,
Imagining about you is everything I do.
I let my brain stray along gulped lobbies,
I continue anticipating your messages and calls.
I miss you so much when you are not close,
Also, I sit tight for the hold up when we will meet again my dear.
I am enamored with you.

36
My love for you
My adoration for you doesn't appear to stop,
It makes me feel like I am on the top.
This is such a delightful and serene inclination,
I am at long last feeling like I am truly relaxing.
I long everlastingly to hear the sound of your voice,
I need to be with you everlastingly I have settled on my decision.
Coz nobody else can ever adore me again along these lines,
I need to live with you child for the remainder of my life.
I cherish you to such an extent.