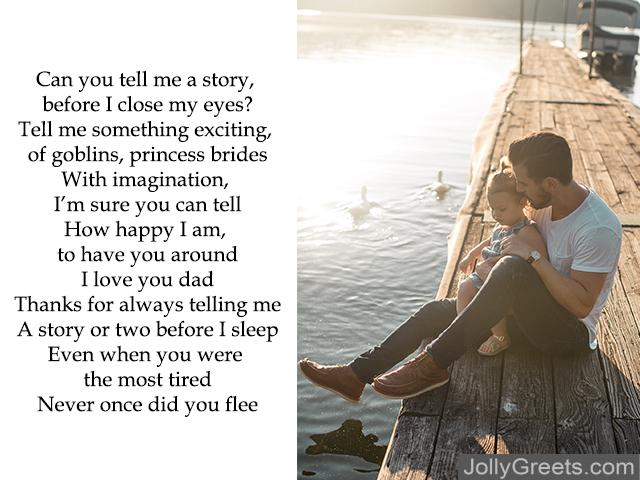 Sometimes you just need to let your dad know how much you love and appreciate him. Allow the words on this page to act as a launching board for the feelings that you already have in your heart. Dads have a special job to fulfill and they deserve to be recognized for a job well done. After all, a dad's job is hard work and it's always an ongoing process for them to be able to provide for their family. Getting a special poem from their daughter is a simple way to for them to be reminded that they are doing a wonderful job. If you don't have the time to come up with your own words of expression, don't fear. These pages are full of ideas for you. Just make sure that you take the time to neatly write them where he will see them. If your dad is active online and on facebook, go ahead and post a sweet message to his timeline to let him know that you appreciate him. If he does not go anywhere near the computer, be sure to capture your thoughts and place them on a personal card. Either way, a sweet, simple note is a sure way to let your dad know that you love him.
How to Create the Perfect Card - Examples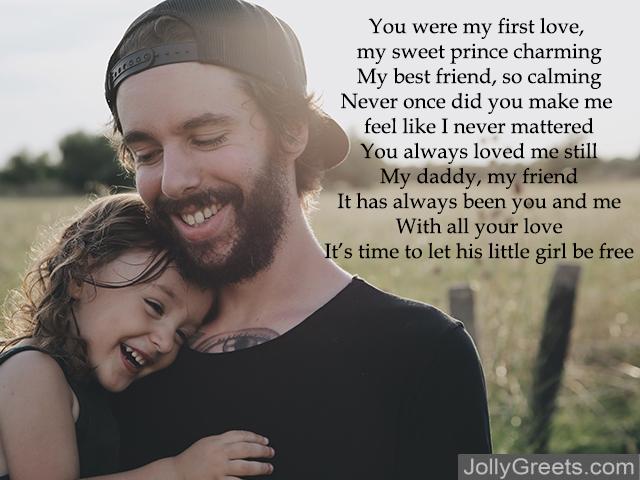 1
Can you tell me a story, before I close my eyes?
Tell me something exciting, of goblins, princess brides
With imagination, I'm sure you can tell
How happy I am, to have you around
I love you dad
Thanks for always telling me
A story or two before I sleep
Even when you were the most tired
Never once did you flee

2
You were my first love, my sweet prince charming
My best friend, so calming
Never once did you make me feel like I never mattered
You always loved me still
My daddy, my friend
It has always been you and me
With all your love
It's time to let his little girl be free

3
Car is already packed as I look in my review mirror
I see a tear roll down his eyes
He looks at me kindly, with kindness inside
Well it is time to go, he says tires not to cry
I'll see you soon, maybe in a little while
I run out of my car and give him a kiss
I love you daddy, it is you who I will miss

4
They say that a father is a young girl's first love
To me you are more than that,
To me you are the whole world
You are my hero,
You have always been there to pick me up
When I fell down
You have always made me laugh when I felt sad
You have always protected me from those
Who meant to harm me
Dear dad to me you are the best

5
Dad I know your journey in life has been long
I know sometimes you think you have failed
I am living proof that this is not true
You have always been a loving dad
You have always provided for my needs
Without you I would have never been
A strong independent lady
So this is my way of saying thank you
For being my Dad

6
My hero and my friend
That is what you are
You have inspired me to succeed
I owe everything that I am to you
The examples you set for me
Have shaped up my future
And without you in my life
I don't know who I would be
I love you daddy

7
Dad you are my inspiration, you mean the world to me
I love you more than anything, unconditionally
A daughter couldn't ask for more than you have given me
A safe place in your heart and lifelong love for free

8
Dad you are my lifeline
My best friend and my foe
We argue every day
And cuddle before you go
We similar but different
And no one else could know
How hard it is to live with you
But how I love you so

9
Dad you are the very best
You helped me pass my driving test
You never doubted I could do it
Because of you I sauntered through it
Like everything I've achieved in life
You're always there right by my side
A daughter couldn't ask for more
You give me so much to hope for

10
A daughter is like a treasure trove
Full of smiles, laughter and love
She is like an antique wooden chest
Filled with memories that are the best
Just like a colorful a box of sweets
A daughter is full of delights and treats
I feel blessed to have such a daughter
Here's hoping I can be a worthy father
I love you

11
My Daughter means the world to me
a big wide world for her to see.
She grows a little more each day
I'll be here always, to guide her way.
She blooms and grows like a flower
Little by little, hour by hour.
One day I'll look and she'll be grown
and start a life out on her own.
But for the time, she's with me now.
so I can teach and show here how.

12
You gave me life so rich
Walking miles around town with you is peace
You play me music and show me places
You lend me book and say
Life as a creative is a part of us that can't be taken;
Somehow those flames keep flaring
And you lit them
If I smile back at memories you're always in them
You gave me a life so rich
I sit here, all grown up, overwhelmed by it.
13
When I was little people used to say,
That I was daddy's little girl.
We'd be in the garage for hours on end,
Building bridges and signs and tables.
Now I'm grown and don't see you much,
I try to call you every week.
But living on my own has made me think,
I'm so thankful you invested in me.

14
I know we've never really had much of a relationship.
I was a difficult child.
I know you really tried your best,
But I'm just a private person.
I know you have given up on me,
Now I'm begging you to give it another shot.

15
I can't believe you're gone.
We just talking on the phone the other day.
You taught me how to fish;
How to use power tools.
You'd take me on hikes and help me when I'd fall.
You comforted me though heart break,
And you were always the first person I'd call when my car broke.
You were the best day there ever was,
And I can't imagen life without you.

16
Dad's are more than just a parent,
They are also a friend.
They are there to support you,
And cheer you on 'til the end.
You'll always protect me,
Because I'm your baby girl.
Dad, you're so amazing,
I'm glad you're always around.
17
You always crack corny jokes,
And you like to mess around.
You're handy with a hammer,
And power tools, too.
You have so much know-how,
And you've taught it to me.
You still call me your princess,
Though I'm not a little girl.
I will cherish you forever,
Thank you for everything Daddy.
18
You've helped me with my homework,
And taught me to ride a bike.
Dad's like you are amazing,
Always being around.
Your hugs are still magic,
When I'm feeling down.
Even when it's just us two,
I can always count on you.
19
Dad, you are the best!
You comfort and provide.
You've been there to dry,
The many tears I've cried.
Your little girl is who I will always be.
Now that I am older, I've realized
The many sacrifice you've made for me.
I love you Dad!
20
Dear Dad, you are awesome
You truly are magnificent.
I am glad that you are my dad.
You are one of a kind
Your nature, it is unique
I am pleased that whatever is on your mind
You do not hesitate to speak.
21
Dad, although I am no longer your little girl
You are the greatest because you teach me still.
You give me lessons only a dad could give
Such as how to think well towards others, and how to forgive.
22

Dad,
I used to get made when you made me do things by myself.
Starting when I put sugar on the shelf.
Now I realize independence is a superpower
showing that all one needs is belief
for pride to set one free.

23
Dad,
Thanks to you I know the difference between a hammer and a wrench.
I can change the oil, find a fuse.
Yet this is not news to you.
You have taught me well.
24
I know from you Dad that strength takes many forms.
Muscles are good for looking, but it is inside that counts.
The quiet way you teach, take one for the team.
As your daughter this means so much to me.
25
From me, your very special girl; To you my loving father; I love that you'd show me the world; When no one else would bother; You're the first man in my life; And though you won't be last; I'll treasure you within my heart; When other loves have passed
26
I'm your loving daughter, Dad; Your sweetheart 'till the end; Whenever I'm upset or sad; My heart you'll try to mend; Now someday soon you'll let me go; And I'll be on my own; But here's something that you should know; You're the best man that I've known!
27
Dad, I'm glad for all the days; We've laughed, and played, and ran; And I'm glad for all the ways; You've shown me you're a fan; I'll always be your litte girl; You'll always be my Pops; Just like a tasty ice cream swirl; You'll always be the tops!
28
Looking through pictures from my childhood
I am reminded of all the times you were there for me
For every birthday, graduation and celebration
You were always there, showing up with love
Even when It wasn't the easiest thing to do
Thank you, dad
For always being there for me
When I needed you the most
Your love and thoughtfulness mean so much to me

29
Dad
Thank you for always supporting me
No matter what I choose to do
Encouraging me to explore
We are both wild at heart
Adventurous at our core
Always pushing to the top
You helped me to succeed
Thank you for always being there
Helping with everything I need
Thank you, Dad

30
Dad
When I was little
You were my best bed
Always comforting me
With a bear hug
Always my biggest fan
In this crazy in world
Promising to protect me
While letting me explore
It is my awesome dad
I will always adore

31
dad i can't even say
how much you mean to me
dad i can't even say
what a amazing dad you are
you taught me many things
you have my back no matter
my choice
your always there
all big and strong
that's probably why
i'm a daddy's girl
32
my hero my world
the one person
always at the door
a strong hand
a loving hug
nothing could break
the bond we have
my love for you is
beyond words
i love you daddy
33
a dad like you
will never be replaced
a dad like you
is hard to find
i know time moves on
i hope your ok
i know up there somewhere
you hear me now
dear daddy dear daddy
i hope i make you proud
words can't explain
what my heart can't say
how much i love you so
34
I Love You Daddy
Pounds throughout my life may continue going back and forth,
However, Daddy my affection for you is a waterway that will continue streaming.
Regardless of the amount you reprimand me, I realize it is to my benefit.
What's more, regardless of whether I don't hear you out, you'll pardon me, I realize you would.
You're so exceptional to me Daddy beyond what you can envision,
Without your recommendation and love, life independent from anyone else feels spoiled.
I adore you Daddy.

35
My Incomparable Dad
Restless eyes have watched me night and day,
Valuable tears have grasped my each way.
Solid hands have held me before I fell,
So much and more stories to tell
Of my father, the incredible one,
A spirit that can be best in class.

36
My Dad, My Friend
A friend who encouraged me all along,
His words always ring to me like a beautiful song.
Your presence has been the most inspiring
Even at times when the whole world came folding.
Dad, you are indeed the best,
For filling my life with the much needed zest.