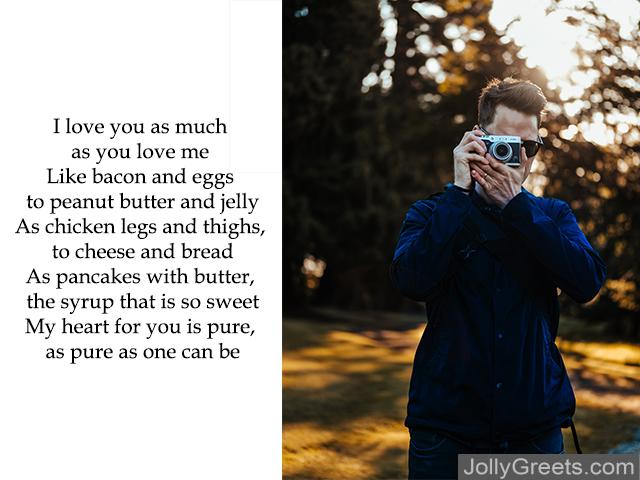 Find just the right sappy words that will make your man blush. You may opt to look for words that speak to his heart and his heart alone. These are the type of soulful words that you will find here. Perhaps you will choose to come up with your own crafty poem that will mean more to him than a bunch of riches, because your words are what makes him truly rich. Think of a special moment that the two of you had together that is unlike any moment that you have shared with anyone else. Use this event as a starting point to come up with a cute poem that may even make him tear up. It's easy to think about how special he is to you when you when you begin to think about all of the positive things that he has done for you. Allow yet another special moment between the two of you to form by giving him words that he will surely cherish for a lifetime. You may choose to keep the poem between the two of you, or you may share your kind words towards him with the world. Either way, make sure that the words spoken are true and straight from your heart.
How to Create the Perfect Card - Examples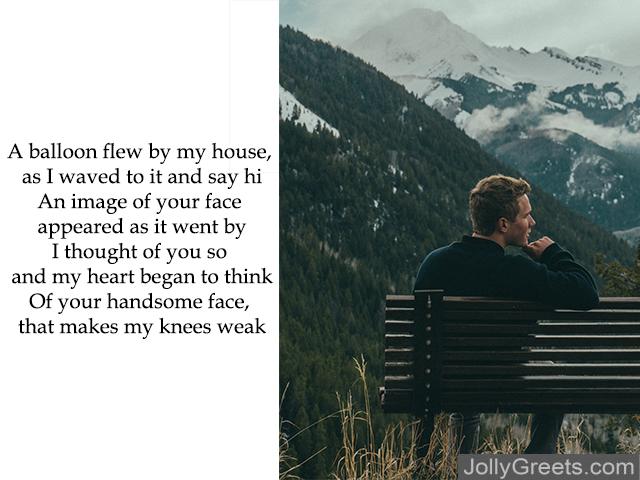 1
I love you as much as you love me Like bacon and eggs to peanut butter and jelly
As chicken legs and thighs, to cheese and bread
As pancakes with butter, the syrup that is so sweet
My heart for you is pure, as pure as one can be

2
A balloon flew by my house, as I waved to it and say hi
An image of your face appeared as it went by
I thought of you so and my heart began to think
Of your handsome face, that makes my knees weak

3
I promise to love you, in all your forms
Whether you stay the same, or your heart becomes torn
We will always be together, in a harmony made for two
There isn't anyone in the world, who I would love more than you

4
I never knew happiness till you held me in your arms
I never knew one person could have such a grip on my heart
I never knew love could feel this way
Till the universe sent you my way
I never knew life could be this perfect
Till I set my eyes on you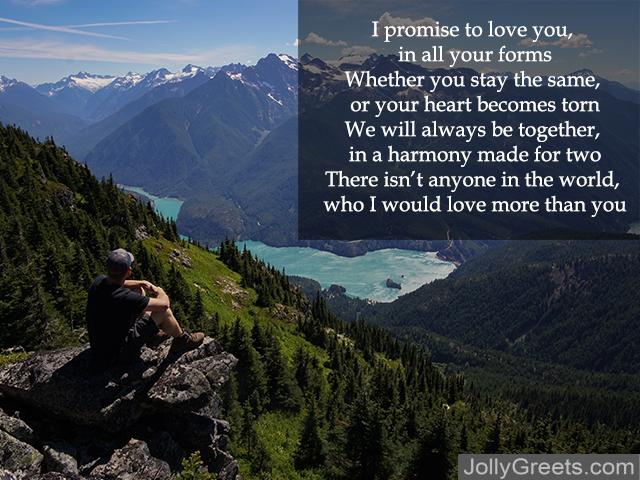 5
I remember our first kiss
It was so perfect, a moment of pure bliss
I remember our first date
I was so nervous that I arrived late
I remember the first time you took me into your arms
I knew this was where I forever wanted to be

6
I know it's been a while
Since I last saw that smile
But I have always kept you close to my heart
I've known this feeling right from the start
That one day we would meet again
And rekindle this old flame that burns with so much rage

7
Your fuzzy face makes me shiver
Strong, lean body makes me quiver
And when it's time to go to sleep
I love the way you brush your teeth
Your winning smile and flashing eyes
Are enough to make me melt inside

8
I'd rather stay in by the fire with you
And snuggle on the hearth
Eat some delicious food
And stay after it gets dark
Then drink far too much beer
And chat while we get drunk
Then curl up in your manly arms
And succumb to your many charms

9
Love is saving me your last bite
Love is kissing me through the night
Love is holding and hugging me tight
Love is asking if I'm all right
Love is helping me fly a kite
Love is letting me win a fight
Love is guiding me to the light
Love is knowing I'm always right

10
When all seems so lost
When the light rays breed darkness
When shade of our shadows are cast within
When we feel more but see lee.
Light fills our world and takes no space
All of it which we can see
Like fireflies glow during twilight
In all this darkness we'll still exist.
Dark nights may make us shiver
And the atmosphere be unfriendly
But I'll rather remain with you in dark and cold
Cos your light will keep us warm till we get old.
11
As the right need the right for a shake
My arms would need a body for a hug
As our noses didn't collide when we first kissed
Tger's no fear that they will in a fog
We daily see the stars as they lit the dark
As we walk the streets with your hands holding mine
Share our thoughts from sadness to joy
Cos I've got no doubts that we'll be fine.
12
When you're away from me
I long for you…
in my thoughts,
in the center of my soul.
I yearn to see
the affection in your eyes…
blue depths of love for me.
I crave the safe warmth
of your arms around me…
my cave of comfort, ease and peace.
My body aches with hunger for you…
the exquisite torture
of delayed ecstasy,
coming soon, coming soon.
I long for you, I yearn for you,
I ache for you…
Please, bring all that I crave
in your incomparable self.
Come to me. Come to me.

13
You take my breath away,
When you walk into the room.
You are the most handsome man,
My forever groom.
Even after all these years,
You cease to amaze me.
Your such a great father to our babies,
I can't believe we have three!
I love you forever,
I love you a lot,
I'll love you unto the end of time,
I love you is never an afterthought.

14
Your quirks make you, you,
And for that I am grateful.
Loving you is always a joy.
You love to dance,
Wherever you go,
And your obsession with puppies is real.
You always wear the same outfit on Fridays,
And get the same meal at brunch.
But I love you more each day.

15
We are more than just the pretty photos we post,
More than meets the eye.
I'm so lucky that I found you,
That you are my guy.
We don't need to flaunt our fake achievements,
Everything comes in due time.

16
Your brow creates a cute little
Wrinkle,
When you're thinking really hard.
Your eyes tend to twinkle,
When you get a good laugh.
You're passionate and trustworthy,
And everyone agrees.
Your skills are noteworthy,
And are always pleasing
To see.
17
Your hands are always warm,
When you reach out for mine.
You're always there when I need you,
Even if you're not close by.
I'm always grateful to know you,
I know you feel the same.
You're sweet, kind, and caring,
And the best guy around.
18
A guy sweet as you,
Is kind and strong too.
You stand by your friends,
Until the very end.
Sometimes quiet, sometimes loud,
You bring joy when you're around.
I'll leave everything else to the rest,
But I will always think you're the best.
19
I love your smile, I love you eyes.
I love that you are so very wise.
You inspire me in a variety of ways.
I'm thankful that you're mine for all of my days.
I take comfort when we are near.
I love you incredibly, my dear!
20
My lover, I do not know
What I would do without you
You are handsome and beloved
Throughout all that you do.
I love having you with me
Each and every day
I love you very dearly,
That's all I have to say.
21

You are my strength, and you provide
You help my anger to subside.
I love when you wrap me in your arms.
I love that you protect me from any harm.
Your thoughts are always good to me,
And for that I am very glad
They keep me lifted up ,
Even when I am very sad.
22
I found your favorite sack lying on the shelf.
Forgive me if the bag is crumpled. I did help myself.
This bag you can hold tenderly thinking it was me.
Each crumb upon your shirt a memory of what
our love could be.
23

I love the way you hold me,
how you make me feel inside. Like I have just eaten burgers and fries.
Please tell me you feel the same, the love we have so sweet.
You, a cologne I will always wear.
24
Here you are beside me once again.
I look at you and can only widely grin.
That you find me so achingly adorable when my hair is a mess,
it doesn't cross your mind to love me any less.
25
The way your muscles always bulge; The dimple in your chin; I think it's high time to indulge; In temporary sin; Such a big, strong, handsome man; Is very hard to find; Let's love each other while we can; What do you have in mind?
26
Hold me close, hold me tight; In the day, and in the night; Your big, strong arms will keep me safe; Your beardless chin will never chafe; You always say just the right things; Can't wait 'till we wear matching rings!
27
If I searched this great, big Earth; I don't think I would stumble; Upon a man who brings me mirth; As wise as he is humble; I need a man to whisper soft; Sweet nothings in my ear; A man who can hold me aloft; Is that you, my dear?
28
Everything about you is so cute
From your handsome face
To your dirty work boots
The sweet things you say make me smile
I wish we could just chat for awhile
About all your hopes and dreams
They are much deeper than they seem
Even just an hour with you makes my day
You make me happier than words could say

29
All of the sweet things you do
Make me appreciate you
From doing the dishes
To all your sweet kisses
Thank you for being such a strong man
And doing all that you can
To make me so happy
I know can be sappy
Just thinking of all the ways care
Is sometimes too much to bare
When you come home
Please kick up your feet
And take a long rest
You deserve the very best
I love you

30

You know I love it when you cook and clean
Fixing little things around the house for me
You know how much that means
When you are around
You always show you care
By going the extra mile
And always being there
Thank you for always being understanding
When I'm having a bad day
You are such a great partner
Always helping out in every way

31
not once
not twice
not even three
my love for you
was set free
not once
not twice
not even three
i love you more
than eight times three
one two three
my heart for you soars
32
the chocolate yummy
the candles are lit
a table for two
a love like a rainbow
a snuggle under the covers
a movie or two
popcorn for you
a soda for me
a heart that beats
from here to there
a cute little poem
a book or a blog
could even come close

33
i love you more
than a baby loves
it's toes
i love you more than a
mouse with cheese
or a monkey , a hippo
or three
i love you more than
a cat likes to nap
i love you more than a
bright day
34
This Is A Feeling
This is an inclination that I have never felt,
A warm fluffy inclination when your name flashes on my telephone.
The safe place we share is so unadulterated thus solid,
An existence with you without anyone else's input feels like this wonderful tune.

35
Feeling of affection
The sentiment of affection,
The immaculateness of feeling,
I have seen everything it your eyes,
Since the day I began to look all starry eyed at,
I wound up insightful,
I adore you more than me you know,
Might not have,
Numerous words to appear,
In any case, I cherish you to the core!

36
Words filled love
Words portray impeccable feelings,
I need to let you know through words,
Never felt along these lines,
Your affection and appeal,
You are my life, can't remain without you,
With you I feel exceptional, something new,
I cherish you is my solitary tune,
It is everlastingly, it is so valid,
I adore you!