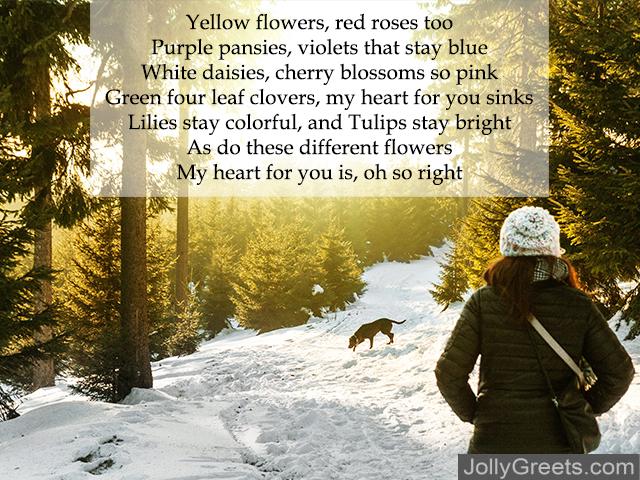 Are you looking for the right words to give away to her? Begin to write down the beautiful thoughts that you have towards her and you will surely be even more motivated to write down the proper words that convey how you truly feel about her. You can also come up with a variety of ways to send these romantic words. Whether she recieves them through text or whether she recieves one of these cute poems through a card that you send her, this is a wonderful way to show her that you absolutely adore her. She'll be happy that you took time out of your day to specifically think about her. Finding the words that express how you feel about her doesn't have to be stressful. It can be a fun event that involves a little bit of searching and some creativity. You won't have to look to far to find a combination of phrases that will best describe her and leave her face glowing for the rest of the day. You may even decide to talk to the people in her life that she is close to, and ask them about what they believe her positive attributes are. So go ahead and act as the shining light in her life.
How to Create the Perfect Card - Examples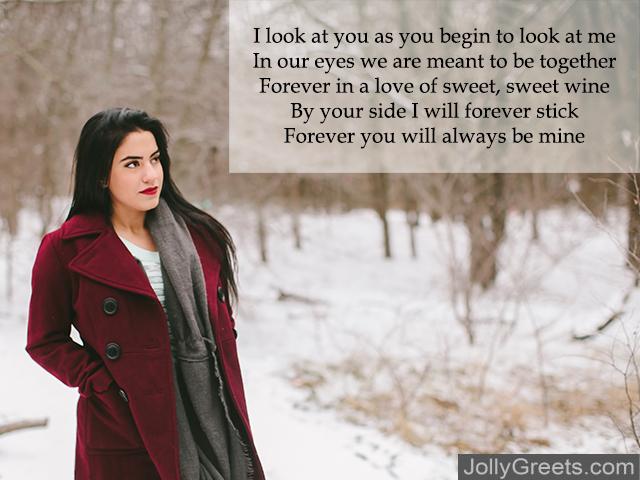 1
Yellow flowers, red roses too
Purple pansies, violets that stay blue
White daisies, cherry blossoms so pink
Green four leaf clovers, my heart for you sinks
Lilies stay colorful, and Tulips stay bright
As do these different flowers
My heart for you is, oh so right

2
I look at you as you begin to look at me
In our eyes we are meant to be together
Forever in a love of sweet, sweet wine
By your side I will forever stick
Forever you will always be mine

3
Whisking red velvet pancakes
As he smiles her way
Red dye drips all along the kitchen floor
As he begins to dance in his socks
She claps her hands and begs him for more
She laughs his way and kisses his face
As they enjoy their sweet red velvet pancakes

4
She is one of God's greatest creations. Her presence brings love to my heart.
She is like a sweet sensation that I can't get enough of,
She makes every day worth living.
Her love is always there for the giving.
A love that makes sorrow take flight.
That lights up my heart.
Like fireflies light up the night.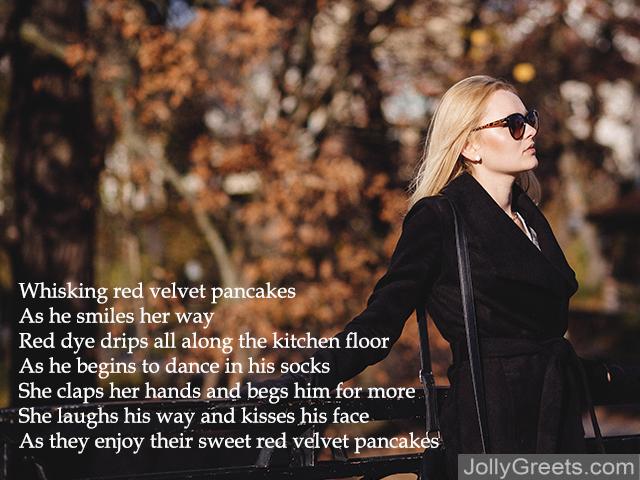 5
She is my pride and joy, the apple of my eye,
Her smile is like a ray of sunlight,
Her voice is sweet like a melody,
She gives me a warm mushy feeling every time I see her,
Her skin is soft like silk and her eyes are as blue as the sea
She's my puppy love.

6
My short and sweet angel.
You've made my life complete. Like a cherry Tootsie Roll Pop.
Everlasting love whenever we meet.
It seems as though the stars at night shine just for you.
It seems as if raindrops of love to fall for you.
It's obvious that this thing in my chest only beats for you

7
Sugarpuff, snugglepuff squeeze me so tight
Caress my skin all throughout the night
Whisper your love things in my ear
Hold me so close and keep me near
Tell me how I make you happy
Beautiful girl, you make me dappy!

8
Honeypie you make me smile
Make my life more worthwhile
You give to me the sun and moon
Make me whistle a happy tune
Inside my heart you're all that's real
Loving you is a very big deal
I'll care for you and call you mine
And I'll love you 'til the end of time

9
Love is helping you comb your hair
Love is pining when you're not there
Love is helping you practise your speech
Love is oiling you at the beach
Love is nibbling your ear in church
Love is being there when you give birth

10
A smile is such a lovely thing especially upon your face;
hiding all the sorrows or simply taking their place.
A kindly spoken word means so much when from you,
it comforts my weary heart or when I'm feeling blue.
A song can make our hearts dance in pretty fast-paced clips
when we hear the melody of our love's unconquerable grips.
Words could lift my spirits and sweet compassion find;
put your hand in mine alone and peace will fill my mind.
A smile, a word, a song, a look – seem small little things
but when love sparks an action, what blessings they bring.

11
Let me sing you a love song
About what I feel in my heart;
Butterflies can't find nectar
Whenever we're apart.
You're a flower in bloom.
In the dark, in the gloom,
It's you who brightens my day.
How many ways do I need you?
Every day, every way, come what may.

12
The roof floats over our heads
It spreads right above us
The floor sleeps under our bed
It's comfortable beneath us
You, snoring beside me
A beauty in a blanket
Us, underneath the sheet
As the night goes to bed.
13
You.
You are my angel.
Sent from heaven.
You make me want to fall to my knees and thank God.
I'm so lucky that you came into my life.
You are always there to support me.
Always by my side.
My sweet, sweet angel.

14
Your kisses taste like peaches,
On a hot summer's eve.
Your eyes shine brighter than the sun,
Off the ocean in Tel Aviv.
Your mind is like the Sistine Chapel,
More intricate as you get to know it.
Your heart beats fast like a drum,
In the orchestra pit.

15
Northern by birth,
But southern at heart,
The best of both worlds,
I knew from the start.
Sweet and respectful,
Yet you stand your ground,
You'll be the best mother,
Just ask around.
I can't wait to make you my wife,
And to start a family with you.
I promise,
It'll be the best thing I ever do.

16
She is my everything,
I love her so dearly.
When I am with her,
I can see so clearly.
She is so great,
Her love is divine.
Completely intoxicating,
Like a fine red wine.
And you, my darling,
Are mine, all mine.
17
Your smile is bright,
As you twirl around.
You're full of excitement,
With what you just found.
Your eyes shine with joy,
And your laugh fills the room.
It's days like today,
That I will never forget.
For seeing you so happy,
Fills my heart to the brink.
18
Your laugh is like music,
Your eyes as bright as stars.
You dance when you're happy,
Your smile lights up the room.
You love to sing in the car,
You enjoy every chance to relax.
You're extremely intelligent,
And your beauty radiates off you.
19
Your eyes captivate me
Were I to look at them all of the time.
I'm sure they would never
Even loose their shine.
Your dimples drive me crazy
Because I know that them showing
Means you're happy
I put my love within this poem
Which is really quite sappy.
20
My radiant beauty,
My joy, and my crown
You seek to lift me up
When I am feeling rather down
You are the love of my life
Of this, I do not doubt
You are as though a well,
In the midst of a viscious drought.

21

You are worth my time,
And all my energy
If I could capture your essence in a bottle,
I would carry it with me forever.
For now, I have my heart
Which is only just the start
Of keeping you so close.
Thank you for always being there for me.

22
With you I'm lost at sea, exactly where I want to be.
Against the tides we sail captains to each other.
Otters watch us pass, seagulls circle above.
All we need is the power of love.
Out at sea you and me.
23

I brought you flowers I found out in the field.
Forgive me if they are slightly wilted.
Will you put them in a vase my love?
Hopefully they will spring to life.
I brought them because you are my wife
24
I love the way you hold me,
how you make me feel inside. As if I have just eaten grandma's apple pie.
Please tell me you feel the same, the love we have so sweet.
You, a perfume I will always wear.
25
Lady, you are quite a sight; A pleasure for the eyes; My heart's a-flutter day and night; What cure would you advise?; Perhaps a kiss upon the lips; Perhaps a warm embrace; I love the way you swing your hips; I love your gorgeous face.
26
You're so sweet, you're so cute; You're got smarts and wits, to boot!; A girl like you is so in style; You always run the extra mile; You're spunky, brave, and strong, it's true; All more reason I love you!
27
I love the way you style your hair; Those waves can make me jealous; I love how you always accept a dare; From ladies or the fellas; You never quit, you always strive; To be the very best; In a match for the best girl alive; You'd clearly pass the test!
28
Everything about you
Is just so sweet to me
From the way you tie your shoes
To the way you make your tea
Everything about you
Fills me with childish glee
As I find myself as smitten
As a fluffy orange kitten
When I think of you
And all the sweet silly things
That you tend to do
It is the little things
That make me fall for you.

29
Without makeup, I think you look beautiful
You say wearing it makes you happy
I tell you "you look great either way"
Your smile always makes my day
I laugh at the cute jokes you say
You call me your sunshine
But you are my bright ray
Of shining light
In my arms, I wish you'd stay

30
There's nothing about you I would change
Your beauty is special in so many ways
Not only do I love your eyes and your hair
I also love how you treat people
With a kindness that is so rare
I fell in love with the person that you are
So giving and sweet to everyone
You really are a star

31
a twinkle
a sparkle there
the light of my life
the shiny penny
the sequin dress
my cute little mess
without you i'd be lost
a twinkle a shine
in my eyes
a cute little poem
for you my sunshine
32
cute little me
cute little you
under the stars
with a cute little view
i love you now
i loved you then
i love you more
than my little hen
cute little smile
cute little dress
cute little love
with no contest
33
cute little nose
with a love so real
a flower for you
a rose or two
a love like this
is not big or small
it's a dream
a feeling
maybe it flows
like a waterfall
a cake for you
some candy to
i love you past
the deep blue
34
I Can't Put My Love Into Words
The affection that I have for you child can't be articulated,
Your voice is so divine, appears as though every one of the holy messengers of paradise are here.
When you reveal to me you cherish me by looking profound at me,
That minute just gives me a speedy look at heaven.
I couldn't care less regardless of whether I need to take my life tomorrow,
Cause meeting you my affection has removed all my distress.
I cherish You darling.

35
Girl, You Are My Angel
Young lady, you are my holy messenger,
An existence with you resembles paradise.
Regular my lips long for your kiss,
Cause it takes me to the condition of everlasting delight.
How I wish I could ceaselessly get the chance to hold you close,
How I wish I could get the chance to watch you rest my dear.
I would embrace you in my arms so tight,
and keep awake to watch you rest
Cause it would be such a dazzling sight.
Today I simply need you to know,
That I sweetheart I will dependably adore you so.

36
"Your Effect On Me
Your grin makes me insane for you,
I recognize myself clearly and through,
Your touch so delicate,
Your voice mesmerizingly affects me,
Wherever I go, it's you that I see
My affection I am certain I adore you a ton,
I couldn't express much,
Be that as it may, this is my inner idea,
I adore you my sweetie!