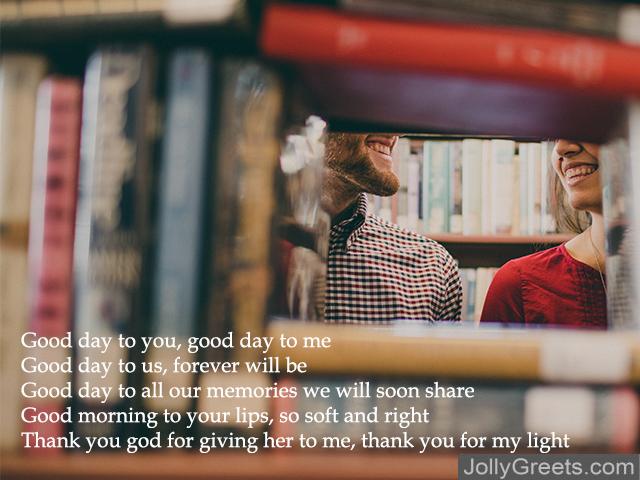 Can't get that one person out of your mind? Maybe there aren't any special hollidays or events that are coming up that prompt you to come up with something sweet to say to them. However, do you really need a special day to say something sweet to your "person"? Cute love poems can be used to express how you feel towards someones even when there is no reason in particular to do so. This will make that day even more special for that person and the two of you may even grow closer because of it. So allow yourself to be inspired with words that are fit for expressing how you truly feel towards him or her. Don't wait until you have a reason to do so. Instead, make today a reason to express all of the romantic feelings that you have towards them. Don't keep them inside but allow them to overflow in a display of words that come straight from your very heart. You can take these words with you on a date, or simply write them on a sticky note so that they'll be able to be quickly reminded that they are oh so loved! Catching someone off guard by randomly leaving them a cute love poem will leave both the giver and the reciever with feelings of love.
How to Create the Perfect Card - Examples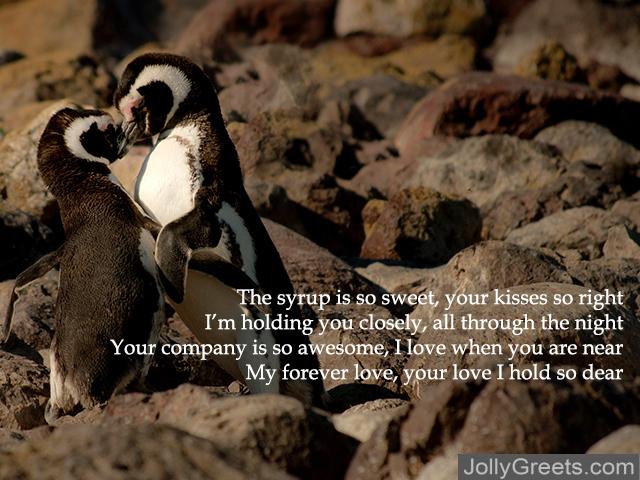 1
Good day to you, good day to me
Good day to us, forever will be
Good day to all our memories we will soon share
Good morning to your lips, so soft and right
Thank you god for giving her to me, thank you for my light

2
The syrup is so sweet, your kisses so right
I'm holding you closely, all through the night
Your company is so awesome, I love when you are near
My forever love, your love I hold so dear

3
I love you lots, like lollipops
Like when the sun kisses the moon
I love you more, than the ocean floor
I love your being, the care that you show
I love you way, way more
More than you will ever know

4
Our love is written in the stars.
Our love floats in the sky, dancing above the clouds so high
Our love is sung by the wind and echoed by the thunder.
Our love is touched by the sun and blessed by the Gods.
Etched in the heart and destined to last forever from the start.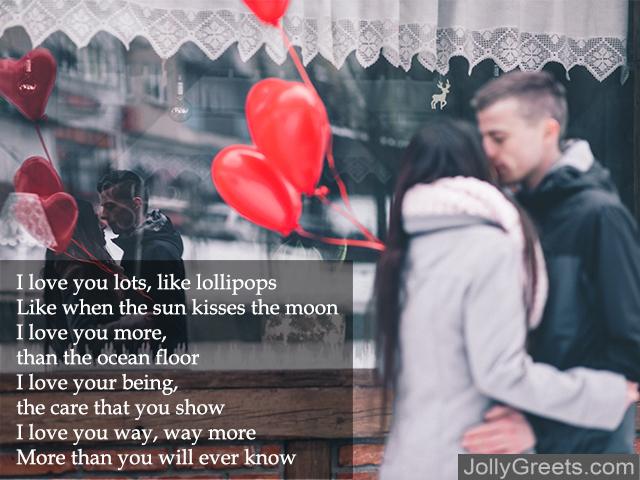 5
She looked so beautiful under the moonlight.
As he held her so very tight. He got lost in her blue eyes.
Under the breezy skies.
He loved stroking her golden blond hair.
As he pulled her closer he gave her a warm embrace as they breathed the fresh country air

6
As long as there is love, I will cherish you.
As long as there is life, I will love you.
As long as the stars shine above, I will want you.
As long as there are waves in the ocean, I will need you.
As long as there is heaven above, there will always be our love.

7
My heart beats much faster when you are near
My toes curl up when you nibble on my ear
When you are not near me I can barely breathe
When it's time to go, I cannot watch you leave

8
You are the light inside my heart
Filling me with cherry tart
Your sweetness compliments my sour
I want you more every hour
Smother me with double cream
Taste my love and lick me clean
Hold me 'til the end of time
Promise you'll always be mine

9
You make me happy all the while
Make me sing and dance and smile
Tease me with your beguiling ways
Teach me that affection pays
Show me how to rub your back
Tell me how you like your bath
I'll give you everything you need
I draw the line at rubbing your feet

10
I'm a busy person with idle affection
I'm a haloed image with an opaque reflection
Transparent I may seem, with an open heart
But this organ of mine, in bits like broken glass
It's nice once again to reap the fruit of my fears
To watch and learn the washing action of tears
To enjoy my past as the present reminds me
To ignore the future that I see
11
I want to love you like Friday night cuddles over Monday mornings,
I want to love you like the smell of roses over its thorny stems,
I want to love you like new memories I make every time you smile at me,
I want to love you like the promise of rainbows after the rain.
I want to love you like I love my name on your lips.
I want to love you like Saturday morning cartoons over soggy cereal
I want my heart to beat with longing every time you're far away

12
Once again I did forget
That all may last but feelings
They'll just be transient
They coe and go like seasons.
Love, what we think we feel
A figment of what it truly is
A fraction of it we've never felt
But yet use it as we please.
13
Love.
Love yourself.
Love other people.
Love your blood family.
Love people you work with.
Love friends that turn into family.
Love the ones you disagree with too.
Love people even though they're different than you.
Love the individuals whom no one else deems worthy.

14
I've had this feeling,
Deep inside,
And it's been festering for quite some time.
I almost said it in the car,
And I think you knew it too,
But I hesitated because I'm,
Scared,
Of what happened before.
I know that isn't fair.
So please,
Promise me this,
Tell me that you care.
I trust you,
My soul says its you,
You're the one that I want.
I love you Hunter.
This I know,
Forever, I will vaunt.

15
Our parents met in birthing class,
And found out we were neighbors.
I had always known about you,
I even found pictures,
Of us in a double wide stroller.
We met again in high school.
We instantly became best friends.
Everyone wanted to know you,
Every girl wanted to date you.
I swore we'd always be just best friends.
I even asked you for guy advice.
Then you started dating her;
She didn't treat you well.
Something inside of me changed.
I fell for you.

16
I can't help but smile,
When you are around.
Your eyes and your smile,
Always so warm.
Your presence is a comfort,
And your arms secure.
I am so glad I am with you,
I love being by your side.
I am so glad I get to love you,
In night or in day.
My sweet,
I will stand beside you,
For the rest of our days.
17
I wake here beside you,
Groggy and warm.
My hair a mess,
And my eyes glassy.
You hold me tightly,
Close to your chest.
I feel your love daily,
Waking to your embrace.
You tossle my hair sofly,
Getting it out of your face.
With a chuckle and sweet kisses,
I begin my day.
18
Your hands are big,
Mine are small,
You hold it tightly anyways.
Twirling your fingers,
In between mine.
You clutch it firmly,
Never letting go.
Leading us onward,
To a future so bright.
Anyone can see it,
The love there between us.
19
Once I fell in love,
Her kindness surrounded her
Like the softness of a dove.
And now I plan to be with her
For all the rest of my days
Please don't wake me up
From my summer haze.
20
I will surely love you
Until the ends of the earth
I am so incredibly thankful
For your birth
It is easy for everyone to tell
That we were meant to be
And for those who even doubted
They can look at us and see
We are still together through thick and thin
I would say that we can absolutely
Count that as a win!
21
I love when you show your heart
You did that from the start.
You did not hide anything
You are so wonderful of a guy
Whenever I hear your footsteps
Coming throught the door,
I automatically begin to sigh.
22
My love a colorful kite that flutters in the breeze, tail happily flapping,
swaying up and down.
Just like the frown I can make turn upside-down.
Up in the sky I write your name
Proclaiming what you mean to me.
23
Your eyes are pools I would love to swim endless, lazy, laps.
Lovely in every detail down to your toes.
Your nose a mountain I want to scale, to breathe in your sent
until I am spent.
On the edge I stand ready to dive in.
24
Red roses, violets blue these words may be old, but not to you.
My love on fire, desire a flame.
I hope you find this poem is not too lame.
I will remain yours in name.
Now come and let me be with you
25
I miss your smooshy, kissy face; Those cheeks I love to pinch; Ask me to go anyplace; I'll be there in a cinch; You're my cuddle buddy, dear; I love to hold you tight; Please say that you will be near; From morning until night
26
Your button nose, your silky hair; Your eyes are always shining; Your complexion oh so fair; For you I'm always pining; I ache for you when you're away; I ache when you are close; Love's medicine I need today; Will you provide the dose?
27
I love when we dine at breakast; I love when we dine at lunches; But whenever you are gone; I always miss you bunches; Let's go on a trip, my love; Perhaps down to the shore; You're the olive branch to my dove; The handle to my door.
28
Sweet little kisses
Big bear hugs
Just a few things
That I really love
Your gentle touch
Is just so special to me
You are the one
I am always happy to see
Whenever we are together
Even just for an hour
You can make me so happy
Your heart has that much power
I love you

29
When you first said "I love you"
My heart was in shock
I couldn't believe it was true
We had been talking for a long time
I couldn't believe you were finally mine
Even though I am glad that we were friends first
Falling in love with you makes my heart burst
I promise I will give you all of my love
Now that we are together
There is nothing to worry of

30
Falling in love was unexpected
When I asked you out
I thought I would get rejected
To my suprise
You told me "Yes"
Your eyes were sparkling
You were wearing that dress
I was trying to hide my surprise
That you liked me back
Smiling with your eyes
I had liked you for such a long time
Actually holding your hand
Made it real that you are mine
Now everyday feels like a dream
Each day with you gets better
You are more lovely than you seem
I don't think anyone will ever understand
How lucky I feel
That I am now your man

31
the dimples on your cheek
the color of your eyes
the smell of honey
when you stand close
the cute little smile
when you say goodbye
makes me love you
from here to the sky
32
one two
i love you
one two
i love you more
one two
you're as cute as a kitten
i love you so much
i'm smitten
one two
i love you today
tomorrow any day it's true
33
this poem may sound cheesy
but my love for you is
easy peasy
a word here a word there
i love you like a
teddy bear
a big hug to you
a kiss or two
a cheesy poem or two
will show my love for you
34
"Considering you fills me with a brilliant inclination,
Your delicate love, your warm grasp,
Your sweet kisses,
I adore your touch,
Your delicate nature, and cherishing heart,
I cherish the manner in which you grin,
What's more, the manner in which your eyes shimmer,
When you giggle,
I venerate the sound of your voice,
Solid and persevering,
I will cherish every single minute
I go through with you,
Also, I guarantee to cherish you for an amazing remainder.
Since my unceasing adoration ….. You complete me.

35
I don't figure you will
Ever completely get it
How you've contacted my life
What's more, made me my identity.
I don't figure you would ever know
Exactly how genuinely unique you are,
That even on the darkest evenings
You are my most brilliant star.
I don't figure you would ever feel
All the adoration I need to give,
What's more, I'm certain you'll never figure it out
You've been my will to live.
You are an astounding individual,
What's more, without you I don't have a clue where I'd be.
Having you in my life
Finishes and satisfies all aspects of me.

36
I don't figure you will
Ever completely get it
How you contacted my life
Furthermore, made me my identity.
You are the manager I had always wanted,
The man who holds my heart,
The one I need to go through my time on earth with,
The one with whom I will dependably stand.
Remain next to through various challenges
Through all that life tosses our direction
Realizing that this extraordinary love we share
Will direct us every single day.
I don't figure you would ever feel
All the affection I need to give,
Also, I'm certain you never figure it out
You've been my will to live.