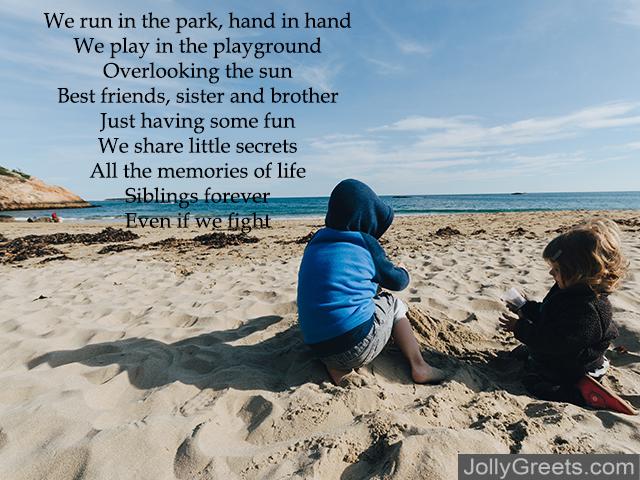 Sometimes brothers hold a special place in our hearts while at other times they are just plain annoying. If we can look past the little things they do that don't make any sense, we can find that they are really a blessing. Why not let your brother know the good thoughts that you have towards him? After all, it can be incredibly easy to only focus on what they do that bothers you. Maybe you will be inspired to write your own poem that involves both ends to this wide spectrum of thoughts. Whether you choose to to find words that express your love for your brother or whether you choose to create a note that expresses the sibling relationship that is unique to the two of you, he will be happy that you thought of him long enough to search for some inspiration. Don't allow your inspiration to stop at just one set of inspring words. It may be wise to choose a variety of words and either speak them all to him throughout one day or spread them out over a period of time. You may even to decide to let the world see what you are thinking by posting them to his facebook account. With whatever decision you make, let him know that you care.
How to Create the Perfect Card - Examples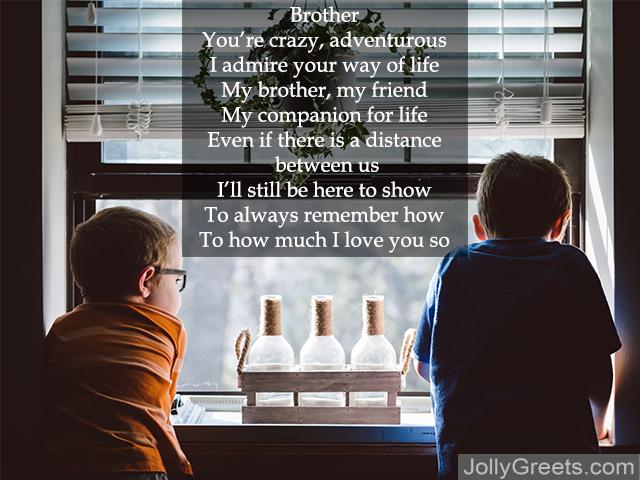 1
Brother for sale, you'll like him I promise
He's just a little bad, I swear you won't notice
I have a brother for sale, a little crazy at times
As long as you tame him, no longer will you cry
Again, brother for sale, I'll even add in the milk
Take a look at this offer, before my mother takes him off the shelf

2
We run in the park, hand in hand
We play in the playground
Overlooking the sun
Best friends, sister and brother
Just having some fun
We share little secrets
All the memories of life
Siblings forever
Even if we fight

3
Brother
You're crazy, adventurous
I admire your way of life
My brother, my friend
My companion for life
Even if there is a distance between us
I'll still be here to show
To always remember how
To how much I love you so

4
Dear brother, born of the same mother
Dear brother, always there for one another
I have known you since my birth
And I will cherish you till my very last breath
Hey brother blood is thicker than water
But friendship first, all else doesn't matter
Dear brother even when the sky falls down
I know I can always rely on you to have my back.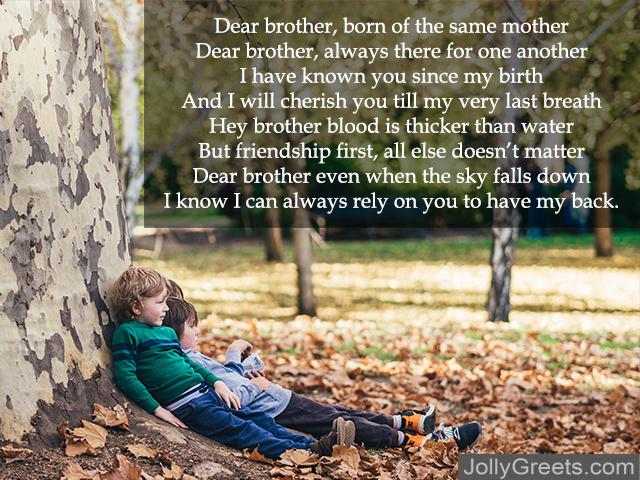 5
A brother is like a permanent best friend
Sent from heaven, to protect us till the very end
Sometimes we are bound by blood
Sometimes we are bound by love
A brother will always hear your call
No matter how far you go,
A brother will never let you go
No matter how hard things become

6
When I have lost my way and I am far from home
He will always be there to hear my call
When I have lost it all and I have nothing left
He will always be ready to help me out
When I first came into this world
He promised to always keep me safe
He is my brother, blood of my blood
Flesh of my flesh.

7
From what I know of brothers, you really are the very best
Up high on a golden pedestal, way above all the rest
You have always been there throughout my whole life
I love you so much, even when you cause me strife!

8
You are my brother no matter what happens
I'll always come to you when I need advice
I'll always need you in my life
And I'll always be here throughout your life
To support you and help you out of strife
Life is too short for falling out
Even when we scream and shout
Let's make the most of our time together
And see it through whatever we weather

9
Brothers are for borrowing clothes
Staying out late as chaperones
Lending money or a favour
Smoothing things over with the neighbour
Fixing things that I broke
Making me eat artichoke
Trying to help me grow up strong
Helping me out when I am wrong

10
I love you and I wish you were home
It hurts me to think you are so alone
I remember when we were little and we played in the yard
Your smile used too stretch a mile
When I had a bad day you were the only one who could make me laugh.
I miss you brother.
11
A brother is a best friend,
he is not some boy who is close to you,
he may be older, younger
but no matter what, he is your best friend.
So be with him as much as you can
because one day you and him will grow apart
and you'll miss your best friend
12
You are my big brother,
and there is no other.
No one can take your place,
and when you leave, there will be this big empty space,
I remember when I was small,
and I would always fall,
You were always there for me,
and I know you will always be.
13
Danny. I Iike that name.
Mom and Dad just showed us you.
Your little hands are so small.
All Julia wants to do is dress you up.
But don't worry I'll protect you!
I'm happy to have a little brother.
I think Julia is too;
Mom and Dad are the best.
You're going to really like them.
Anyways, I love you brother.

14
Thank you big brother for always sticking up for me.
Thank you big brother for including me in your games.
Thank you big brother for teaching me how to start a fire.
Thank you big brother for showing me how to ride a bike.

15
I know we haven't always seen eye to eye.
There are things we both regret.
But we are siblings and I'll always love you,
No one can change my mindset.
You are my brother no matter what happens,
With the truth in my heart I will never fret.

16
I've never had a brother
As wonderful as you.
So cool, so bright, so funny,
Someone to watch my back
As much as I watch theirs.
Someone who actually
Shows that they care.
I love you dearly, brother
Unlike any other.
17
We may not agree but we
Can always laugh,
But you'll always be there to
Watch my back.
We might not always agree,
But I know you'll always be
There for me.
And a brother like you is one
To admire.
18
Whether older or younger,
Brothers are always fun.
They are steadfast and true,
Even if you have a fight.
Supportive and funny,
They are always around.
They can always be trusted,
with the best sibling secrets.
Advice best given when being realistic,
always know what to say on any topic.
19
Dear brother, you are the best.
You help me when I need.
Your selfless heart
Is what I love.
You give while avoiding greed.
Thank you for giving it all
P.S.~ You're also lucky to have a sister
Who is the best of all!
20
Yo bro, today is your day
To shine on unlike any other
I am proud to be your sis,
The best one that you have.
I hope your birthday is the greatest
I love you.
21
To my brother whom I adore
You are so great a person
And to you I do implore
That you continue to treat others
As you have treated me,
Because then they will see
How good you have been to me.
22
Sister,
I may not have been the best brother in childhood.
I apologize for what I did.
We stole each others toys,
both deploying unanticipated antics.
I'm glad we can put the past behind us.
Sister, I have learned so much from you.
23
Bro,
I know you looked up to me.
I have to say at times that was a bad move on your part,
but what could I do?
Too young to know the influence I would have on you.
I'm glad you turned out all right little man.
24
Brothers whose bonds grow strong.
Playmates who tumble over toys take life's lessons in tandem.
Together a team who always wins.
Knowing each others truths and keeping them close.
Home a place of common refuge.
Brothers strong bonds bound by love.
25
Brother, you're there to lend support; Whenever I may need it; When I call with a matter of great import; You do your best to heed it; You listen and offer great advice; Whenever we are in touch; How did I get a brother this nice?; I love you very much.
26
Brother, we are so alike; We do all the same things; You taught me how to ride a bike; And pushed me on the swings; Truly, you're a man I trust; So glad we share a mother; To a man who is so kind and just; I'm glad to call you brother
27
Whether hanging out at bars; Or chilling at your home; Riding bikes or driving cars; With you I'll always roam; You're with me when I deal with strife; You're with me when I'm fine; A brother is a friend for life; I'm glad that you are mine
28
Brother
We have been through so much together
From teaching me to ride a bike
To making me laugh when I'm feeling down
You have always been there for me
I couldn't ask for a better protector and friend
Thank you for always be there for me

29
Brother
Growing up, you were my best friend
Laughing and playing in the yard
Catching bugs and pitching tents
You taught we to be tough
And how to fix a bike
You always played with me
You took me on my first hike
We spent many long days
Just exploring outdoors
You are a great brother
Someone I truly adore

30
My brother
When we were young
We always got along
Together we created
A special bond
Spending our days
Playing out on the lawn
Taking me fishing
Listening to our favorite songs
You always protected me
As a brother should
You care about me alot
This much, I understood
Thank you for everything
Loving me till the end
You are not just my brother
You are my very best friend

31
i remember the day
i heard mom say
your brother's on the way
i remember the way
it made me feel
knowing my brother's was here
those little eyes
and wet nose
i looked at you
my brother
and i knew i would
remember the day i met you
32
a brother like you
is hard to find
a brother like you
a friend in you i see
a brother like you
right here i'll be
my brother , my friend
the protector i came
to depend
a brother a pal
a new comrad
a brother like you
33
though we're not close
as time has shuffled us
around
i often think of you
my brother my pal
even though i don't see
you much
and you don't call
i remember those days
we played and played
even though your so far
you will always be near
by road or by car
34
Brother so Special
My Brother you are the one I rely on,
With you around, my inconveniences are constantly gone.
You know my characteristics and deficiencies,
Multi day without you,I feel everything ends.
I am pleased to have a Brother like you,
Coz it's elusive somebody so obvious.

35
Memorable Moments
Gracious! sibling what will I say,
Simply need to express on this uncommon day,
That disregarding a lot of battles,
And every one of the minutes so light,
All I need to state is that you are so uncommon to me,
With you around,
there is such an extensive amount joy!

36
"My Brother My Friend
We battled, snickered and cried,
Today those occasions appear snapshots of pride.
We shared dreams and dreams,
And every one of those recreations we played adjacent to the streams.
Sibling, you are exceptional,
An obligation of duty we bear in our psyche.