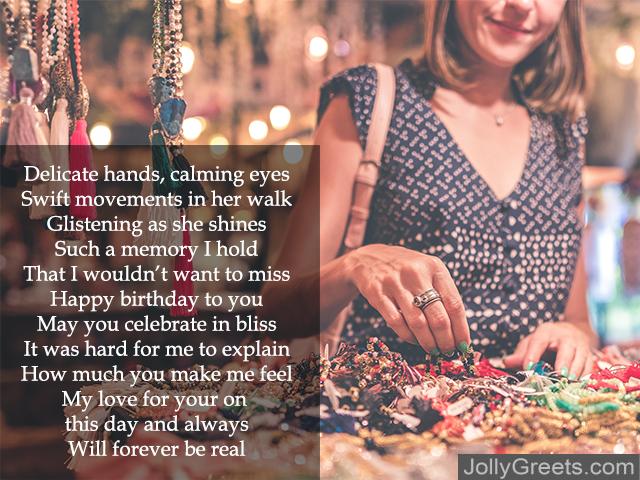 Do you struggle to find the proper words to say to your girl on her birthday? Because mostly everyone sees birthdays as a big deal, it can end up feeling like a lot of pressure to come up with just the right words to speak when that day actually comes. Feel free to take to a look on this page, and hopefully some of that pressure will be relieved. You don't need to find the perfect words to say, because unfortunately, perfect words do not exist. However, you can find the words that tell of the perfect heart attitude that you have towards her. She'll be able to appreciate the fact that you did some research to find a wonderful way to tell her exactly how you feel about her. And what more special day to let her hear these beautiful words than on her birthday? There are many poems that you can choose from that will let you know that you thought of her and that you think well of her. She will be overjoyed by recieving these special messages, esspecially if her love language is words of affirmation. Many women know that they are loved by thier man, but they still enjoy to hear them say it. This is the right place to get inspired for what to say to her.
How to Create the Perfect Card - Examples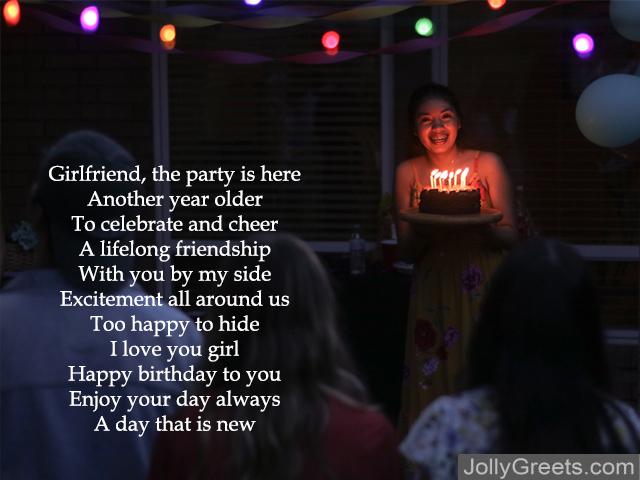 1
Delicate hands, calming eyes
Swift movements in her walk
Glistening as she shines
Such a memory I hold
That I wouldn't want to miss
Happy birthday to you
May you celebrate in bliss
It was hard for me to explain
How much you make me feel
My love for your on this day and always
Will forever be real

2
Girlfriend, the party is here
Another year older
To celebrate and cheer
A lifelong friendship
With you by my side
Excitement all around us
Too happy to hide
I love you girl
Happy birthday to you
Enjoy your day always
A day that is new

3
Life is great, with you around
Your friendly smile, your infectious sounds
From your long hair, to your pretty nose
Such a lovely person, who I've come to know
Happy birthday to you, hope it is swell
Let us party it up, the best way we know how

4
On a peaceful Sunday morning
A beautiful soul came to this world
The most beautiful girl in the world
She would later become my wife
Today we honor her memory
And celebrate her birthday
May she live to celebrate many more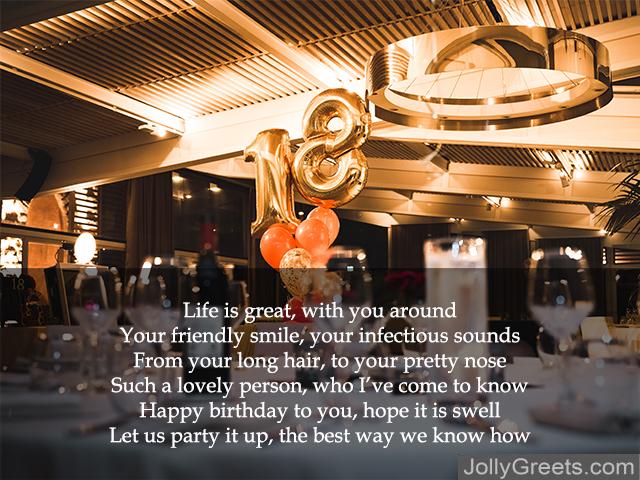 5
I knew she was the one right from the start
The girl who stole my heart
The girl who always smiles
Even in dark times
She's a woman of steel
Who taught me never to hide how I feel
Today we gather to celebrate your birthday

6
At first I thought it was just a dream
When I realized I had met my queen
You have made my life complete
I would never imagine my life without you in it
You're kind and loving
You're beautiful and charming
I take this chance to wish you
A Happy birthday

7
Oh Beautiful girl of mine
It is your time to shine
Today is just for you
The stars they have aligned
I wish you much good health
And lots of happiness too
A day that is full of wonder
So happy birthday to you

8
The birthday vibe is in the air
Celebrations everywhere
Let's raise a glass in birthday cheer
And toast the best for this next year
The birthday girl is ready to party
Drinks are poured so let's get started
Let's make some memories to treasure
So she can remember at her leisure

9
This day is truly a special day
Giving gifts to you that I've chosen
Baking a cake and making it pretty
Drinking cocktails that are frozen
Spending some time with the girls
No cares or worries in the world

10
So many people live around you,
But not all get close to your heart.
Some become so dear
That with their thoughts, its beating starts.
You are the one to whom
I'll give my care to the most.
Your absence makes me feel in life,
As if everything is completely lost.
Your birthday was in my mind,
Wishes though I couldn't convey.
There were so many hurdles
Standing tall in the way.
I have prayed for your good life
And mental peace with good health.
The rest of things are just temporary,
Only these will be your real wealth.

11
Every one of your birthdays
is a gift to the rest of us
who have had the pleasure
of having you in our lives
for another year.
Every one of your birthdays
brings joyful memories
of your bright smile
and your love of life.
Every one of your birthdays
reminds us of your sensitivity
and service to others,
and other delights
too numerous to name
that we are gifted with
just by knowing you.
Happy Birthday
to one in a million.
May you, and we
enjoy many more.

12
I'm wishing you another year
Of laughter, joy and fun,
Surprises, love and happiness,
And when your birthday's done,
I hope you feel deep in your heart,
As your birthdays come and go,
How very much you mean to me,
More than you can know.

13

You, my friend, are a rare find.
Like a water lily among the reeds.
You take the time to care for your friends,
Tending to them ever so gently, like a gardener.
But you are more than just a hard worker,
You deserve to be the winning prize!
So let us, your friends, lift you up high,
On a pedestal for all to see.
The birthday girl is our queen,
And we want to honor thee.

14

She glides across the floor,
Like a swan on the lake.
Her smile shines like the stars,
Forever ingrained in my mind.
Little does she know,
How much I love her.
Today is the day,
I will get to show her.
She sees the gift I left on her desk,
She's filled with delight!
Inside she finds a picture,
Of us when we were not even three.
Her eyes begin to water,
And she looks up at me and says,
"I've always remembered this day."
I know in my heart it's time to tell her,
"I love you birthday girl."

15
In honor of you,
I wrote a little tune,
Because it's your day,
I just wanted to say,
Happy Birthday Lady!
You are such a great soul.
I can't thank you enough,
So here's a lot of stuff.
I hope that today,
Is filled with lots of love,
And don't think I forgot,
You're never an afterthought!

16
My dearest friend,
Today is for you.
It's your special day and
We have birthday things
To do.
There are presents to be opened
And there is cake to be had.
You're another year older,
And that isn't so bad.
17
Gifts of flowers and candles
are always your favorite.
Oh birthday girl, today
we celebrate you.
Streamers and ballons too,
Today is your birthday,
so here's to you.
Today is the day you get
to be the center of attention,
Surounded by loved ones
and friends galore.
The happiest of birthdays
you wonderful girl.
18
You are the heart of the party,
A big smile on your face.
It is your birthday,
A day to celebrate you.
Surrounded by light and love and
Kindness,
We are gathered around.
To celebrate your birthday,
You beautiful girl.
19
Happy Birthday, gorgeous!
You are another year young.
Your purpose is grand,
So the angels have sung.
Here is another chance to change and to grow
I am excited to witness the love that you'll sow.
Happy Birthday, gorgeous!
20
Happy Birthday, sexy thing.
You are more beautiful
Than anything else I have seen.
Your prettiness glows
Your greatness abounds and overflows
One thing that has been amazing
Is to watch you grow.

21
Happy Birthday, precious gem
You are worth more than any other
You are great, magnificient, and the best person I know.
I am beyond thankful to call you mine.
I am so happy that I was chosen
By someone most divine.
22

Another year it's time to cheer!
Sister it's your day.
Dance, sing celebrate,
gather friends and family close.
I propose a toast that wishes become reality
glee glows in your shining face-
a year that can never be replaced.
23

Hey Hon,
Just wanted to send some words of wisdom
as you get older.
Bolder years are ahead of you,
just as they were behind.
Never mind the present, the future is where it's at.
Time to put on that party hat.
24
Girl, you deserve the best on your birthday.
I am the biggest fan of who you have become.
Some days it is hard to believe years keep passing on.
It seemed just yesterday we were so young.
Happy birthday.
Keep on being you.
25
Girl, you are my confident; My loving, trusting pal; My fun, sashaying, bon vivant; A truly special gal; On this birthday, I hope you; Get everything you wish; Every present, old or new; Every special dish; I want to share your every joy: Now, and forever more; So c'mon girl, don't play coy; Let's go out and explore!
26
You're a very special woman, friend; Certainly one of a kind; Our days together, may they never end; I'll always keep you in mind; Our long talks into the deep, dark night; I will never forget; Every time we ever fight; I always feel regret; For you are someone that I trust; Who always has my ear; Happy Birthday, say I must; Here's to another year!
27
Don't eat too much cake, my dear; Or you will soon grow fat; Don't drink too much wine or beer; Or soon you'll fall down flat; Everything in moderation; Or so that's what they say; But your birthday is time for vacation; Enjoy your special day!
28
On your special day
I wish for all of your worries to go away
Enjoy a fancy cocktail drink
And kick up your feet!
You are a birthday princess
Who deserves a special treat!
Cupcakes, movies, something to eat
Spending this day with you
Is fun that can't be beat
Happy birthday

29
Happy birthday to a special lady
Who is such a great friend
When I'm having trouble
It is her help that she lends
When we stay up late talking
I know are friendship is true
Because there is no one who makes me laugh
Quite as hard as you do!
Happy Birthday
30
Cupcakes, fashion and glitter
Are a few things that you love
Such a fabulous birthday queen
I can't wait to give you a hug
Today we will celebrate you
Having a drink or two
Go have your nails done
Do all the things you love to do
You deserve to be pampered
Because you are the best
Your beauty is indescribable
You stand out from all the rest!
Happy Birthday!

31
your pretty and smart
beautiful to
today's your day
let's have a cake or two
dresses and shoes
a little makeup to
a party with friends
or a dinner for two
happy birthday to you
32
let's celebrate
a party for fun
let's rent a limo
let's have a night of fun
celebrate the day you came
into this world
confetti confetti confetti
balloons and streamers
a happy birthday sign to
33
that pretty dress
those beautiful eyes
are nothing compared
to what you hold inside
on this day your
day of birth
we will spoil you
today
with presents and more
a day like today
a moment like this
happy birthday we shout
34
You Make Me Smile
You are that each little reason that makes me grin,
What's more, when you grin at me, that very inclination is so divine.
Consistently your pretty face comes before my eyes,
To go through even a minute with you, I could stroll for miles.
Glad Birthday princess.

35
Prettiest Girl I've at any point seen
The young lady with excellent eyes, living down my path,
Continuously has an answer for my issues and agony.
You are the prettiest young lady I have ever observed,
You, my blessed messenger, my little heart's ruler.
Glad Birthday

36
I Will Always Love Your Smile
Your grin resembles the morning sun,
Concerning your deficiencies, you really have none.
You are so immaculate to me in each climate,
I will dependably adore you like no other.
Child, I never need to lose you,
Since, you mean everything to me.
My heart will dependably pulsate for you,
Regardless of whether it is broken profound underneath.
Upbeat Birthday my adored