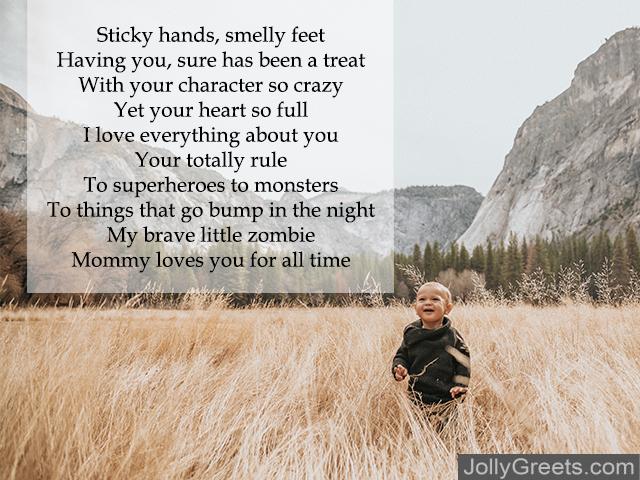 There is a certain atmosphere that is almost indescribable when it comes to talking about a baby boy…almost! If you are having a hard time putting into words how you feel when you are talking about a precious gift from above, then you have come to the right place. Roam around and see if you can find what you are looking for. The energy that you will find within these wonderful poems will have you wishing that you had found them even sooner. Sometimes we have so much passion on our hearts when it comes to certain events that we feel as though we should be able to fully express ourselves on our own. However, sometimes it's wise to seek counsel from others on how to properlly convey how we feel. When you are looking at the variety of poems that are present, remember to always keep your thoughts about the precious baby in mind, at the forefront of your heart. This will help you to come across the poem that is right for you. Perhaps the poem that you are looking for will even be able to express the love that you have for your own baby boy. This is a wonderful gift in and of itself.
How to Create the Perfect Card - Examples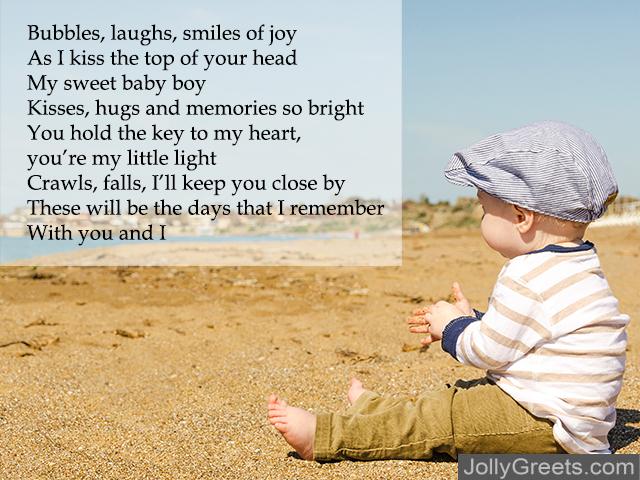 1
Sticky hands, smelly feet
Having you, sure has been a treat
With your character so crazy
Yet your heart so full
I love everything about you
Your totally rule
To superheroes to monsters
To things that go bump in the night
My brave little zombie
Mommy loves you for all time

2
Bubbles, laughs, smiles of joy
As I kiss the top of your head
My sweet baby boy
Kisses, hugs and memories so bright
You hold the key to my heart, you're my little light
Crawls, falls, I'll keep you close by
These will be the days that I remember
With you and I

3
Wrapped around my finger, this little boy of mine
Mommy will cuddle you always, forever and all time
All the singing and playing songs of joy
All the memories we will share
My handsome little boy
I'll cherish you forever
And be here for you always
Mommy loves you
For all of her days

4
On this day a baby is born, oh what a lovely surprise
With tiny ears and tiny eyes
He is special in everyone's eyes
A bouncing baby boy, born healthy and strong
As I write down this special song
I wonder what name his parents chose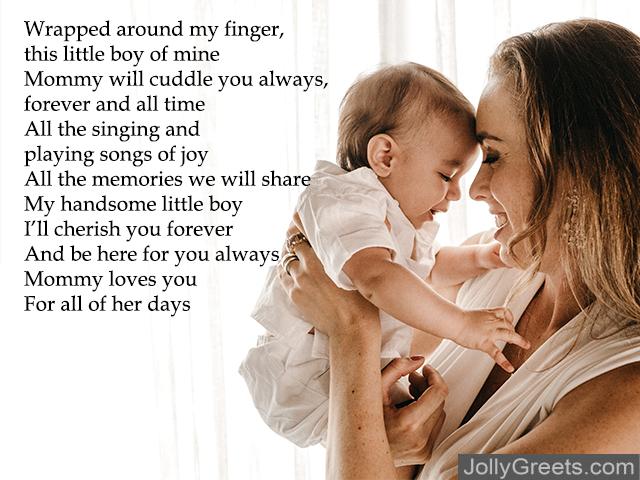 5
It's a baby boy, a tiny bundle of joy
A little bit of heaven, sent from above
A wonderful delight, life's latest mystery
A beautiful baby boy, who has his father's eyes
And his mother's nose.
A bouncing baby boy, born on a Sunday morning

6
When a baby is born
The need to be loved
When a boy is born
We know that one day he'll become a man
So we give him love and joy
So that he grows up right
When a baby is born
The whole world will rejoice

7
You came into our world
A little bundle of love
More precious than a diamond
A gift from up above
Our family is complete
You fit just like a glove
To love you is an honour
That we would not give up

8
My baby boy is growing so fast
It's a shame these years go so fast
Before I know it he'll be walking
Then it's school and he'll be talking
But now he's snuggled in his cradle
Sleeping like a little angel
I'll make the most out of these years
Before the teenager appears

9
Bundles of love coming your way
From all around the room
Everyone wants to hold you
Come back to me very soon
Baby boy I love you
It's hard to describe how it feels
Just know that I will protect you
And always keep it real

10
No amount of gold could ever compare to the gift of love that my son shares.
I've been blind and I couldn't see that all the love I've wanted is right here in front of me.
He gives me reason to get through another day.
Maybe it's how he loves me in his special little way.
And when it gets hard for me to sleep at night….
He wraps his little arms around me and says God will make things right!
From sweet gentle touches to his bear hugs and a kiss…
He makes this hell on earth seem more like a peaceful bliss.
Every time I look at him it makes me want to cry.
But they're not tears of sorrow; they're tears of pride and joy….
To know that all the love in heaven is wrapped around my little boy.

11
Oh, how the years go by,
Oh, how time can certainly fly.
From once just a thought in far away dreams,
now into my arms and in my eyes gleam
the presence of you.
Your laughter and smiles,
which go on for miles,
warm my heart and soul.
You're growing up so fast,
as I wish each moment with you to forever last.
My little boy will someday be a man,
and right by your side I will forever stand.
I will pick up the pieces when you fall.
I will hold your hand and help you stand tall.
And when the day comes when you are on your own,
never feel that you are alone.
No matter how near or far apart,
I am always right there in your heart.
Always remember whatever you go through
that no matter what, I will always love you.

12
I never appreciated my life until I gave you yours,
So it could be said that you gave me life.
Allowing me no longer to live carelessly.
Stopping me from living my life daily.
You gave me a reason to want a future.
When dying was all I could see,
I found myself living in your eyes.
Looking at your face,
I know why I'm alive,
Because in you is where my life lies.

13
Baby boy,
I love you so much.
Your tiny toes,
I love to tickle.
Your big brown eyes,
I love to get lost in.
Your cute, little giggle,
I love to hear.
Your soft, blonde hair,
I love to run my hand through.
Your small hand around my finger,
I love even when it's sticky.
Your button nose,
I love when it wiggles.
Your roly-poly legs,
I love how they kick with delight.
Your beautiful soul,
I love to see you grow.

14
I hope one day you will grow to be like your dad.
Kind and compassionate.
Treating everyone with the utmost respect.
I hope one day you will grow to be like your grandfather,
Always tinkering with things.
Curious to learn how it works and how to fix it.
I hope one day you will grow to be like your papa,
Smart and well-spoken.
Taking an interest in something and seeing it through to the end.
But most of all, I hope one day you will grow to be like the man you are destined to be.

15
You wobble down the hallway,
Gigging with delight.
The dog is in your way,
But you don't seem to mind.
You take one step towards him,
And fall onto your knees.
Your arms wrap around his neck,
And you begin to sing.
Your words don't make sense,
But the dog doesn't know.
He gives you a big lick,
And you scream with joy.

16
Little baby boy,
Oh how you bring me joy.
Your cute little wiggles,
Will always give me giggles.
Your eyes are so bright,
They seem full of light.
Tiny hands and tiny feet,
My love for you can't be beat.
17
Nursery painted blue,
Grandmother is waiting to coo.
A crib handmade by Dad,
To the family we are excited
To add.
A beautiful bouncing boy,
To fill us all with joy.
Dreams of Little League and
Football,
We hope he grows up strong
And tall.
Soon to be a brother and son,
We will have lots of fun.
18
Baby boy waiting for me,
Baby boy I am ready to see.
Baby boy not yet ready for the world,
Baby boy ready to be uncurled.
Baby boy to face his new life,
Baby boy that does not yet know strife.
19
My little one, I call you mine.
Your precious smile, lets me know
That everything is fine.
From your handsome eyes,
To your tiny toes
From your playful hands,
To your button nose
I love you baby boy.
20
My baby boy,
You mean so much to me.
I knew when I first met you,
That you would set me free
And help me to do better
With choices that I make
You are one of a kind
Everything is at stake.
21
My precious one, I vow
To take care of you forever.
Your handsome face reminds me
Of who I am to be towards you.
I will provide and protect.
I will do my best.
Your worth is incredible
I already know it.
22
A boy grows into strength and caring.
Sing now words of empathy, teach him how to learn.
A boy will aspire to great things yet to be seen.
Such a wonder to behold this young child you have
brought into the world.
23
His eyes alight with wonder latch on to you.
Something so new and precious- a son
Dawn is more beautiful now that he is here,
arriving from heaven into your arms.
Safe and healthy here he has arrived home.
24
Nine months of waiting, anticipating.
Asking questions- who will they be?
Will the baby have grandpa's curly hair, be slender and lean.
Eyes brown or green- it is yet to be seen.
So soon a new life will arrive into your world.
Such a bundle of joy- it's a boy!
25
Beautiful, bouncing, baby boy!; You bring your parents so much joy; Rough and tumble, smart and strong; But you won't be a baby for very long; One day you will become a man; Until then, stay cute for as long as you can!
26
Newborn son, you must know; That you are very precious; One day soon, you'll start to grow; Like Moses from the threshes; Soon enough, you'll be a man, but until that time arrives; You'll always be our baby boy; Every day of our lives!
27
We're overjoyed by your new son; We've longed for the day to arrive; We wish him years of love and fun; And hope that he will thrive; Snips and snails and puppy-dog tails; Might be what boys are made of; But you'll give the cure for whatever that ails; And that's a parent's love!
28
My heart bursted with joy
When I heard the news
Of your baby boy!
You are the most deserving parents
Of this most beautiful and precious gift
May your love and kindness
Shine on in your beautiful son
He is a pure blessing to this world
May all of his days be filled
With happiness and laughter
Congratulations

29
Sweet baby boy
You are the gift
Your parents have patiently awaited
Days of preparing your room and crib
Patiently awaiting with their love to give
Maybe even a bit worried and scared
Their concern only shows how much they care
Now the day has come
That you are here to be showered
With gifts, cuddles and love
With all our eyes we devour
The sight of this new little boy
For he is source of our joy
Congratulations!

30
Words cannot express how happy we are
For the arrival of your sweet baby boy
He has already stolen our hearts
Filling us with such joy
I look forward to the years ahead
Of you raising your precious son
Holding him with care
Watching him grow will be so fun
Soon you will be chasing around your little one
Laughing and playing till the day is done
Enjoy every moment while he is young
Giggling and playing games
Your heart he has won
Your life will never be the same
You are the lucky one
This little boy is about to change your life
For the better of course
He is your shining light
Congratulations

31
a smile so small
ten tiny toes
two big blue eyes
ten tiny fingers
reaching for me
hair so soft
skin the smell of baby powder
you look at me
with that tiny smile
my heart melts a little
a baby so perfect to me
32
today's the day
i'll meet a boy
oh so small
today is the day
you will meet
your mom
all your little
fingers and toes
sweet little baby
boy oh how
i love you so
33
a blue shirt here
a blanket there
a warm little nose
snuggled under my chin
two blue eyes
closed sleeping just right
a baby boy oh to hold
you oh so tight
a coo for me
a cry for food
oh sweet baby boy
a night of no sleep
sweet baby boy
you complete me
34

From the minute you were framed,
my heart has been warmed.
My little child kid,
Gives me everlasting delight.
Nobody can love you, for example, I,
since I gave you life.
An adoration like Mom's is exceptional,
made just for one uncommon little guy

35

In the moment, your eyes meet his,
the world goes calm.
All you hear is his first breath,
the primary breath you take as a parent.
The future sprouts before you
with dreams of science ventures,
ball games,
graduations and weddings:
every one of the minutes that make an actual existence.
Grasp your new job, similarly as you grasp your infant kid.
You were conceived for this.

36

Today, your feet are as minor as anyone might imagine;
Sometime in the not so distant future, those feet will divert you from me.
I should instruct you in the event that I can
to be a solid and adoring man
to confide in your heart in each decision
to stand up tall and utilize your voice,
to think about those with short of what you
to attempt your best at all you do.
Be that as it may, I'll appreciate this prior minute it goes
Also, hold you close and kiss your toes