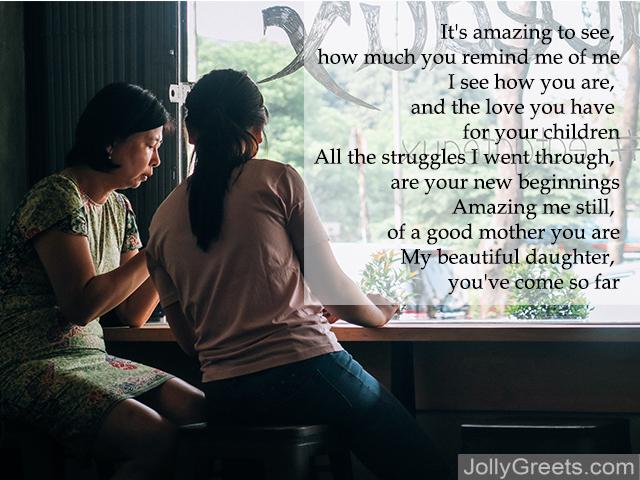 Mother's Day is a very special day indeed. It's the one day of the year when everyone strives to show special appreciation to the woman in their life that raised them. Poems between mothers and daughters can reveal certain feelings that aren't present in any other type of relatioinship. Go above and beyond to find the mother's day poem that will leave the both of you feeling connected on a deeper level. Kind-hearted words can connect a mother and daughter in a way that no other form of communication can. Mothers and daughters have a special type of bond that seems to morph over time, in most cases. When you are younger, you have a parent-child type of relationship. As you grow, even though your mother is still you parent, it seems as though she has also become your friend. Find a way to show that you appreciate this transformation that has happened over time by putting it in a caring message. She can keep it on her refrigerator and be reminded of you each day she passes it.
How to Create the Perfect Card - Examples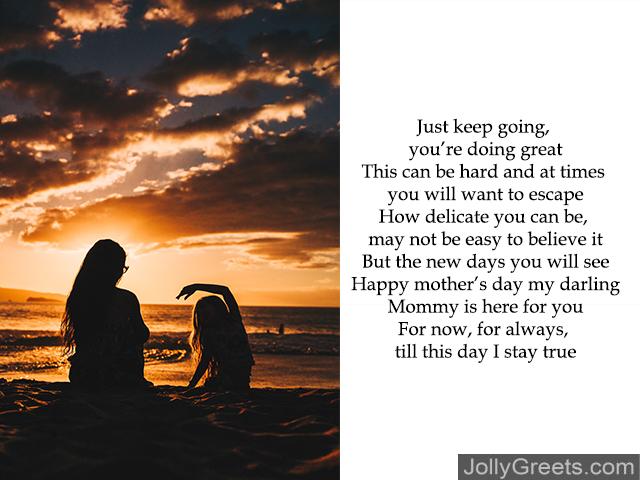 1
It's amazing to see, how much you remind me of me
I see how you are, and the love you have for your children
All the struggles I went through, are your new beginnings
Amazing me still, of a good mother you are
My beautiful daughter, you've come so far

2
Just keep going, you're doing great
This can be hard and at times you will want to escape
How delicate you can be, may not be easy to believe it
But the new days you will see
Happy mother's day my darling
Mommy is here for you
For now, for always, till this day I stay true

3
Sometimes you will feel lonely
Some days you will feel blue
Just know I'm here
I'll always be there for you
Motherhood isn't easy
But you're doing amazing
Such a blessing you are, to these children your raising
Happy mother's day daughter

4
You were a little baby
Just the other day
Time has flown
And you have grown
I've watched you become a woman
And I've seen you turn into a mom
A very special one
Even better than the one that I am
Happy mother's day my child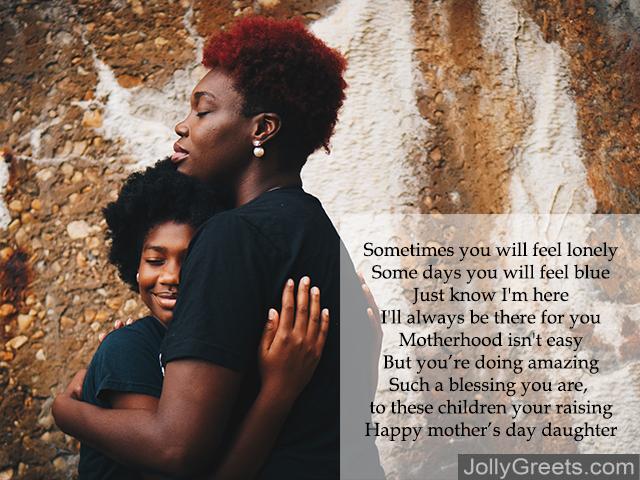 5
Dear daughter of my heart
You've turned out even better
And I couldn't be any prouder
You've grown up to be a good mother
Just like I knew you would from the start
You've become a role model
To every little girl in the world
I love you my child
Happy mother's day from your dear mom

6
There is nothing that makes a mother so proud
Than seeing her daughter becoming a mom
Even though you've grown up so fast
My love for you will forever last
I have adored you from the very start
When I first brought you into this world
I knew one day you'd make me proud
Happy mother's day my love

7
I have taught you everything I know
You have grown into a woman
Your children are so wonderful
You are a perfect mother
So let me say how proud I am
That you are my daughter
Happy mother's day my dearest girl
From your loving mother

8
To a daughter who is strong and true
Who leads a life to be proud of
Someone who takes life as it comes
But never lets their guard down
To a daughter who had to make choices
Worked hard to support her children
Someone who puts her family first
Happy mother's day my darling

9
Being a mother takes so much patience
Diligence, care with low recreation
You took it on board with all of your will
My darling you do it all with such skill
I hope that today you have fun and laughter
Have a happy Mother's day dear daughter

10
I know we've been through a lot
But to this day I have not forgotten
How you kept strong for yourself in times of need
Opening my eyes and letting me see
All the rights and wrongs in life
And help me battle my everyday strife
To know your love is a great feeling
When you start doing motherly duties
You will be celebrated everyday
But there'd be a day the world will celebrate you
11
You turned out even better
Than I often dreamed you'd be;
You're more than I had hoped for;
You're a sweet reward to me.
You grew up to be a mother
Full of wisdom, warmth and love,
A good and fine role model,
A blessing from above.
I couldn't be any prouder
Than I am today of you;
You're my daughter and my friend,
And a wonderful person, too.
You have my love forever;
I adored you from the start;
It's a privilege to be your mother,
Dear daughter of my heart.

12
It's a special bond that spans through the years,
Through laughter, worry, smiles and tears.
A sense of trust that can't be broken
A depth of love sometimes unspoken
A life long friendship built on sharing hugs, kisses, warmth and caring.
Mother and daughter, their heart as one- A link that can never be undone.
13
You're going to be a great mom,
I know it in my heart.
You were a great daughter,
Doting, a good listener, smart.
Your child is going to love you,
And even when he acts like he does not,
Don't think there's something wrong,
Don't ever think that thought.
Just do your best,
And it will come with time,
There is no special science.
Loving him is not a crime.

14
I remember when you were just a little girl,
Having tea parties with your dollies.
You asked me for a little sister,
So you could dress her up.
My heart broke then.
Your first job was working with kids,
Teaching them how to swim.
Now you're a mother of three!
You've always known how to be.
You make me proud,
You make my heart so full.

15
I know being a mother can be a thankless job,
But honey, you're doing great!
I remember when you and your brother would saunter about the house,
Tracking dirty, leaving things behind, bickering.
Without even a care.
So trust me when I say you're doing the best you can and that's enough.
You and me now, we're closer than I ever thought.
You will be with your daughters too!

16
Mother's day is here at last,
It's mommy's day to relax.
Before I go about my day,
There's something that I want to say.
Thank you for years of joy,
And thank you for being someone I enjoy.
Daughter, you've been such a treat,
I hope you grow to be fair and sweet.
17
Daughter are so like their mothers,
Passionate, strong, and brave.
Mothers are also quite like their daughters,
Stubborn and willful, yet kind.
Mother's get a special day,
But daughters get them too.
For mother's share their special day,
With the ones who made it true.
18
Mothers take care of daughters,
Daughters take care of their mothers,too.
They love and support each other,
And help each other out.
Mothers provide for their daughters,
And someday their daughters provide for them, too.
Mothers are good to their daughters,
And their daughters bloom.
19
Mom, I am thinking of you
On this special day.
You take good care of me
And so I wanted to say
That I love you quite a lot!
Happy Mother's Day!
20
It's a mother-daughter thing,
That we have going on.
We pick up each other's slack.
When I am weak,
You become strong.
We help each other out with many things,
I love the happiness that our relationship brings.
Happy Mother's Day!
21
I am so very glad
That we have the relationship we do
No matter what happens,
We will make it through.
Like mother, like daughter,
We have the same heart
And that is to be close
Happy Mother's Day, Mom!
22
Your actions shout to the world how wonderful you are.
My daughter, a mother, should be a star.
Shining I sing your praise to all who will listen.
Your children how lucky they are to have you as
their mother, the best by far.
23
You impress me dear daughter,
Nobody could ask for someone as beautiful as you.
Inside and out you show you care,
I want to share how proud I am of you today.
Motherhood suitable to you in every way.
24
Daughter,
I wish I could take credit for the mother you are,
but that would be stretching the truth too far.
For you alone make your home a place of affection.
Perfection in all that you do.
Any mother would envy you.
25
Daughter, I've raised you from birth; Every day you've proven your worth; You're kind and smart, and strong and fun; Your mind and heart embrace everyone; It's no surprise that since you've grown; You've nurtured a great child of your own!
26
Daugther, on this Mother's Day; There's so much I have to say; I'm proud of whom you've grown to be; With my two eyes I clearly see; You've taken my advice to heart; Given your child the perfect start; If I searched the whole world through; I wouldn't find a Mom as great as you!
27
Daughter, how much you have grown; You have a child to call your own; To raise the way you feel is best; To try harder than all the rest; To teach good manners, and keep fit; No matter the struggle, you'll never quit; I admire you more than words can say; But I wish you a Happy Mother's Day!
28
My loving daughter
Seeing you as a mother to your beautiful children
Is the greatest gift I could have asked for
Your patience, humor and love is shown in the way you care for them
I have never been more proud of you
Happy Mothers Day

29
To my Daughter
It seems like just yesterday
I was holding you in my arms
Protecting you from any harm
Now it has come the day
That you are a mother
I just want to say
I am so proud of you
And the mother you have become
Seeing you with your child
Is so much fun
Watching how much you love and care
For your precious child
Is almost too much to bare
Because I am just so very proud
Of the woman you have become
Happy Mothers Day

30
To my daughter
It seems like just yesterday
I was braiding your hair
You were my little girl
I love always having you there
Now you are a mother
With a child of your own
What it joy it has been
To see how much you have grown
Admiring how you tend
To your sweet baby
You do it so well
With care, never lazy
Watching you be such a great mom
Don't fret so much
I promise nothing will go wrong
I know you worry
As a young mother
That you are doing enough
I promise that you are
Your heart is strong and tough
It is very clear that you love your baby
Everything your doing
Is just perfect, not crazy
Happy Mothers Day

31
mom you amaze me
your strong and outgoing
i can tell
you never cry
even when things
aren't going well
mom your awesome to
your always smiling
even when i'm bad
words don't come close
to how i feel
i love you
mom enjoy your day
32
you raised me up
to be the woman i am
you taught me right
from wrong
even when i couldn't tell
you taught me how
to be a lady
you listened to me
and stood your ground
when i was bad
you helped me make
good choices and wiped
away my tears
when i was sad
33
a mom like you
deserves a hug or two
you work real hard
and never give up
you know what
you want
you raised us both
without a second thought
you never complained
so mom you deserve a day
34
My Mother resembles a patient breeze,
What's more, I, a vessel, cruising through life's stormy ocean,
Am guided by her delicate touch and little censure
Furthermore, understanding, she calms me.
My Mother stays through night's haziness
Of vulnerability, dread and torment,
Also, guides me by her affection and intelligence,
Protecting me from driving precipitation.
Through beat of waves and dark of shadow,
My Mother's affection will never fall,
For however I appear to suffocate and falter,
I realize she'll cherish me notwithstanding all.

35
Mom's chuckling helps me to remember a mountain stream,
as it overflow shakes and fallen trees.
Mother's eyes have a dark blue twinkle and glimmer,
furthermore, move like crisp dew in a delicate breeze.
Mother's heart is as warm as the flame in the stove
whose decided flares take off high and sing.
Mother's understanding is genuine, and the adoration
which emanates from her is a valuable thing.
When I think about my Mom – she's a jewel to me,
like Kino's pearl out of sight ocean.
Mother, I adore you. You're similar to the sun
that lights up my day – this isn't a play on words.
Mother, I'm grateful you weren't a nun!

36
Those many holding up weeks
You conveyed me
I felt the beat of your affection
At the point when yet I had not figured out how to relax
Also, my pulse reverberated your own.
And afterward you invited me
A shouting heap of work
Also, showed me of adoration
In the stroke of your worn out grasp,
Tired from the affection for work for me.
As I grasped your work worn hand
You demonstrated to me my rich legacy:
A universe of individuals
All mine to adore.
You showed me the miracle of
Things concealed:
The vastest Love of all."