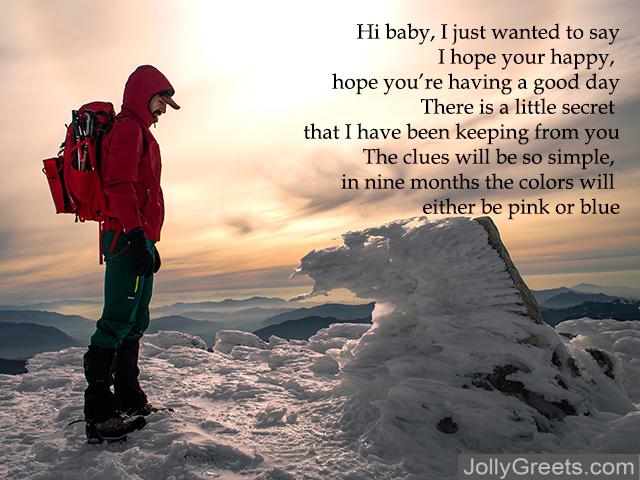 It's important to occasionally send your boyfriend a sweet message that will let him know that you are thinking of him. Words are incredibly powerful and when you find the right ones to say, you can bring up powerful emotions along with them. You can send them with a serious tone or you could send them with just a hint of romance attached to it. However, you can also send him a sappy love note that will be sure to make him tear up. These type of messages aren't given often but they are so important to give every once in a while. Let him know just how much you have been thinking about him, and don't leave out any details. Think about the first time that the two of you met, and you may just find yourself tearing up as well. Take a moment to think about all of the wonderful things that he has done for you. Meditate on the fact that you have such a wonderful person in your life to share special moments with. After you have thought about what you want to say, allow of your emotion to be poured into a beautiful poem that will certainly be a tear jerker.
How to Create the Perfect Card - Examples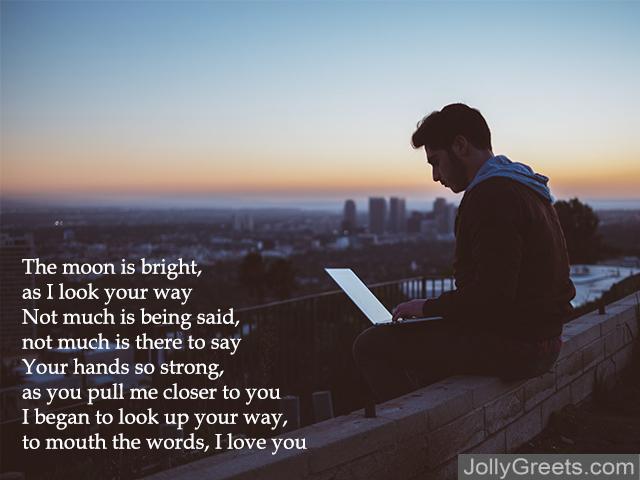 1
Hi baby, I just wanted to say
I hope your happy, hope you're having a good day
There is a little secret that I have been keeping from you
The clues will be so simple, in nine months the colors will either be pink or blue

2
The moon is bright, as I look your way
Not much is being said, not much is there to say
Your hands so strong, as you pull me closer to you
I began to look up your way, to mouth the words, I love you

3
There has never been someone, quite like you
With your loving heart, to you I will always stay true
I will walk a straight line, with you by side
For you my darling I will always ride
You're my one and only, I will always love and stay real
This love you give me, I will always feel
.
4
Broken promises made him weep.
Promises that she failed to keep.
She promised to always be loving and true.
And that she would never do anything to make him blue.
But she was lying. Like the others, she made him feel like dying.
His heart was left in pieces, but that didn't stop him from making new wishes.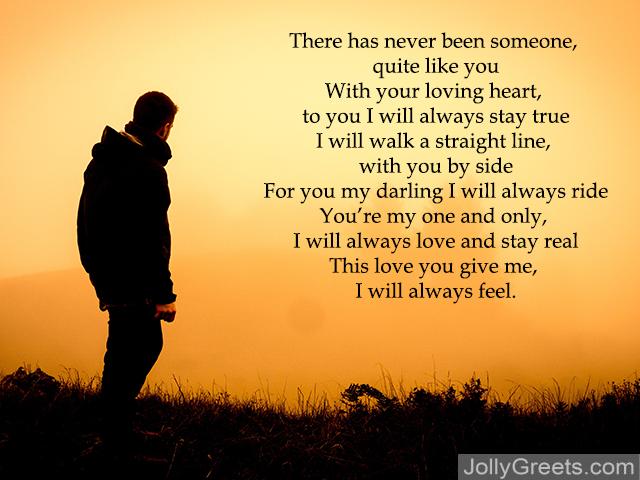 5
I have always made mistakes in my life
But I have always known that you will never be one of them
I have seen some rainy days in my lifetime
But all the good memories I have are with you
You have turned my hell into a paradise
I love you and I want you to stay forever

6
I remember the day I let you go,
I wish I could turn back time
I still long for your chaos in all these quiet nights
I still long for your touch in all these lonely nights
I remember it well, the day I lost my soul mate
And every day I pray that one day you will come my way

7
You took me in your manly arms
And taught me how to love you
You opened up and showed your heart
And asked me not to hurt you
I offer everything I am, to you, you are my lover
And for all time I'll worship you
There'll never be another

8
From the moment I laid eyes on you
I knew that you were mine
I know that I will always love you
Through all space and time
You gave me something special
That I will not forget
You took your heart right out
And put it in my chest

9
I love you from the bottom of my heart
I loved you from the very start
I worship every inch of your soul
I'll help you reach your highest goal
And when you need me I'll be there
To help you breathe in your last air

10
We had a single story
We were co-authors
I enjoyed us in the play
Maybe cos we are co-actors
The theatre our home
As curtains fell after scenes
As we undressed for another
Lights off, it's beam went down.
Published it soon for others
But ended up reading it till the bindings fell off
Never read something better
Maybe cos the actors were truly in love.
11
You are the reason I totally melt inside
I pinch myself just knowing you are mine
Through every seasons
So many ways you let me know
There are many reasons that you make me glow
You are the reason my heart joyously sings
Babe, you are more than the real thing.
You are my friend, my lover and my life
You are the reason my life feels so right.
12
I never really knew you
You were just another friend
But when I got to know you,
I let my heart unbend.
I couldn't help past memories
that would only make me cry
I had to forget my first love
and give love another try
So I've fallen in love with you
and I'll never let you go
I love you more than anyone
I just had to let you know
And if you ever wonder why
I don't know what I'll say
But I'll never stop loving you
each and every day
My feelings for you will never change
Just know my feelings are true
Just remember one thing
I love you.

13
Have you ever thought about,
God's plan for your life?
How many wrongs turns did you make?
How many issues caused you necessary strife?
I think God knew,
Well before we were even born,
That we were two kernels,
of the same ear of corn.

14
You set the bar without even trying.
You're the most sincere, honest person I know.
You're heart is made of hockey pucks,
No one can bend or break it.
You stand firm in who you are.
I can't wait for us to have a son,
And for him to be just like you.

15
Every home game I stand,
Silently waiting,
For you to come off the ice.
Your name on my shoulders,
Just a glimpse of you baby,
Everything is going to be alright.
If only I could take the weight off your shoulders.
I know the pains of your job, I can see it in your eyes.
So I'm here to say thank you, for all that you do,
A goalie is not an easy task.
A thankless life is no way to live,
So I stand for you when no one else will recognize you.

16
I don't think you realize,
How much you've done for me.
You fill me with a light,
As bright as can be.
I feel your love,
As I stand here by your side.
You wrap your arms around me,
And hold me safe and tight.
I never realized,
That love could be this right.
I can only see a future,
With you by my side.
17
My world was full of darkness,
Before you were by my side.
It seems like everything was in black and white,
You have brought new color to my life.
Every day I spend with you,
Makes me cherish you more.
I will love you into the future,
And forevermore.
18
I always used to tell you,
How you made me feel.
But now I only need to look at you,
And you can read my heart.
We talk about the future,
And how we see each other there.
And now that future grows closer,
Each time you hold my hand.
The ring you bought is special,
A promise of more than life.
There's a secret I have yet to tell you,
And to you first I share alone.
That family we were wanting,
While talking about future in hand,
Is closer than we expected.
I only found out this morning,
And I think you'll be over joyed,
For I am having a baby,
That we will get to enjoy.
19
You make my heart grow fonder
Each and every day.
You have enlarged it sincerely
In many a different way.
I did not know that it could grow
But that is what it has done
This path that I have walked with you
Has been nothing short of fun.
20
My love for you is gentle
Yet it has a fierceness to it.
It cannot fully be explained by only word.
It will attack and protect, and stand for what is right.
Just watch, my love will endure any type of fight.
21
To my beloved boyfriend,
The best one in this world.
You make me a better person
Than I ever thought I could be
I am excited to see our relationship extend
Beyond this paved road.
22

Honey you left the keys when I said please.
Pulling out of the driveway was quite a fright,
but I made it out all right.
The sun was bright, so I didn't see the stoplight.
Here are your keys I will help pay the attorney's fees.
23
You have been a centerpiece of my life for so long,
and I have enjoyed being your wonderful wife.
But now there is something you must know.
I feel it is time for you to go.
And for you the door I am going to show.
24

The dishes have been put away,
the garbage is out, the floor is swept,
bills are paid.
Love, thank you for all you have done.
Yet there is one more thing to say
"you are going to be a father." Yeah.
25
You brighten up my every day; When you enter the room; Your example leads the way; Away from certain doom; On the day when we first met; I finally felt whole; I hope that you will not forget; It was my heart you stole.
26
Twenty years ago or so; I was real close to death; I felt quite ready to let go; To take my final breath; But then you showed up in my world; And saved my precious life; And you made me more than a girl; When you made me your wife.
27
Every time the road gets tough; And I'm afraid to run; Every time the seas are rough; And I feel that I'm done; You show up to push me forward; To brighten up my day; Your light will always guide me toward; The true and fruitful way
28
In my darkest hours
You saved my from myself
When I felt empty
Just about to give up
I met you
After hours talking
I knew you were the one
Leaning in to wipe my tears
Talking about our hopes and fears
You came to me like an answered prayer
When I was at my lowest
When I needed someone the most
Without asking, you were there
Thank you for loving me
For giving me hope and strength

29
It's no secret that I have been hurt before
I've truly been shaken to my core
When we first met
I told you of the abuse
I thought it would have you
Shaking in your boots
But you never ran away
You just seem to understand
That is why I find you
To be the greatest man

30
When we met
We were both scarred
From past loves
Who left us in the dark
We leaned on each other
As we began to heal
Our budding love
Was apparent and real
We started out
As just good friends
It's always been you
Than helped me mend
You taught me
Trust and care
Your healing love
So brave and rare
I love you

31
i told myself
love didn't exist
but here you are
this guy i met
who made me fall
in love
you showed me what love is
never judging or making
fun
you support me
and love me so
my life wouldn't make
sense at all
if i hadn't fallen
in love with you
32
we were shy
we were only fifthteen
then that day
when a hi changed everything
now here we are
falling in love
you made me see
things
i never saw
you gave me my start
on learning what love is
my eyes lite up when
you called me your girl
no words can ever express
how much you mean to me
33
my first love
my eighth grade prom date
my best friend
the one i believe in
my first kiss
my favorite guy
you're never mean
you have such
a big heart
you treat me right
and are always
so patient
you made me believe
in me
so i say it now
i say it loud
i'm falling in love
with you
34
How would I adore thee? Give me a chance to tally the ways.
I cherish thee to the profundity and expansiveness and stature
My spirit can achieve, when feeling far out
For the closures of being and perfect beauty.
I adore thee to the dimension of consistently's
Most peaceful need, by sun and flame light.
I adore thee openly, as men take a stab at right.
I adore thee absolutely, as they abandon acclaim.
I cherish thee with the energy put to utilize
In my old pains, and with my youth's confidence.
I cherish thee with an affection I appeared to lose
With my lost holy people. I cherish thee with the breath,
Grins, tears, for my entire life; and, if God pick,
I will yet cherish thee better after death

35
Brilliant star, would I were stedfast as thou art–
Not in solitary magnificence hung up high the night
What's more, viewing, with everlasting covers separated,
Like nature's patient, restless Eremite,
The moving waters at their priestlike errand
Of unadulterated bathing round earth's human shores,
Or then again looking on the new delicate fallen cover
Of snow upon the mountains and the moors–
No– yet still stedfast, still unchangeable,
Pillow'd upon my reasonable love's aging bosom,
To feel for ever its delicate fall and swell,
Conscious for ever in a sweet turmoil,
All things considered, still to hear her delicate taken breath,
Thus live ever– or else swoon to death.

36
How do we come to be here beside one another
in the night
Where are the stars that show us to our adoration
inescapable
Outside the leaves fire regular in obscurity
what's more, the downpour
falls cool and favored on the heavenly tissue
the dark men looking out for the corner for
a womanly delusion
I am flabbergasted by harmony
It is this probability of you
snoozing
what's more, taking in the calm air