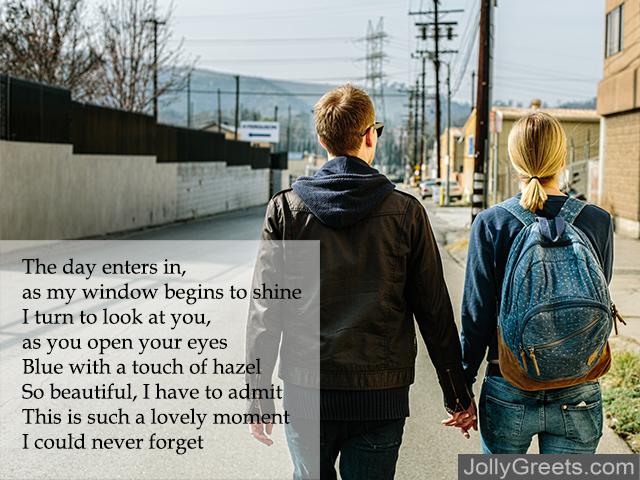 What are mornings for, besides telling the love of your life how you feel about them. Start off your morning by giving away a thoughtful message to your love. They will be ecstatic that you thought of them at the start of your day, esspecially if you are not a morning person. It will show them that you thought of them first and that you strive to honor them before you take care of yourself. Be that person to make them feel wanted at the very beginning of their morning. Let them know that you want to be at the beginning of their thoughts all the while letting them know that they are at the beginning of your thoughts as well. You may even get some kind words in return. First, think about how you would feel if your love gave you a good morning poem. Then, allow the passion from this thought to well up inside of you. Finally, allow this drive to fuel the very words that are going to make them feel loved not only during the morning, but also for the rest of the day. Go out of your way to let her know that you are thinking of her!
How to Create the Perfect Card - Examples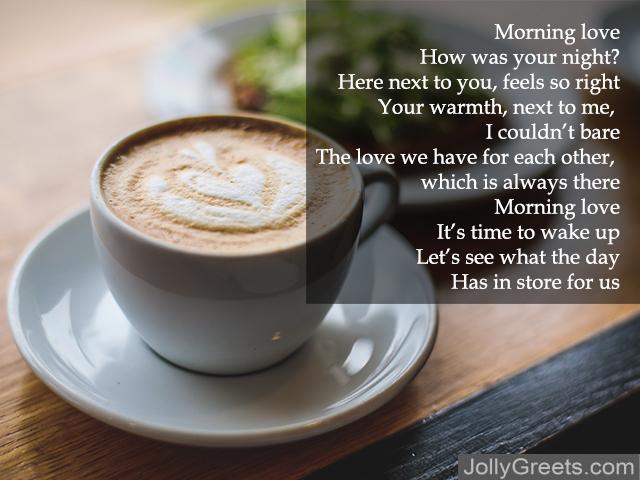 1
The day enters in, as my window begins to shine
I turn to look at you, as you open your eyes
Blue with a touch of hazel
So beautiful, I have to admit
This is such a lovely moment
I could never forget

2
Morning love
How was your night?
Here next to you, feels so right
Your warmth, next to me, I couldn't bare
The love we have for each other, which is always there
Morning love
It's time to wake up
Let's see what the day
Has in store for us

3
It's morning time, I see you and I smile
Lay next to me, I can't believe your mine
So soft, so tender
I would fall asleep with you again
But it's morning time, so I'll kiss you slow
Time to wake up my sunshine

4
Waking up to another beautiful morning
The sound of chirping birds fill the atmosphere
The sun is shining
I'm waking up to see your beautiful face lay next to me
If I had it my way
I would spend the rest of my life in this moment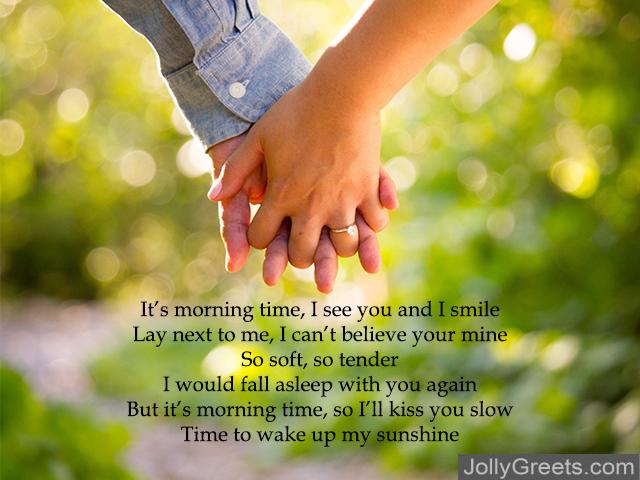 5
Watching my love as she sleeps
She looks so peaceful
the I feeling I have in my heart is so powerful
Words cannot begin to describe how lucky I feel
Good morning my queen my sweet heart
I hope you have a lovely day
As lovely as you are, my love

6

Good morning my love
My sweet angel, the queen of my heart
I hope you slept well last night
You were the first thought to cross my mind
And as I lay awake on my bed
I hope someday you will be right by my side

7
Good morning love its time to wake
I'll kiss your lips upon daybreak
I'll wake you gently from your dreams
Cook you sausage, egg and beans
But if you'd rather stay in bed
I'll cuddle you and stroke your head

8
Sleepy eyes and tousled hair
Dreamy smile just barely there
Coffee in the usual way
No better way to start the day
Morning chores in fluffy slippers
Kiss your neck while you wash the dishes
Eating breakfast in the sun
Mornings with you are so much fun

9
I love you so much more in the morning
It's like the first time that I met you
The tiny curl at the side of your mouth
A day without you I can't get through
As your gentle fingers stroke my face
I never want to leave this place

10
Morning saw us kiss
Its light spied on us
Night kept our secrets
Its darkness shut the doors.
Morning woke us up
Its crow opened our eyes
Night gave us pillows
Its cold drew us nigh.
Mornings will always rise
To put us asunder
Night will always fall
To keep us together.
Good morning love
11
Good morning beautiful
Let me begin to whisper soft words to you.
You are my morning
always making me fall like the dew to you
waking my nostrils to your cologne that slept with me
I dreamt of our lips in unison
Talking in language they alone understand
While our bodies do the rest.
you happen to be a heaven to me
your breasts are the clouds I want to drink from
I want your body to be present in my waking
your eyes to be like the sun to me
Let it glow away my sadness and pain.
Please my darling, be my morning.

12
Morning to you my darling,
You look so beautiful and so radiant,
The joy of the morning glows on your face,
You are an Angel and a damsel,
You are too beautiful, even the morning
Acknowledges this beauty of yours,
You are my delight, my beautiful angels,
And I am proud to be your man,
I am a worthy man coz I have you,
As I say morning to you my damsel,
Never forget these words of mine,
Which I will say to you all my life,
I love you like I have never loved before,
I love you with all my heart.
I will say this every morning for as long as I live.

13
The way you look,
When you're fast asleep,
Is like a peaceful, baby dove.
You start to wake,
Rustling about,
Like a newborn kitten without opening its eyes.
You cling to me,
All cuddly and cute,
Like a sleepy baby monkey.
Good Morning my love,
It's time to open your eyes,
Like you're seeing the sun for the first time.

14
The morning is near,
I can tell by your slow breathing,
That you are not ready to wake.
So I slip out of bed ever so quietly,
And make my way to the kitchen.
I turn on the coffee maker
And take out the dog,
So that he doesn't whine.
The smell of the coffee awakens your soul,
I hear you start to stir.
I make you a cup and bring it to you in bed.
You smile and kiss me good morning.

15
The dew is on the widows.
The sun is starting to rise.
The birds are singing good morning.
And the first thing I see are your blues eyes.
My heart flutters as you pull me in,
You tell me the thoughts in your head.
Wrapping your arms around me,
You whisper let's stay all day in bed.

16
As the sun breaks the horizon,
I awaken next to you.
Your sweet contented smile,
Starts my day off with joy.
I wake you gently,
So as not to cause startle.
You roll over slowly,
And give a little yawn.
Waking up to you is a blessing,
It makes me love you even more.
17
You begin to stir,
As the sun hits your eyes.
I begin to awaken,
And start to rub my eyes.
Well we have rested,
And we start to ready our day.
Mornings spent with you,
Make for a great day.
18
I wake in the morning longing,
Longing for your touch.
Your aroma overwhelming,
I need you so very much.
I can't take one more minute,
Without your warming glow.
My steaming cup of coffee,
Oh how I love you so.
19
Good Morning, my love
Another day spent with you,
Is more than I could ask for.
Your incredible smile keeps me going.
It gives me energy for a bit.
And when I see that gorgeous smile,
I hardly want to sit.
20
Good Morning, beautiful one
The one whom my heart desires
Your presence glows even brighter
Than that of a million fires
My love for you cannot compare
For anything else,
Isn't quite as fair.
21
The morning shines so bright
And reminds me that today
Is a great day to be alive.
I will strive to do my best
And take this morning in,
Just like the rest.
22
My love,
I hope your dreams were sweet as honey,
Sleep as serene as a smooth river stone.
Still when I awake beside you these words
are hard to find.
I am always so glad to awake and find you are still mine.
23
Did you know you smell sweetest in the morning?
Perfume of night has washed your skin aglow.
All I see when I look at you is beauty.
How can that be so?
I know you are you,
but dawn does desirable make.
24
If I could give you the sun
for breakfast it would spread warm
as melted butter.
How my heart is all a flutter.
Your smile bright,
such a delight to waken by your side.
Taken with you, my dear. Stay near.

25
Time to get up out of bed; Time to greet the day; Time to say that I love you; In each and every way; We'll go down to the kitchen; And I'll cook a tasty meal; By sharing with you yummy food; I share the way I feel!
26
I love to watch you waking; From a deep and peaceful sleep; Breakfast I'll be baking; Down the stairs I creep; So while you rise and dress; I'll dish you up some food; Although your hair's a mess; I hope this cheers your mood!
27
Get up out of bed; Undress and take a shower; From your toes up to your head; You can even take an hour; Spend all the time you want; There's no need to worry; You're my lifetime confidante; So there's no need to hurry!
28
As the sun comes up over the horizon
Just know that you have the strength
To handle the day with grace
Smile knowing you are loved
Wake up knowing that I care
When your work is done
I will be here to listen
To you tell me about your day
I will be here for you
Good morning my love

29
Nothing makes me happier
Than falling asleep next to you
And waking up with you close
In your arms, I feel like home
I would stay curled up here
Forever if I could
I dream of the day when
We can wake up everyday
Together in each others arms
Good morning, my love

30
When I open my eyes
I feel so blessed
That you are a beside me
Quietly taking a rest
Smiling as I watch you sleep
Your sweet angelic face
So soft and pure
It makes me weak
Now my love
It is time to wake up
And cuddle with me
As we watch the rising sun

31
good morning sunshine
could this be true
you look more lovely
you smell of roses
good morning sweetie
you look divine
the sun's out shining
good morning babe
lets go on a walk or two
32
the morning sun
has nothing on you
your eyes light up like
stars at night
your smile is contagious
your dimples are cute
you make my morning
just looking at you
good morning
good morning i need you
33
the sun shining through
the light on your eyes
makes me smile
your hair may be a mess
but it's beautiful to me
waking up with you
is all i ever need
my heart soars
with every breath you take
good morning beautiful i love you

34

Around evening time, you feel like the most select wine, toward the beginning of the day, you become calming daylight… The delicate sparkle of first beams is making you look divine, Every morning I just feel up on the happy to the point bursting, Thanks to you and hello, O Love of mine.

35
As brilliant as the sun sparkles, As splendid as I see your face, As brilliant as I consider you, you are my redeeming quality, Early today, You went to my idea, I simply need to state, That I cherish you a great deal, salutation to you!
36
Winged animals may sing, The sun may sparkle, But nothing is more wonderful Than the morning with the adoration for mine. Hello, my affection! Our marriage is the best verification That TRUE LOVE exists, And you are the best evidence That PERFECT WIFE isn't a fantasy. Hello!