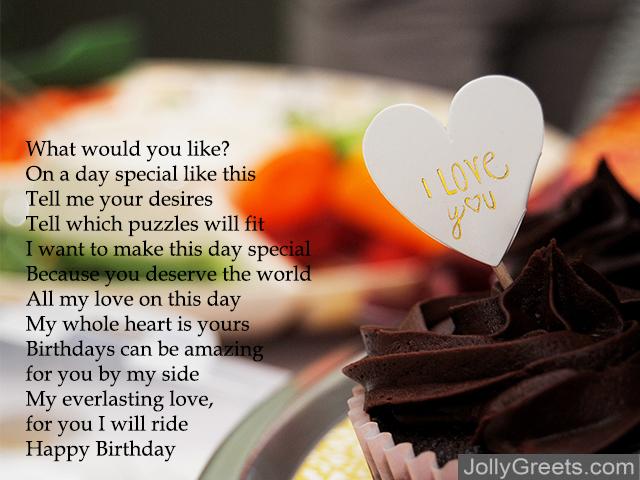 Did you come across this site looking for words to speak to someone on their birthday, other than just, "Happy Birthday"? Perhaps you want to add a little love to the gift that you are handing over to the person in mind. Here you will be sure to find the answer that you have been looking for. Whether you are searching for words of celebration to use to speak over a close family friend or whether you are looking for words to place on a birthday card of a more personal person in your life, you'll be able to search what you are looking for without a doubt. Whoever you are sending these words to will be able to appreciate the time and effort that you took to come up with something that will speak straight to their heart. You can even send these words to someone that you have not seen in quite some time. We all have a few friends that we have not seen in a while, but their presence pulls at our heart strings nontheless. Why not think of them when their birthday comes around and let them know that they are still on your hearts on one of their most special days.
How to Create the Perfect Card - Examples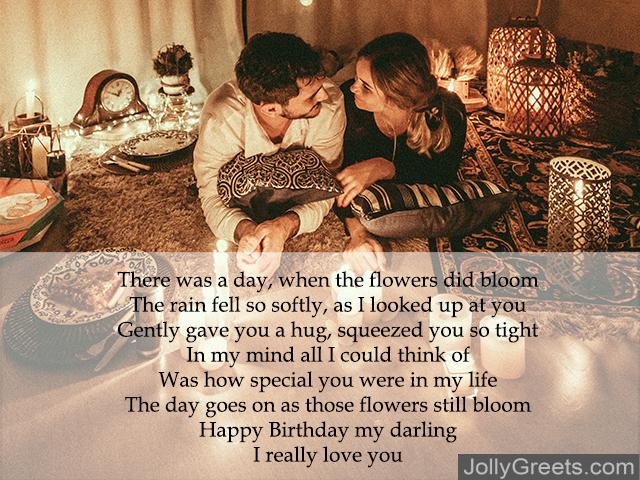 1
What would you like?
On a day special like this
Tell me your desires
Tell which puzzles will fit
I want to make this day special
Because you deserve the world
All my love on this day
My whole heart is yours
Birthdays can be amazing for you by my side
My everlasting love, for you I will ride
Happy Birthday

2
There was a day, when the flowers did bloom
The rain fell so softly, as I looked up at you
Gently gave you a hug, squeezed you so tight
In my mind all I could think of
Was how special you were in my life
The day goes on as those flowers still bloom
Happy Birthday my darling
I really love you

3
A simple Birthday poem, with love on this special day
May all your wishes, come your way
With love when I say this, I'll always be yours
Today, tomorrow
Forever here
Happy or when your blue
Happy Birthday with love
Happy Birthday to you

4
A birthday wish sent with love
A sincere message coming from the heart
Today marks another year for you in this life
May you enjoy every single moment of it
May all your dreams come true
And may you find someone as sweet as you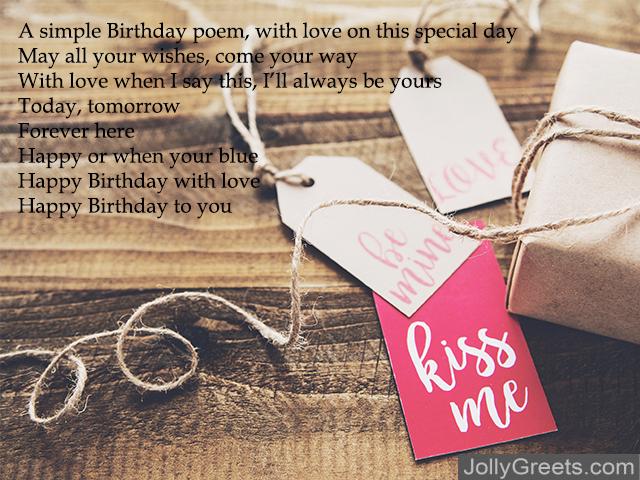 5
A thousand stars light up the sky
But none of them shine brighter than you do
For everything that you are
I am grateful to have been part of your life
I love you so much
And I hope one day when you look back on this day
I hope it brings you happy memories

6
Having you in my life has been a blessing
To be with you makes me happy
To see you happy makes me smile
I hope you have many more years of joy
I hope you live to see your children grow old
Happy birthday my special one

7
I give you all of my love on this wonderful day
You are so special to me in each and every way
I hope all your wishes and dreams come true
Happy birthday to my love, happy birthday to you

8
Birthday love on it's way to you
Big hugs and love in the air
I hope you enjoy your special day
And know how much we care
You deserve some fun and laughter
And to celebrate in style
So go and have a birthday treat
And party all the while

9
Happy birthday love this day is yours
I give to you a world of gifts
Included is my heart and soul
For you to use as you see fit
I love you more each passing day
My love for you is here to stay

10
Here it is,
Your special day,
So I thought I'd take
This time to say
How nice it is
To have a friend
Who listens
and understands.
The kind of friend
Who's always there,
Ready to show
That someone cares.
You've cheered me up
When I was down
Just by simply
Hanging around.
And oh the times
We've spent in laughter
Have made me chuckle
For many days after.
We've stored many
Good memories away
As I sit here drowned
In memory today.
Wanted to share
This thought with you
Having you as a friend
Makes it my special day too.

11
It's your birthday and I sit down to write,
Reminiscing those times so bright.
We've been together through thick and thin
We've lived through the hurdles to win.
Time flew as we grew
Together in this bond so true,
And I have known friends,
But the ones like us are few.
I make you mad and you drive me nuts,
But we have the thing that is called trust.
We laugh, we cry, we make time fly.
Together we smile, together we sigh.
Over this and that and crazy crap
The dodgy pits, that familiar trap.
The similarities we share, the differences that glare,
But we know that such relations are rare.
We share our dreams, these desires that burn,
And someday we believe will be our turn!
Ten long years and still going strong
For the understanding we share in life's ping-pong.
So I wish you all the happiness
And wish you loads of luck,
A bag full of smiles,
And chocolate-laden truck.
Happy birthday to you again,
And I hope that you soar.
I'll always wish the best
Because you know I love you more!

12
Another year has passed for you, sweetheart;
It's time to cut the cake and celebrate.
And once again, my love, I start to think
Of things about you I appreciate.
It means so much to have you in my life;
Your loving care fills up my days with pleasure.
Your warm and giving nature helps create
Close, special times together that I treasure.
I live within a safe and steady world,
Because you love me unconditionally.
Your easygoing ways mean that I'm blessed
With peace and joy and blissful harmony.
To me your birthday is a precious day;
I hope it brings you joy in every way.

13
I know you don't like your birthday,
This you've always said.
So I promise I won't surprise you,
I'll just give you this instead.
Grateful is an understatement,
of how I feel about you,
I know I haven't said it back,
But I do really love you too!

14
Even though it's only been four months,
My feelings for you are deep.
So I'm going to take a leap,
And make this the best birthday of your life.
Jenny, baby, I love you so,
Will you be my wife?

15
It's been thirty years since I saw you there,
In the corner of that bar,
Surrounded by your best girlfriends,
Celebrating your twenty second birthday.
When I saw you there, I just knew,
That someday you'd be my wife.
Now we're back at this bar on the very same day,
And nothing has changed at all.
You're still the prettiest birthday girl in this place,
And I'm proud to say your mine.

16
Today is your day,
It's one for the books.
Full of joy and great tidings,
And lots of warm hugs.
Today is your birthday,
Marking the year you were born.
All these people are here,
And celebrating you.
Your smile shines bright,
As you enjoy your special day.
Happy birthday dear loved one,
And here's to many more.
17
My love, my sweet,
It's a day of sweet treats.
The day is yours,
It's to celebrate you.
All your friends are coming,
And your family too.
Today is your birthday,
And I'm so glad I get to share it with you.
18
Birthday's are special,
But yours is more so.
For yours has more meaning,
Because of my love.
Today we will celebrate,
With friends and good cheer.
To celebrate your birthday,
With those we hold dear.
Happy birthday, dear heart,
And to us, many more.
19
It's time to celebrate your special day
I truly hope that it goes your way.
You inspire those you surround
The seeds that have been planted
Have been burried into great ground
And so I know that you day
Will be filled with laughter, love, and play.
20
Happy Birthday, honey
It is time to celebrate
Of a life well-lived
It certainly is, something worthy
To consecrate
Your life was set apart
To be something extra-ordinary
With love, I send you on your way
In order to complete this special day.
21
Today is a day, to focus solely on you
You have accomplished much
And sown great seeds,
You are incredibly you.
Happy Birthday Sweetie,
With much love
22
A birthday haiku
I have written this for you.
Good wishes ensue.
Each day a candle lights your path.
Honey you can have as many wishes as I can grant.
Know that I would do anything to spark your happiness.
23

Congratulations on achieving one more,
I hope next year has more in store.
I value you and hope your birthday wishes come true.
That the best is what you receive on this day
which only comes once a year.
Happy Birthday!
24
To the one I cherish most,
I would like to boast how much I
love you in this year of review.
I must conclude I would happily
spend many more years with you.
Happy Birthday, love of my life.
25
On this birthday, friend, from the bottom of my heart; I hope our friendship never ends; I hope we never part; You deserve all that you get; You're loyal, through and through; And on this special day, I'll bet; Your every wish comes true!
26
On your birthday, I hope you know; How much you mean to me; Over the years, I've watched you grow; Sprout up just like a tree; My love for you, it swells real big; Whenever I see you smile; If you're the tree, then I'm a twig; With you all the while!
27
Your birthday is a day of pride; To mark how much you've grown; To remember all the things you've tried; And all the friends you've known; You're older now, but please know this; You're always young at heart; If you face each day with bliss; You're off to a great start!
28
For my love on your birthday
I just wanted to say
You deserve all of your favorite things
And to be loved in every way
Flowers, candles and dinner
Sure those things are nice
But you deserve the world
For being the love of my life
Happy Birthday

29
Your shining smile
Always warms my heart
Holding my hand
When we walk in the dark
Being with you
Always makes me feel safe
When we fall asleep
It's in your arms that I will wake
So happy just to be with you
I just wanted to say "Happy Birthday!"
Before this day is through
I love you so very much
You know that it is true

30
So much fun we have
Even just watching TV
Cuddling up with blankets
Is so satisfying to me
You make everyday
A special occasion
Your energy and smile
Are what I adore
I hope your special day
Brings you happiness
And so much more!
Happy Birthday, my love

31
i write this poem
with love on my mind
a poem for you
on a day like today
a poem of love
my heart is full for you
the love that i feel
is not untrue
i love you today
i love you now
i love you even more
as i write this down
32
a birthday can make
you feel gray
but a poem like this
can bring on a smile
because today's the day
i can let my love run wild
a birthday with love
amazing as you
i love you mostest
a whole bucket full
33
it's your birthday
and i love you
it's your birthday
a day for you
i love you to
a hug for you
maybe two
it's your birthday
have a good day
it's your birthday
and i love you
34
Cluster Of Happiness
Your grin sparkles more brilliant than even the morning sun,
You, my dear, are more compelling than chocolates with rum;
Each time you put your lovely arms around me,
I understand my affection for you is so huge and profound;
It influences me to overlook the world outside,
Coz' for them, I simply appear to go dazzle.
It's not possible for anyone to ever make me feel like this,
You, my affection, are a cluster of joy.

35
True Love
Genuine romance stays for all eternity, everlastingly does intimate romance remain,
It generally figures out how to help up our lives and light up our days.
At whatever point your pitiful and desolate simply give the one you adore, a call,
Also, you will see with your own eyes the manner in which every one of your inconveniences will fall.

36
The Miracle Of Love
It is known as the sweet enchantment of adoration,
That makes you feel you're in paradise above;
And after that life starts to feel so wonderful,
So unadulterated, worth-living, completely superb;
This wonder occurred in my life as well,
It happened the second I met you.